Medical Research Scholars Reflect on Their NIH Journeys
Future Physician-Scientists Spent a Year in IRP Labs
Many doctors not only treat patients directly, but also make valuable contributions to research that will improve medical care in the future. Each one of these talented 'physician-scientists' began his or her research career under the guidance of a more senior scientist. At the NIH, the Medical Research Scholars Program (MRSP) provides just such an experience to promising young medical students from all across the United States.
The year-long program places medical students in NIH labs to learn what it's like to delve into the mysteries of human biology under the mentorship of IRP investigators. The 2019-2020 Class of MRSP Scholars included 50 students from 22 states and the District of Columbia, 22 percent of whom were from minority groups traditionally underrepresented in biomedical professions.
After a tumultuous year in which they had to adapt their research activities to the constraints presented by the COVID-19 pandemic, the 2019-2020 MRSP Scholars have since returned to their universities to resume their medical education. I tracked down six of them to learn about the research they conducted during their time at the NIH and hear their reflections on the experience.
Christina Marcelus: Unleashing the Immune System Against Melanoma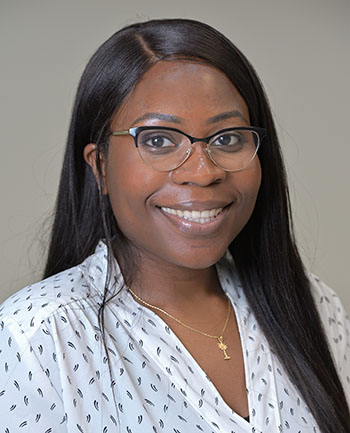 Christina's interest in cancer first began when her aunt was diagnosed with breast cancer at the age of 36. She felt frustrated that doctors could not do more for her aunt, so as a first-generation college student, Christina looked for opportunities to learn the ropes of working in a lab so she could one day help develop more effective cancer treatments.
"Scientific research has provided me with the unique opportunity to learn about the nature of cancer first-hand and to make sense of my family's experience," Christina explains.
Christina took a hiatus from her medical studies at the State University of New York (SUNY) Upstate Medical University to study the skin cancer melanoma in the lab of IRP senior investigator Glenn Merlino, Ph.D., through the MRSP. She specifically examined the genetic factors that influence how susceptible different varieties of melanoma are to a form of cancer immunotherapy known as immune checkpoint blockade (ICB), which helps the body's immune cells identify and destroy cancer cells. Her study, which identified a set of 45 genes involved in melanoma's ability to shrug off ICB therapy, as well as molecules called transcription factors that regulate these genes, could help scientists create more effective ICB treatments and develop ways to make melanomas more vulnerable to existing ICB therapies.
"The Merlino lab offered a very collegial and comfortable learning environment that motivated me to come to work every day and challenge myself as a scientist," Christina says. "I could not be any more thankful for what the NIH has taught me about myself and what I am capable of achieving."
Mark Shapses: Investigating the Influence of Fatty Liver on Anesthesia Recovery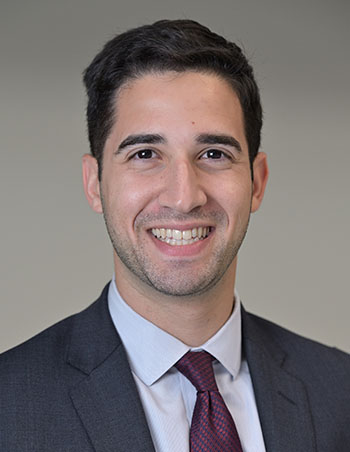 Science was a constant presence in Mark's household while growing up, since his mother is a college professor and researcher. He is now attending medical school at Thomas Jefferson University in Philadelphia, Pennsylvania, to gain the skills he will need to both see patients and perform clinical research.
"Medicine is one of the final frontiers in our understanding of the world, so I was just naturally drawn to it from a young age," Mark says. "And in addition to being able to help people in the near-term, you have the opportunity to meet wildly diverse people, make long-term connections, and work with incredibly perceptive and interesting colleagues."
During his time in the MRSP, Mark worked with IRP investigator Yaron Rotman, M.D., M.Sc., on a study comparing how patients with and without excess fat in their livers — a condition known as 'fatty liver' — recover from anesthesia. Since the liver processes many drugs, he and his mentor thought that the extra fat in these patients' livers, and the damage it causes to the organ, might slow the degradation of anesthetic medications given prior to surgeries. In the end, their study indicated that patients with fatty liver do take longer to recover from anesthesia. With as many as 20 to 30 percent of people around the world having non-alcoholic fatty liver disease (NAFLD), Mark's findings signal a need for clinicians to take the presence of fatty liver into account when giving patients anesthesia. They also suggest that more research should be done on how fatty liver affects the body's response to other drugs.
"The NIH is amazing," Mark says. "There's constant stimulation working amidst all the incredible speakers and cutting-edge resources. I especially appreciated the ability to listen to and interact with those speakers, often world leaders in their fields. There's so much potential for novel ideas and collaboration as a result. It's a major reason the NIH campus is so unique."
Nithya Vijayakumar: Encouraging Exercise Through Mobile Health Technology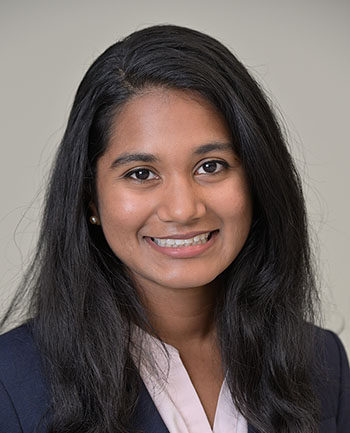 After studying engineering as an undergraduate, Nithya decided to apply to medical school at the University of Michigan so she could do more health- and human-centered work. When looking for a lab to join at the NIH, rather than focusing on medical treatments, she sought an opportunity to learn about methods for preventing medical problems in the first place by concentrating on people's behavior.
"Medicine allows me to combine number-crunching and scientific analysis with human-focused work," Nithya says. "Preventative health and lifestyle medicine are particularly important to me because they focus on a healthy environment, quality of life, and creating long-term positive change."
Nithya spent the past year working with IRP Stadtman investigator Tiffany Powell-Wiley, M.D., M.P.H., on a mobile phone app designed to encourage physical activity by informing users when they are close to a location where they can exercise. Nithya assisted with a pilot study of the app among African American women residing in three lower-income neighborhoods in Washington, D.C., which suggested that the app may have increased physical activity among the study's participants. Information from the test run will spur modifications to the app, such as additional functions that encourage group activities and community-building and allow users to flag locations that are not safe for exercise.
"I loved working at the NIH," Nithya says. "There is a shared energy and passion for taking educated risks, making discoveries, and creating new things."
Raul Membreno: Monitoring Eye Damage from Autoimmune Disease Treatment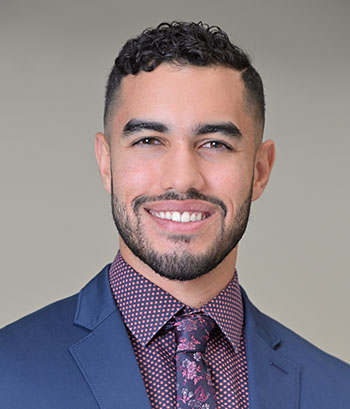 By pursuing a career in medicine and research, Raul is following in the footsteps of his father, who runs a liver transplant program where he conducts clinical trials. When Raul's grandmother in El Salvador was diagnosed with glaucoma, a leading cause of blindness, it spurred him to focus his studies on improving eye care. This ultimately led the University of Texas, San Antonio, medical student to the NIH's National Eye Institute, where he worked under the guidance of IRP Lasker Scholar Catherine Cukras, M.D., Ph.D., and IRP senior investigator Emily Chew, M.D.
"As an aspiring ophthalmologist, I knew I wanted to work on a project with the aim of preventing vision loss at the National Eye Institute," Raul explains.
Alongside his IRP mentors, Raul studied how an imaging technique called optical coherence tomography (OCT) could be used to monitor the eye-damaging side effects of a drug called hydroxychloroquine, which is commonly used to treat autoimmune disorders like lupus and rheumatoid arthritis. While the medication has few side effects in the short term, patients who take it continuously for years can begin to experience deterioration of cells in the eye that are crucial for vision. The research Raul conducted at the NIH suggested that OCT could be used to detect very early signs of eye damage in patients taking hydroxychloroquine, allowing their doctors to modify their treatment before significant vision problems develop.
"The experience I had at the NIH was truly transformative and career-shaping," Raul says. "My mentors at the National Eye Institute, Dr. Cukras and Dr. Chew, are clinician-scientists who gave me an example of how to balance the joy of seeing patients in the clinic with the demands of performing robust research."
Lynn Daboul: Improving Imaging for More Accurate Multiple Sclerosis Diagnosis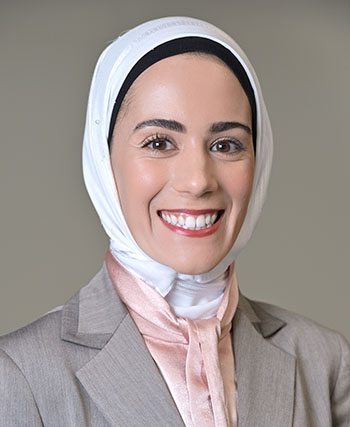 Lynn grew up in "a household of physicians" where science and medicine were ever-present, and she is now a medical student at the Cleveland Clinic Lerner College of Medicine at Case Western Reserve University in Cleveland, Ohio. When it came time to select a lab for her year in the MRSP, she decided to work with IRP senior investigator Daniel Reich, M.D., Ph.D., because their partnership presented her with the opportunity to learn how to apply imaging techniques to studying inflammation in the central nervous system, or neuroinflammation.
"I am interested in neuroinflammation because it is an exciting field where diseases as diverse as Alzheimer's and multiple sclerosis can be explored through the lens of inflammation and where there is a lot of therapeutic promise," Lynn explains.
Her research project focused on a feature called the central vein sign that can be seen on MRI brain scans of many patients with multiple sclerosis (MS), a neuroinflammatory disease in which the immune system attacks the protective coating of neurons. Lynn specifically wanted to know whether injecting patients with a chemical called gadolinium before their MRI scans might make it easier for radiologists to see the central vein sign on the resulting images, which would help them differentiate MS from other neurological diseases. She found that gadolinium did indeed make the central vein sign easier to see, suggesting that using gadolinium could enhance the speed and accuracy of MS diagnosis.
"I had done research prior to my year at the NIH, but nothing as longitudinal as I did during my year there," Lynn says. "Doing this allowed me to see a project from start to finish and experience first-hand the pleasure of a project as collaborative as this one was."
Yvette Zou: Assessing a Novel Biomarker for Heart Health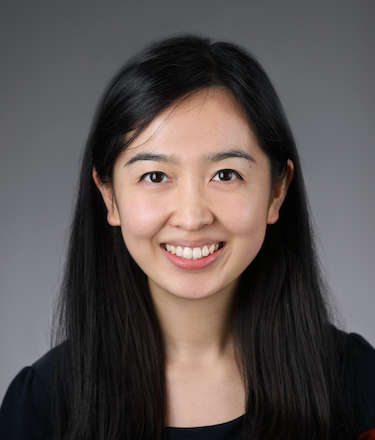 Despite some initial disorientation, Yvette's experience as an MRSP scholar could not have gotten off to a more auspicious start.
"The day I arrived on campus, I had just gotten off a plane and was exhausted, disheveled, and very lost," she recalls. "I stopped a random person in the street near the Clinical Center to ask for directions to Building 60, and he was incredibly nice and helpful. He asked if I was one of the medical students, and wished me good luck. A few months later, I recognized that man when he came to give a lecture to the MRSP scholars — turns out it was [NIH Director] Francis Collins."
Like her wandering path around NIH that day, Yvette's journey to studying medicine at Dartmouth College was less than straightforward. Initially a French major, she discovered a passion for programming and physics while working in a cognitive neuroscience lab, prompting her to switch her major to engineering. At the NIH, she worked with IRP investigator Jason Elinoff, M.D., and Michael Solomon, M.D., M.B.A., at the NIH Clinical Center to examine the link between 'cell-free' DNA, a form of DNA that circulates in the bloodstream, and the severity of disease in a rat model of pulmonary arterial hypertension (PAH), a disorder that causes high blood pressure and other cardiovascular problems.
During her time at the NIH, Yvette found that rats with PAH had higher levels of cell-free DNA in their blood than healthy rats, and higher levels of cell-free DNA were associated with poorer cardiovascular function. Her study suggests that measuring cell-free DNA could provide a simple way to monitor the state of the cardiovascular system in people with PAH, although additional patient-focused studies will be needed before cell-free DNA can be for this purpose.
"I had a great time during my research year at the NIH," Yvette says. "Being able to work on a project full-time for a whole year, instead of trying to squeeze it in between classes or rotations in medical school, really allowed me to develop my research skills, take more initiative, and think things through more thoroughly. I am very thankful for the mentorship and teaching I received from my PIs, the critical care fellows, and the staff scientists in the various labs we collaborated with. And it was so much fun getting to know medical students from all over the country!"
The Medical Research Scholars Program highlights the IRP's commitment not only to improving health through research, but also to help train future generations of scientists. The year these six students and their MRSP colleagues spent at the NIH will surely have a lasting influence on them as they continue their careers.
Subscribe to our weekly newsletter to stay up-to-date on the latest breakthroughs in the NIH Intramural Research Program.
---
Tags:
mentoring
,
training
,
diversity
,
immune system
,
cancer
,
immunotherapy
,
genes
,
fatty liver
,
liver
,
exercise
,
health disparities
,
autoimmune
,
eye
,
imaging
,
MRI
,
multiple sclerosis
,
central nervous system
,
blood pressure
,
hypertension
Related Blog Posts
This page was last updated on Tuesday, May 23, 2023