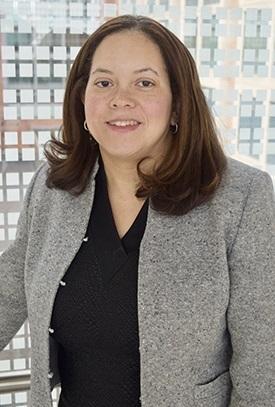 Tiffany Powell-Wiley, M.D., M.P.H.
Stadtman Investigator
Social Determinants of Obesity and Cardiovascular Risk
NHLBI
Research Topics
It is safe to say that during the decades in which obesity has become an epidemic in the United States, the human gene pool has not been concomitantly altered. Thus, although heredity does play a role in susceptibility to obesity and obesity-related disorders, the social, behavioral, and environmental contributions cannot be overlooked if effective prevention and treatment strategies are to be designed. Dr. Powell-Wiley focuses her research on the social determinants of obesity and obesity-related cardiovascular risk factors that contribute to racial and ethnic disparities in cardiovascular disease.
Dr. Powell-Wiley's lab has three interrelated research goals. First, she and her colleagues use epidemiologic methods and geographic information systems to understand the socioeconomic, psychosocial, and environmental factors that promote adverse weight gain and incident cardiovascular risk factors in multi-ethnic, population-based cohorts. Environmental factors include the level of built-in resources available to a community, but they also encompass psychosocial factors such as perceptions of neighborhood environment. A second goal is to translate findings from these epidemiologic studies into community-based interventions targeting barriers to health behavior change for at-risk populations. The research group's final goal is to identify and characterize physiologic pathways influenced by the chronic stress of living in adverse neighborhood conditions, ultimately elucidating pathways linked to cardiovascular risk phenotypes and most responsive to targeted health behavior interventions.
As an advocate and physician scientist, Dr. Powell-Wiley has spearheaded the development of a community-based cardiovascular health behavior intervention in the greater Washington D.C. area, specifically addressing key social determinants of obesity. Dr. Powell-Wiley has made it a priority to target specific Washington D.C. wards where obesity and cardiovascular disease are most prevalent. She has intentionally built relationships with key leaders in the community, especially within the faith-based community, in order to advocate for and help implement programs involving these populations.
In the winter of 2022, Dr. Powell-Wiley and her team opened the Hope Center, a community-based research space in Washington, D.C.'s Ward 5 (Northeast), where she and her team see participants in clinical trials and conduct community outreach. The Hope Center brings clinical research directly to the community helping alleviate the challenges many research participants have getting to research sites far from their homes. The NHLBI partnered with a housing community to create the Hope Center, where Dr. Powell-Wiley's team shares space with several collaborators, including the National Institute of Arthritis and Musculoskeletal and Skin Diseases and the NIH Clinical Center.
The Powell-Wiley lab is grounded in the principles of community-based participatory research which aided in designing and executing the Washington, D.C. Cardiovascular Health and Needs Assessment. The information gathered from this assessment has been paramount in learning about the population in order to: 1) implement culturally relevant, effective interventions which address the unique needs of individuals living in urban, limited-resource environments and 2) begin to uncover mechanisms by which psychosocial and environmental factors "get under the skin" to increase cardiovascular risk.
One-size-fits-all public health approaches to the obesity epidemic have not proven effective. Dr. Powell-Wiley's hope is that by taking a multidisciplinary approach to better understanding socioeconomic, psychosocial, and environmental factors that impact obesity and other markers of cardiovascular risk, she can develop interventions to improve cardiovascular health that are tailored to community-based environments.
Biography
Tiffany Powell-Wiley graduated summa cum laude from the University of Michigan in Ann Arbor. During medical school, she spent a year at the NIH as a research fellow in the Clinical Research Training Program. Dr. Powell-Wiley graduated from Duke University School of Medicine and completed her Master's degree in Public Health with a concentration in Epidemiology at the University of North Carolina at Chapel Hill. Prior to joining NIH, Dr. Powell-Wiley completed internal medicine residency at Brigham and Women's Hospital in Boston, Massachusetts and cardiology fellowship at the University of Texas Southwestern Medical Center (UTSW) in Dallas, Texas. Dr. Powell-Wiley served two years as a clinical research fellow in the Reynolds Cardiovascular Research Center at UTSW. Dr. Powell-Wiley also served for one year as the Cardiology division's first chief fellow. From 2011 to 2017, Dr. Powell-Wiley was an Assistant Clinical Investigator at the National Heart, Lung, and Blood Institute. From 2011-2014, she held a joint appointment in the Office of the Associate Director of the Applied Research Program of the National Cancer Institute. Since 2017, Dr. Powell-Wiley has been an Earl Stadtman Tenure-Track Investigator with a joint appointment in the Cardiovascular Branch of the Division of Intramural Research at the National Heart, Lung, and Blood Institute and the Intramural Research Program of the National Institute on Minority Health and Health Disparities.
Related Scientific Focus Areas
This page was last updated on Saturday, September 2, 2023