Science, the Stadtman Way
Eight early-career scientists joined the Intramural Research Program (IRP) through the inaugural 2009–2010 Stadtman Investigator search.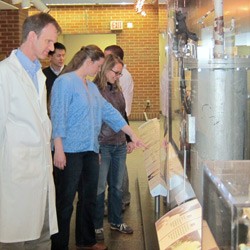 As revered mentors for more than half a century, Earl and Thressa Stadtman advised their students to "follow your nose" when searching for answers.
"Very often in the course of scientific experimentation a totally unexpected observation is made that is either unrelated or only incidentally related to the problem under immediate investigation," the late Earl Stadtman once said. "When it captures the attention of an alert, inquisitive mind, this observation may open the door for an entirely new study that is often more fruitful than that of the original design."
The freedom and flexibility inherent to working in the IRP draws many of the world's brightest scientific minds to apply for positions as tenure-track "Earl Stadtman Investigators." Of the more than 800 applicants in the inaugural 2009–2010 Stadtman search process, about 30 were invited to the National Institutes of Health (NIH) to give seminars and be interviewed, and eight were hired.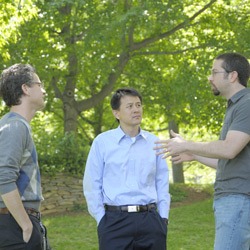 The lead-off investigators are Eric Batchelor, Haiming Cao, Zayd Khaliq, Jill Koshiol, Daniel Larson, Nasser Rusan, Douglas Stewart, and Jayne M. Stommel.
"Each of these talented early-career scientists is taking a fresh look at an important biological or clinical problem," said Michael Gottesman, Deputy Director for Intramural Research. "Using a combination of creativity and rigor, they are making inroads into important problems that have eluded understanding in the past."
The search for Stadtman Investigators is a trans-NIH effort that crosses all areas of biomedical research. It's designed to attract a diverse group of highly talented early-career scientists who might not apply to a more narrowly defined position description at the NIH.
"I'm a Ph.D.," said Jayne Stommel, who joined the IRP in September 2010, "and I'm interested in clinical and translational questions… and high-risk projects." Stommel is examining the therapeutic and biological roles of receptor tyrosine kinases signaling networks in a deadly brain tumor called glioblastoma multiforme.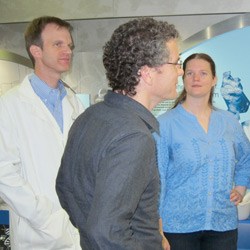 Those selected through the Stadtman Investigators process are offered competitive salaries, research space, resources, supported positions, and an operating budget.
"It's the equivalent of starting with an RO1 grant," said Roland Owens, Assistant Director of Intramural Research and a member of the search committee. Tenure-track investigators at NIH have a good chance at becoming tenured. "The [success] rate, which is around 70 percent, is equal to or greater than comparable universities."
Expectations run high that Stadtman Investigators will thrive at the world's largest biomedical research institution, with access to cutting-edge technologies and unique opportunities to make a difference in people's lives.
Cell Biologist Nasser Rusan came to the IRP in February 2011 to explore the molecular interactions in mitosis. His work combines Drosophila genetics, high-resolution live-cell imaging and functional genomic screening approaches to answer questions that have direct human health implications.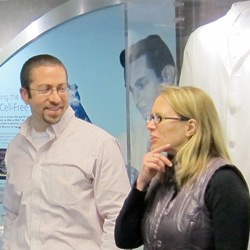 "My immediate environment in Building 50 brings together biochemists, biophysicists, and cell biologists who think at the nanometer and micrometer level," Rusan said. "My interactions with them will undoubtedly shed light on my research that is focused on how changes at the biochemical and cellular levels can result in changes at the tissue level in an animal."
The "Stadtman Way," as Earl and Thressa Stadtman's approach to research has become known, not only promotes creativity, but also requires rigorous dedication to scientific precision and encourages the publishing of papers and assumption of responsibility at an unusually early stage.
See the NIH exhibit "The Stadtman Way: A Tale of Two Biochemists at NIH" at https://history.nih.gov/exhibits/stadtman.
---
Adapted from an article that appeared in The NIH Catalyst Volume 19 Issue 2, March–April 2011, by Sarah Freeman.
This page was last updated on Wednesday, January 12, 2022