Postbac Poster Day Returns to NIH Campus
Budding Scientists Assemble for First Time Since 2019
In many ways, working at NIH feels like being at a world-renowned university, complete with a variety of classes, intellectually stimulating lectures, social events, and opportunities for professional development. It's no wonder, then, that NIH has long been a destination for young people who have just departed from their alma maters with their newly earned undergraduate degrees.
These new graduates come to the IRP to hone their scientific skills in NIH's Postbac IRTA program, conducting research in IRP labs for one or two years under the expert guidance of the IRP's seasoned investigators. The program also provides the opportunity once per year for participants to present the fruits of their efforts to all their IRP colleagues at Postbac Poster Day, and this year's event on April 19 and 20 was the first to include an in-person component since 2019. Read on to learn about a few of the nearly 1,000 postbacs who showed off their research at this year's event, which spanned fields from neuroscience and cancer to genetics and virtual reality.
Vernon Kennedy: Investigating Insulin Production in the Brain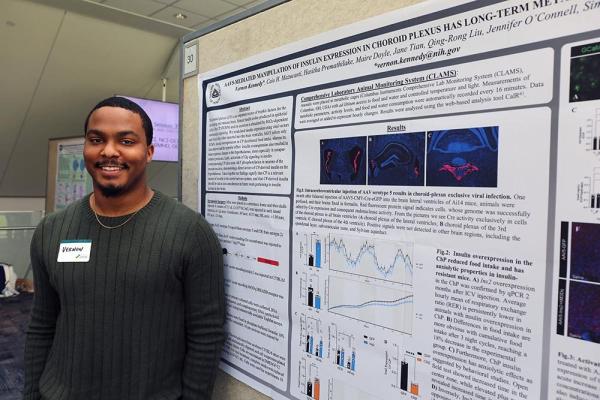 Vernon describes his younger self as "a curious kid," adding that he has been interested in science from a fairly young age. Even in high school, he knew he wanted to be a doctor one day. However, it took a stint conducting research as an undergrad at the College of Charleston in South Carolina for him to discover he wanted to conduct research in addition to practicing medicine.
"It wasn't until I joined my undergraduate research lab that I discovered my passion for neuroscience and my desire for a medical research career," he says. "I applied to the NIH Postbac program so that I could increase my neuroscience knowledge and broaden my skills as a researcher."
To that end, Vernon joined the lab of IRP senior investigator Josephine Egan, M.D., where he has spent the past two years studying a set of cells and blood vessels collectively called the choroid plexus (CP). The CP is best known for producing the cerebrospinal fluid that flows within and around the brain and spinal cord, but it also produces numerous other molecules that are key for brain health, including the hormone insulin. That insulin is released directly by the CP into the cerebrospinal fluid, which Vernon's experiments have shown allows it to exert its influence all over the mammalian brain. For example, he has demonstrated that increasing the CP's insulin secretion boosted the use of stored fat for fuel in mice and caused them to eat less, whereas decreasing the amount of insulin the CP made had the opposite effect. In other experiments Vernon performed, boosting insulin production in the CP reduced behavioral symptoms in mice that displayed anxiety-like behaviors.
"Elucidating the role of CP-derived insulin is very important," Vernon explains. "Many researchers have shown an association between altered insulin signaling in the brain and several neurological diseases, including Alzheimer's, anxiety, depression, and some eating disorders. Increasing our knowledge of the brain's local insulin production will help us better understand this well-known relationship and, hopefully, lead to better treatment options for patients."
Now that his time at NIH is coming to an end, Vernon is looking forward to beginning medical school at Northwestern University. He is confident that his IRP experience will help him hit the ground running as a doctor-in-training.
"I've loved being a postbac!" he says. "I'd have to say that my favorite part of this experience has been witnessing my growth as an independent researcher. I've learned and developed several skills over the last two years. While many of these are technical, it's the abstract ones I appreciate most. Working alongside a diverse group of scientists has improved my critical thinking skills and scientific literacy and taught me to ask the important questions. I'm excited to apply everything I've learned throughout the next phase of my career."
Fun fact: Vernon's hometown — Winnsboro, South Carolina — is so small that it only has one middle school and one high school. In fact, he and his brother had the same seventh-grade English teacher as their parents.
Georgia Krikorian: Learning About Lymphatic Abnormalities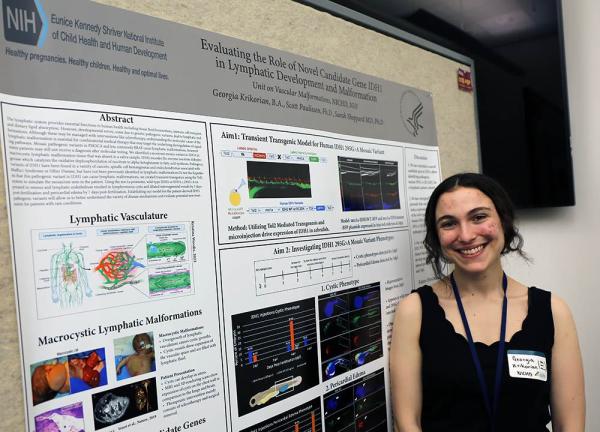 Georgia wasted no time getting on the train to a biomedical career after graduating from high school and moving on to Smith College in Northampton, Massachusetts. Not only did she work in a neuroscience lab as an undergrad, but she also spent the summers following her freshman and sophomore years studying depression and anxiety disorders at Weill Cornell Medical College in New York City through the Pathways to the Laboratory Program, a partnership between Weill Cornell, The Rockefeller University, and Memorial Sloan Kettering Cancer Center aimed at helping women and individuals from minority groups become more competitive applicants to M.D./Ph.D. programs.
It was during one of those summers at Weill Cornell that Georgia learned about NIH's postbac program from a couple of her student mentors, who had participated in it before entering graduate school. This set her on the path to eventually join the newly established lab of IRP investigator Sarah Sheppard, M.D., Ph.D.
"I knew going into applying to the NIH postbac program that I wanted to be immersed in a translational lab environment and learn from a principal investigator who was active both in basic science research and clinical investigation," Georgia says. "Watching Dr. Sheppard establish her lab has been an incredibly insightful process and I look forward to continuing to learn from her expertise both as a leader in her field and as a passionate clinician."
Dr. Sheppard's lab studies conditions that stem from physical malformations of the lymphatic system, which is responsible for maintaining the balance of fluid in the body and transporting immune cells and dietary fats. Georgia is specifically using a zebrafish model to look into the role of a particular genetic mutation that Dr. Sheppard identified in one of her patients in order to understand how this genetic change may be related to the patient's lymphatic malformation. Her experiments show that zebrafish with the genetic change develop clumps of abnormal lymphatic vessels known as 'cystic growths' and have extra fluid buildup around their hearts due to fluid leakage from malfunctioning lymphatic vessels.
"These results suggest that this candidate gene may play an important role in lymphatic vessel development and the formation of lymphatic malformations," Georgia explains. "In the future, we hope to improve the limited treatment options available for patients with these malformations by targeting this candidate gene using selective pharmaceutical compounds."
In addition to the immersion in full-time biomedical research that all NIH postbacs experience, Georgia has received additional opportunities through her participation in NIH's OITE-Postbac Enrichment Program (OITE-PEP), which provides a specialized curriculum focused on wellness and career and professional development to a selected group of NIH postbacs from diverse backgrounds and experiences. As a result, Georgia's first year working in the IRP has helped her learn not only about laboratory research but also about herself.
"The PEP curriculum pushed me to find my self-confidence again and grow in new ways I would not have gotten to by myself," Georgia says. "Our monthly group meetings, individualized mentorship with multiple types of mentors, and regular opportunities to practice open and honest self-reflection have shaped my postbac experiences in deeply meaningful ways alongside my experiences in the wider NIH community and in my individual lab."
Fun fact: Georgia loves to attend concerts and explore new live music venues. She is taking great advantage of the Washington, D.C., area's live music scene, with plans to attend four concerts this year.
Sophia Martinez: Battling Bacteria With New Antibiotics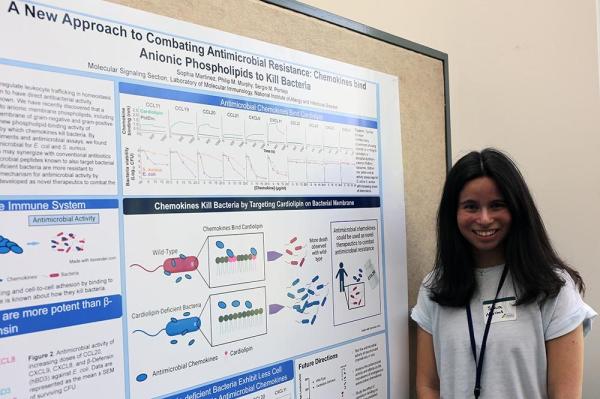 While attending Princeton University in her home state of New Jersey, Sophia got involved in cancer research examining how genetic differences in tumors affected the progression of breast cancer. However, when it came time to decide on an IRP lab to join after graduation, she decided she wanted to try something new with the help of immunologist and IRP senior investigator Philip Murphy, M.D.
"After focusing on cancer in undergrad, I was excited to learn about a new field of research," Sophia says. "I was drawn to the complexity of immunology and the involvement of the immune system in the development of so many diseases. I had worked with Dr. Murphy in an internship over the summer after my junior year at Princeton, where I learned a lot about the chemokine system, and I found the topic incredibly interesting."
Chemokines are a class of small molecules that the body's immune system uses to give instructions to its disease-fighting white blood cells, but some of them can also kill bacteria all by themselves. Experiments performed by Sophia and her colleagues in Dr. Murphy's lab have demonstrated that chemokines kill bacteria by binding to a crucial component of bacteria's cell membranes, making them an intriguing potential source of new antibiotics in an era when traditional antibiotics are becoming less effective.
"Because chemokines target the bacterial membrane, a structural element, the idea is that it will be more difficult for bacteria to develop resistance against these antimicrobial agents," Sophia explains. "Antimicrobial chemokines are thus a promising approach to targeting bacterial infections in the face of antibiotic resistance, a public health issue that killed a million people just last year."
"The hope is that once we know how they work, we can use them to develop novel therapeutics to combat antibiotic resistance," she adds.
Not only might Sophia's work help save patients' lives in the future, but it is also providing a tremendous benefit for her own future plans. The hands-on lab experience and guidance from her colleagues is setting her up for success in whatever scientific endeavors she decides to pursue down the line.
"My experience at NIH has been phenomenal," Sophia says. "Both Dr. Murphy and Dr. Sergio Pontejo, the postdoc I work with, have taught me so much, and I have been incredibly grateful for their mentorship. Every Friday, Dr. Murphy meets with the postbacs in the lab and we discuss different topics in immunology and science in general. I always learn something new in these meetings."
Fun fact: The four members of Sophia's immediate family were each born in different countries. Sophia was born in Colombia, her mother in Guatemala, her father in Cuba, and her sister in the U.S.
Will Thompson: Eyeing Visual Attention in Virtual Reality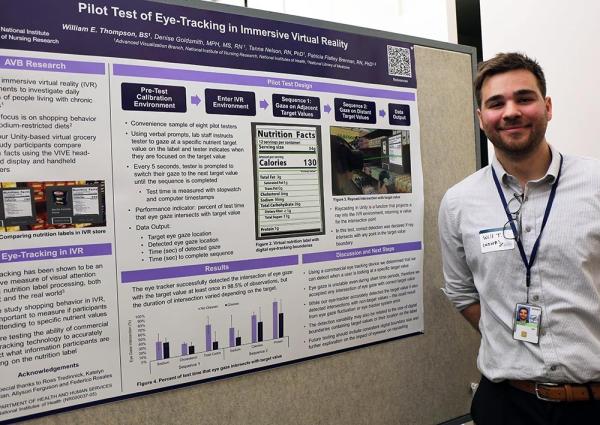 When it comes to grocery shopping, there are nearly as many ways to approach the errand as there are items in the supermarket. Some people are loyal to specific brands while others just buy whatever's cheapest. Some people scrutinize nutrition labels and some couldn't care less how much protein or sugar is in their meals.
For certain patient populations, grocery shopping is an important component of managing their medical conditions, but it can be tough to study without awkwardly stalking people around the store. Will and his colleagues in NIH's Advanced Visualization Branch (AVB), led by IRP investigator Patricia Brennan, Ph.D., R.N., F.A.A.N., are betting that virtual reality technology can help overcome this challenge. Will came to NIH from Santa Clara University in northern California, where his interest in mental illness first exposed him to research on the use of virtual reality to treat phobias and post-traumatic stress disorder.
"This work impressed upon me not only the possible benefit of virtual reality technology for healthcare, but also the possibility of finding alternative solutions to common mental illnesses that could be more readily accessed by patients," he says. "The AVB Lab takes this idea a step further in that we utilize the power of virtual reality as a simulation for truly any environment imaginable, extending the possibility of care beyond just mental illness to rehabilitation and home care."
At Postbac Poster Day, Will presented the results of a pilot test that assessed software designed to determine what somebody is looking at in a virtual environment — in this case, a simulated supermarket. The project is foundational for a planned study in his lab aimed at learning more about the shopping behaviors of people who must follow a low-sodium diet due to high blood pressure or other health ailments.
"We found that the eye-tracker is capable of telling us if people look at a certain nutrient on a nutrition label, like sodium, but there was a lot of uncertainty around how long a participant was looking at the target," Will explains. "We have ideas for improving this system, so the cautiously optimistic implication of this pilot test is that the system will work well in our upcoming study."
As a young person fresh out of college, Will was initially intimidated by the brilliant and highly accomplished scientists that surrounded him at NIH. Fortunately, he has been able to successfully navigate the challenges of working there with the help of those same colleagues.
"So far, I've thoroughly enjoyed my experience at the NIH," he says. "My lab has helped me develop crucial research skills, as well as an understanding of the logistics and planning it takes to conduct research professionally. The atmosphere of the Bethesda campus is amazing — it's really cool to be surrounded by so many people doing cutting-edge work. I've also experienced a fair amount of 'imposter syndrome,' but my mentors and peers have helped by being open with their own experiences of feeling unworthy, and I'm very grateful for their willingness to share."
Fun fact: In college, Will played on a dodgeball team that twice won a sorority-organized charity tournament. Since the usually annual event was only held two times during his undergraduate years because of the COVID-19 pandemic, Will boasts that his team technically went undefeated during his college career.
Melissa Cesaire: Busting Through a Barrier to Brain Cancer Treatment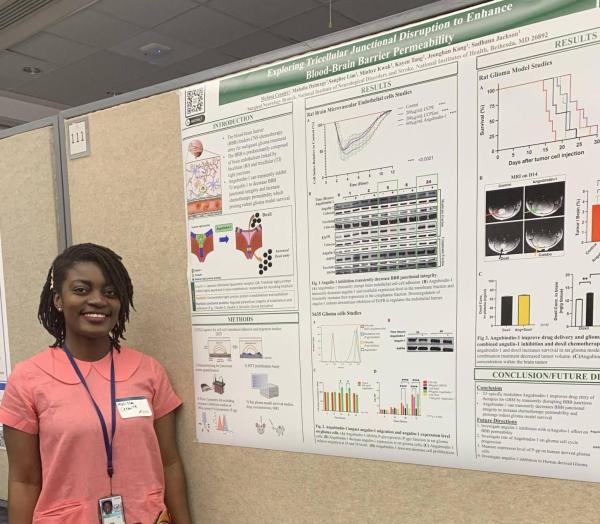 Melissa's path from her home in Haiti to NIH stands out as unique amongst her postbac peers. Unlike in the U.S., high schoolers in Haiti can enroll in medical school immediately after graduating, so Melissa has two years of medical school under her belt already. However, she did not complete her Haitian medical education, opting instead to restart her college career at Penn State University, where her prior medical school courses helped her graduate in just two years.
Melissa also stands out at NIH because she is a participant in NIH's Undergraduate Scholarship Program (UGSP). The UGSP not only helps fund students' undergraduate educations, but also provides paid research opportunities in IRP labs during summers and following graduation. As a result, in June 2022, Melissa joined the lab of IRP investigator Sadhana Jackson, M.D., to aid her lab's efforts to improve treatment for a form of brain cancer called glioblastoma.
"I have always wanted to be doing brain-related research, since I am planning to be a brain doctor in the future," Melissa says. "I knew if I wanted to be part of a lab that reflects a high level of positive energy levels and great collaborations, Dr. Jackson was the way to go."
Melissa's research in Dr. Jackson's lab focuses specifically on the blood-brain barrier (BBB), which prevents harmful substances from getting into the brain. However, it can also play bouncer to life-saving medicines as well, prompting many researchers to work on techniques that might help brain cancer treatments get past it. Amongst several discoveries she has contributed to during her time at NIH, Melissa's experiments in rats have revealed that a chemical called angubindin-1 can temporarily inhibit a molecule that helps keep the gates of the BBB tightly shut. This allowed more of a chemotherapy to enter the brain and damage the animals' brain tumors.
"One of the biggest challenges in glioblastoma therapy is that the BBB, which usually protects the brain from chemicals coming from the blood, hinders the delivery of chemotherapy," Melissa explains. "Being able to open the blood-brain barrier transiently is crucial as it will allow chemotherapy to reach every site of the brain."
Over the past year, Melissa has also taken great advantage of the many lectures and conferences constantly taking place on NIH's campus. Her favorite talks have been those that are part of NIH's Undiagnosed Diseases Program lecture series, during which IRP physician-scientists and trainees like Melissa meet with patients to learn about how IRP research is helping to improve their health. Those kinds of experiences, combined with the scientific training and mentorship Melissa is receiving in Dr. Jackson's lab, have made the experience of working at NIH extremely valuable for her.
"Being a UGSP scholar has given me the support that I needed to bring the best version of myself in research," Melissa says. "I am working with a team of mentors who are constantly advocating for me, making sure I am getting the best of NIH and that I am thriving in my research. Having a non-traditional path makes NIH hard to navigate sometimes, but I have received the support that allowed me to give my best."
Fun fact: Melissa participates in NIH's Kenjutsu club, which trains members in the club's titular Japanese martial art. The club teaches the safe and proper use of Japanese swords using a wood or bamboo staff called a jō. Melissa had the opportunity to show off what she has learned there during a martial arts demonstration in April at the annual Japanese Street Festival in Washington, D.C.
Subscribe to our weekly newsletter to stay up-to-date on the latest breakthroughs in the NIH Intramural Research Program.
---
Tags:
postbac
,
postbacs
,
training
,
diversity
,
mentoring
,
cancer
,
nutrition
,
genetics
,
genes
,
virtual reality
,
bacteria
,
immune system
,
antibiotics
,
neuroscience
,
brain
,
poster day
Related Blog Posts
This page was last updated on Wednesday, July 5, 2023