Poster Days Spotlight Young Researchers
Budding Scientists Showcase Research at Annual Event
Any scientist who wants to make game-changing discoveries has to start somewhere — even Albert Einstein worked in a patent office before landing his first job in academia. Through its Postbaccalaureate IRTA program, NIH hopes to give aspiring scientists more of a leg up than Einstein had by bringing them into IRP labs after they complete their undergraduate studies.
On April 26, 27, and 28, more than 900 recent college graduates participating in the program presented at this year's virtual Postbac Poster Days. Read on to learn about a few of these young researchers and their contributions to the groundbreaking work being done at NIH.
Yasmin Ali: Fighting Tumors With Focused Soundwaves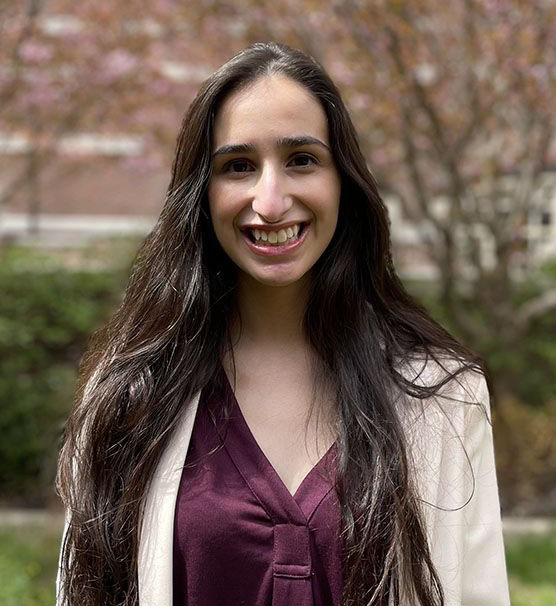 Yasmin's interest in science was sparked in high school when she visited an academic medical center and got the chance to see doctors in action using the fruits of biomedical research to treat patients. She went on to study biomedical engineering at Pennsylvania State University, where she honed her scientific chops assisting with the development of a drug delivery system that could be used to treat bacterial infections. When it came time to figure out her next steps, she was drawn to the lab of IRP senior investigator Joseph Frank, M.D., which studies a technique, called pulsed focused ultrasound (pFUS), that utilizes bursts of high-energy soundwaves to treat tumors.
"pFUS is a great technique because it can treat tumors in a non-invasive way, acting as a friendlier procedure for cancer treatment," Yasmin explains. "Our research is important because the animal studies we're doing lay the groundwork for clinical trials where pFUS could be used on real patients battling cancer."
Yasmin has been specifically scrutinizing how pFUS slows tumor growth and how its effects differ based on the type of tumor it is wielded against and the length of the ultrasound burst that is used. She has found that when pFUS is aimed at breast tumors in mice, it appears to depress the tumors' ability to replicate their DNA and utilize sugars to fuel their growth, as well as activate cellular systems that trigger apoptosis, a form of controlled cell death that is typically suppressed in cancer cells. Furthermore, exposing the tumors to longer bursts of pFUS increased these effects.
Yasmin's time at NIH is now drawing to a close as she prepares to enter medical school, but her postbaccalaureate experience will continue to have lasting effects due both to her discoveries' influence on the field of cancer biology and her colleagues' influence on her.
"Working as a postbac at the NIH has been a great experience for me to explore a new area of research and help me reinforce my research interests for the future," she says. "My favorite part has been working with all the great people in my lab because they truly make research fun and exciting, and I find myself looking forward to learning something new from them each day."
Fun fact: Yasmin and her family started a sheep farm when she was in high school, which now hosts roughly 30 sheep.
Faith Simmonds: Counting Viruses in an Autoimmune Disease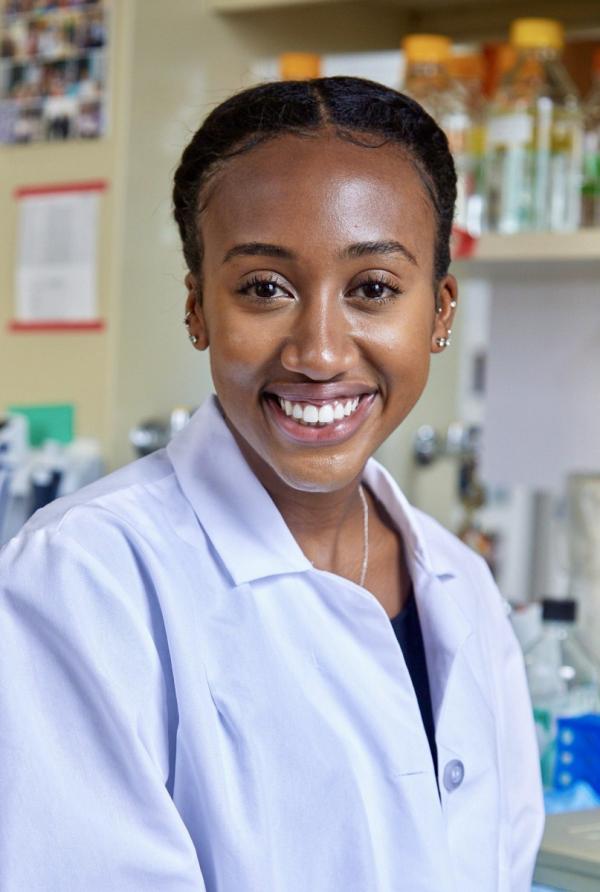 Faith came to NIH from Howard University in Washington, D.C., already with a few feathers in her scientists' cap. The Atlanta native had worked in labs studying evolutionary genetics, skin diseases, and the effects of chemicals on the reproductive system. These experiences gave her a leg up when it came time to start her stint in the lab of IRP senior investigator Laura Lewandowski, M.D. Dr. Lewandowski's lab studies an autoimmune disease called systemic lupus erythematosus (SLE), in which the immune system damages multiple organs. Her work attracted Faith for both scientific and personal reasons.
"Representation in medicine and research is something that is really important to me," Faith explains. "When applying to be a postbac at the NIH, I knew I wanted to work in a lab that prioritized working with diverse populations. SLE is a disease that has more severe manifestations in specific populations, such as children and people of African descent. Because of this, Dr. Lewandowski prioritizes using samples that reflect these differences, which is what drew me to her lab."
Faith's project looks specifically at the collection of viruses present in the bodies of people with SLE, known as the 'virome,' with the idea that those viruses may play a role in shaping the overactive immune responses of people with SLE. By sequencing genetic material in blood samples from people with and without SLE, she found that patients with SLE had more genetical material from viruses in their blood compared to healthy people, and she also identified several viruses that were only present in the bodies of people with SLE.
"As we continue working on this project, we are hoping to gain a better idea of how these viruses may alter immune responses as potential mechanisms of immune dysregulation in SLE," Faith says.
Faith has found NIH to be a great place to hone her scientific skills. She has gained experience with both computational research and working in a 'wet lab' setting with test tubes and biological samples. She has also learned a lot from colleagues and mentors both within and outside her own lab.
"I've had the opportunity to shadow some rheumatologists, which has been one of my favorite aspects of my position," she says. "I have also been able to collaborate with a lot of the scientists in my institute, which has been great! Lastly, the training directors in my institute and Dr. Lewandowski have been incredibly helpful and supportive with my professional development and preparing to apply to medical school. Overall, I have really enjoyed my experience here!"
Fun fact: Faith and her sister have the same birthday, but they're not twins — they were born on the same day eight years apart (Faith is the older sibling).
Harrison Jacobs: Looking Into Lung Scarring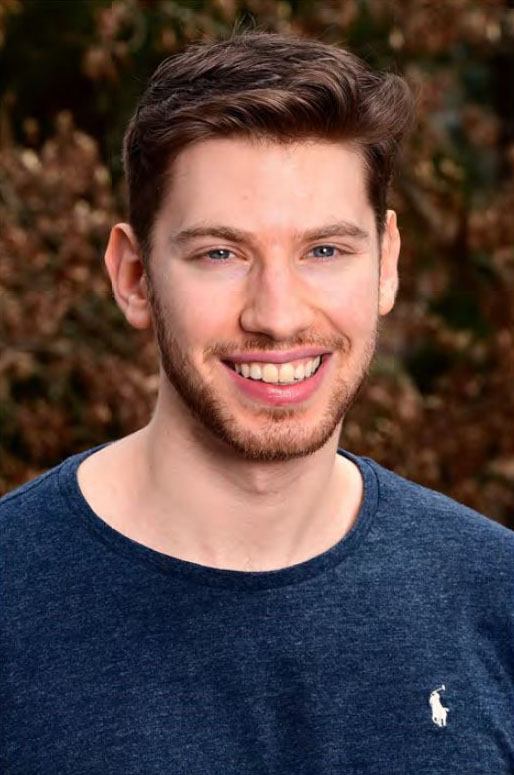 Harrison has been into science for almost as long as he's been out of diapers. As a toddler, he shared many young boys' passion for dinosaurs, but unlike many of his peers, his interest in the natural world continued to expand, including to physics and chemistry after getting hooked on the TV series The Big Bang Theory in middle school. At the University of North Carolina, Chapel Hill, he majored in biochemistry with a minor in English and tried his hand at research in a variety of scientific disciplines. When it came time to choose a lab to work in at NIH, he wanted to try something new.
"While I had research experiences in physics and biochemistry, one subject I was itching to learn more about was immunology," he explains. "The immune system is, in my opinion, so fascinating with regards to its wide-ranging effects on nearly every physiological function of body systems. Coupled with recent developments in immunotherapy, the immune system offers an array of research topics and clinical implications."
To satisfy this curiosity, he joined the lab of Stavros Garantziotis, M.D., who is both the medical director of the Clinical Research Unit and leader of the Matrix Biology Group at the National Institute of Environmental Health Sciences (NIEHS) in Durham, North Carolina. There, Harrison has been studying a gene involved in a potentially deadly form of lung scarring called idiopathic pulmonary fibrosis (IPF), which affects roughly 100,000 people in the US. The gene his project has focused on, NLRC4, produces a molecule that responds to a particular bacterial protein. His results have found that NLRC4 promotes pulmonary fibrosis in mice and that the native microbes living inside the animals, known as the microbiome, contribute to the condition by activating NLRC4.
"Given what we already know about NLRC4, one of our next questions is to ask which bacterial species activate NLRC4," he says. "With this information in hand, potential markers for fibrosis may be found, which could translate to a more personalized treatment plan with regards to specific bacterial targets."
Though Harrison came to his lab with no prior experience performing experiments in animals, he found his new work colleagues to be extremely patient and gracious as they showed him the ropes. He eventually came to enjoy working with the mice and applying what he learned in his college anatomy courses. He has also learned important lessons that he feels will help him both inside and outside the lab.
"Dr. Garantziotis and Dr. Yosuke Sakamachi, a postdoc whom I work very closely with and who serves as a mentor, are very good at reminding me that scientific research is a learning process full of successes and failures," Harrison says. "Learning this as I enter the professional domain will serve me well and harden my resolve."
As an added bonus, working at NIEHS has brought him back to North Carolina, allowing him to visit his alma mater and see more of the state. 
"Plus being a part of the UNC-Duke rivalry is always a blast, especially this year!" he adds. "Go Heels!"
Fun fact: Harrison participates in a local softball league. He considers a weekend visit to his lab to check on his mice, followed by a game, to be "my own personal doubleheader."
Thalia Billawala: Stopping Severe Malnutrition Through Science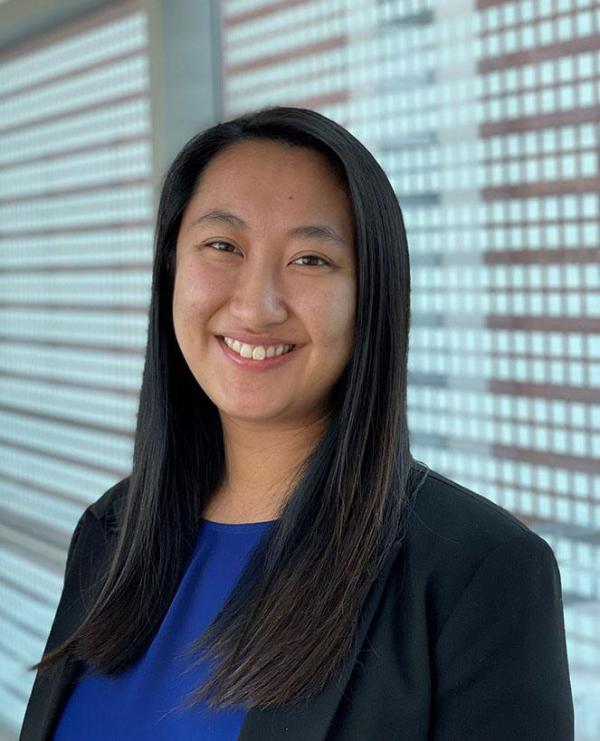 Thalia can't trace her zest for science back to any particular event; it's simply always been there. She does remember extracting DNA from a strawberry in high school, which sparked a particular enthusiasm for genetics. While pursuing a degree in cell biology at the University of California, Davis, she added global health and health disparities to her portfolio of interests, which ended up aligning perfectly with the research going on in the lab of IRP Stadtman Investigator Neil Hanchard, M.B.B.S., D.Phil.
"My lab's overall focus on genetic disease research mainly in Africa was at a natural intersection of this interest and my focus in cell biology," Thalia says.
One of the goals of Dr. Hanchard's group is to suss out the differences between two types of severe acute malnutrition (SAM), respectively known as 'marasmus' and 'kwashiorkor.' Kwashiorkor is the more lethal of the two ailments, with a death rate of 50-60 percent, compared to 20-30 percent for marasmus, but it is unclear why children undergoing starvation develop one or the other of these conditions. One of their main differentiating symptoms is the accumulation of fat in the livers of children with kwashiorkor, which does not occur in marasmus; consequently, Thalia is trying to develop a cell model for kwashiorkor by starving liver cells in the hopes that they will accrue abnormally large amounts of fats. Once she achieves this, she plans to manipulate genes in these isolated cells that behave differently in children with kwashiorkor in order to observe the effects.
"Creating this model could help us understand the genetic differences between kwashiorkor and marasmus," Thalia explains. "As with most disorders, knowing the cause is almost essential for finding a cure. Knowing more about the role of genetics in SAM could help us identify populations more at risk for kwashiorkor and propose preventative measures. We hope to use our model to refine current treatment options for this disorder, which causes more than 5 million deaths each year of children under 5 years old."
Thalia has found NIH to be not only a great place to steep herself in science, but also to connect with others like herself. She has particularly enjoyed getting involved with groups of fellow NIH postbacs who play volleyball and go hiking together, and she has also appreciated the opportunity to do volunteer work in the Washington, D.C., area.
"Being a postbac at NIH is such a blessing," she says. "Being away from home, I have been forced to adjust and put myself out there — luckily, there's a great community of postbacs within NIH!"
Fun fact: Thalia loves to bake in her free time. "You can usually expect me to show up at an event with some sort of dessert," she says.
Yvonne Rangel Gonzalez: Scrutinizing Saliva to Track Tick Bites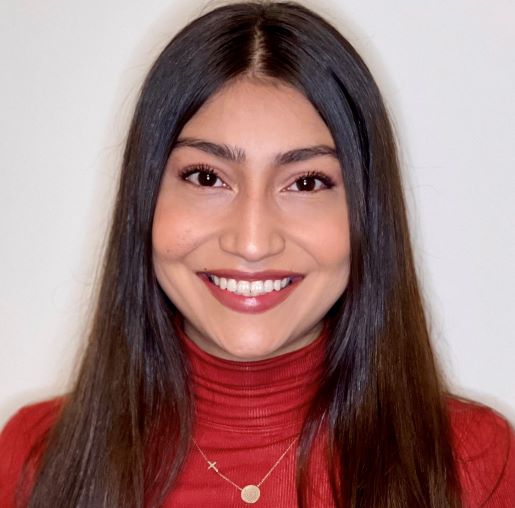 When Yvonne's parents emigrated from Mexico to California, it gave her and her five siblings the chance to be the first generation in their family to attend college. Pursuing higher education, in turn, gave her the opportunity to get her feet wet in the lab, an experience that hooked her from the very beginning.
"When I became involved, I was trapped and never left," she says. "Learning the theory behind science is great, but being able to discover, learn, and share your research is immensely rewarding. They say knowledge is power, but only if you apply it. Studying books opened a world of research and science that I didn't know I loved, but putting this knowledge into practice and gaining that practical skill that a book can't teach you provides the key into expanding your knowledge beyond what you'd expect."
Because of her family background, Yvonne was eligible to participate in a program at the National Institute of Allergy and Infectious Diseases (NIAID), the Intramural NIAID Research Opportunities (INRO) program, which specifically provides research opportunities to individuals from populations underrepresented in the biomedical sciences. Yvonne came to NIH in 2020 as part of the program's first class, joining the lab of IRP senior investigator Jesus Valenzuela, Ph.D. After studying deadly bacteria and searching for viruses that can kill them during her undergraduate years, she was excited to continue studying infectious disease at NIH by examining molecules in the saliva of sand flies and ticks, which can transmit illnesses like Lyme disease via their bites.
"When a sand fly or tick takes a blood meal, it ejects a repertoire of salivary proteins, bacteria, and other molecules into the host," Yvonne explains. "These salivary proteins are recognized by the host and as a result the immune system will become activated and will begin to mount an antibody defense. Our goal is to determine which salivary proteins from these organisms have the ability to activate the host's immune response, and in particular which trigger an immune response in the majority of people."
Ultimately, Yvonne and her labmates hope to use this knowledge to identify 'biomarkers' that can reveal whether a person has been bitten by a tick or sandfly. While the group has already discovered promising proteins in tick and sandfly saliva that could be used for this purpose, they are continuing their work to determine which of the molecules would be most useful for determining a person's exposure to one of those disease-spreading bugs.
"This would be a highly useful tool in determining exposure to these sources of disease and expedite treatment for the diseases that these organisms transmit," Yvonne says.
After years in the lab studying tiny microbes, ticks, and flies, Yvonne plans to shift her focus to humans by going to medical school. As she prepares to take the next step towards her goal of becoming either an ocular surgeon or an emergency medicine physician, she looks back fondly on her two years in the IRP and the growth she has undergone in that time.
"My favorite part of doing research as a postbac at the NIH is my independence and knowing that I am in a lab that does not punish mistakes," Yvonne says. "I am in a healthy environment, so I feel comfortable with working and enjoying the process, and I don't have to worry about mistakes and being criticized for them. After all, mistakes sometimes lead to great discoveries in science."
Fun fact: Yvonne enjoys riding motorcycles and has one of her own that she loves to take out for a spin.
De'Larrian Knight: Evaluating Exercise as an Alzheimer's Treatment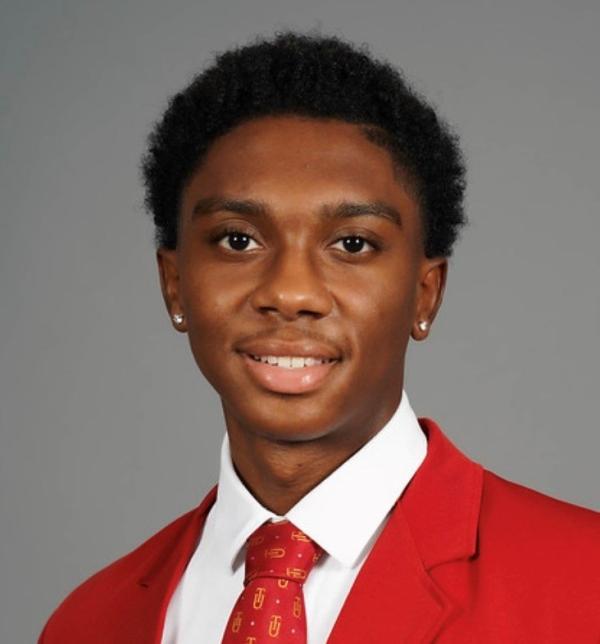 De'Larrian grew up with "a natural curiosity about the way the world works," he says. He carried that interest with him as he studied chemical engineering at Tuskegee University in Tuskegee, Alabama. During his time there, he not only performed bench science examining how toxins affected the survival of yeast cells, but he also explored the sphere of social science, conducting a study on awareness of 'green chemistry' among the University's students. However, it was his experience shadowing a neurologist that led him to join the lab of IRP senior investigator Dimitrios Kapogiannis, M.D., where he has been exploring the question of whether exercise might improve brain health in people with Alzheimer's disease.
"There currently is no treatment for Alzheimer's disease, so it is paramount that one be discovered due to the devastating effects the disease causes," De'Larrian says.
De'Larrian has been specifically working on a study examining how exercise affects the contents of molecular capsules called extracellular vesicles (EVs) routinely released by cells into the bloodstream. De'Larrian likens EVs to mail trucks, which deliver protein 'packages' from one part of the body to another. During his poster presentation, he displayed data from the study showing that EVs released by the neurons of people with mild to moderate Alzheimer's contained more of a molecule related to brain health, called proBDNF, after 16 weeks of low-intensity exercise. Patients who engaged in no exercise or 16 weeks of high-intensity exercise, on the other hand, did not show statistically significant increases in the amount of proBDNF their neuronal EVs carried.
"Our findings indicate that neuron-derived EVs could potentially contain messages about the molecular effects of exercise on neurons specifically in patients suffering from Alzheimer's disease," De'Larrian explains. "With more study, this could strengthen the rationale for testing exercise further as a potential treatment for Alzheimer's disease."
De'Larrian has found the environment in his research group to be both challenging and extremely supportive. In addition to the guidance he receives from Dr. Kapogiannis, he has benefited from the assistance of other mentors in his lab who have helped him better understand the topic he is studying and learn the techniques he must use to do so.
"My experience as a postbac has been exceptional!" De'Larrian says. "I love my lab group and supervisor, as they have welcomed me with open arms and made the transition into the lab seamless. My favorite part of the postbac experience so far has been learning about the science and being surrounded by some of the brightest minds in the world. It is a consistent challenge to live up to the standard of excellence they set, but that is what makes being a postbac so rewarding."
Fun fact: De'Larrian is a huge fan of the Star Wars films. "I can recite detailed facts about the fictional universe," he says, "such as the seven different lightsaber techniques and how Darth Vader's suit keeps him alive."
Subscribe to our weekly newsletter to stay up-to-date on the latest breakthroughs in the NIH Intramural Research Program.
---
Tags:
postbac
,
postbacs
,
poster day
,
Postbac IRTA
,
research training
,
training
,
cancer
,
viruses
,
lupus
,
autoimmune
,
lungs
,
infectious diseases
,
nutrition
,
women in science
,
Alzheimer's
,
aging
,
brain
,
neuroscience
Related Blog Posts
This page was last updated on Tuesday, May 23, 2023