Poster Day Showcases Summer Student Science
Annual Event Shares Research by IRP's Summer Interns
NIH's Natcher Conference Center was packed once again last Thursday for the annual Summer Poster Day. This year, more than 1,200 college and high school students spent their summer performing research in an IRP lab through the NIH's Summer Internship Program. 
I navigated through the more than 900 posters presented this year to get a taste of the impressive work done by these young men and women in less than three months. If they can make these kinds of discoveries in just one summer, imagine what they might one day accomplish as full-time scientists and clinicians!
Enat Ayele: Mapping Fatty Acids in the Eye and Brain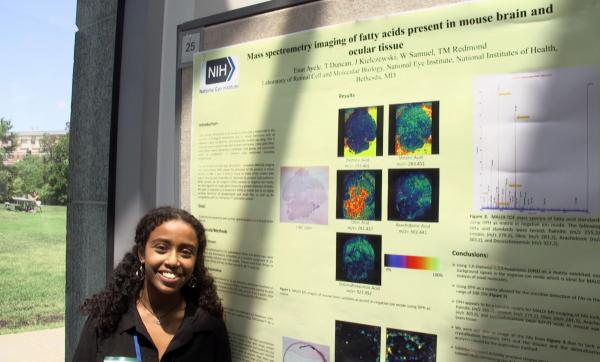 Before returning to Evanston, Illinois, for her sophomore year at Northwestern University, Enat opted to spend her second straight summer studying the eyes at the NIH. She used a machine called a mass spectrometer to map where specific types of fat molecules reside in the eyes and brains of mice. The ultimate goal of the research is to create a 3D map of the brain and eye that indicate where certain fat molecules accumulate. Since fat molecules are thought to be involved in some eye diseases, that kind of map would help scientists determine whether a certain type of fat molecule is associated with, and possibly causes, a particular eye ailment.
"Prior to this summer, I didn't know about cryo-sectioning or imaging using a mass spectrometer," Enat says. "Working at NIH, you're exposed to a lot of techniques, but it's also an environment where people encourage you to learn and it's okay to make mistakes. So I felt very comfortable learning here."
"Last summer was a blast and I wanted to do it again," she adds.
Cameron Amini: Fighting Cancer With Dynamic Drug Duos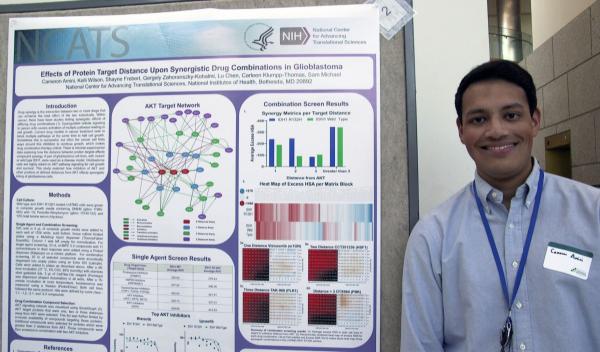 While NIH's summer interns come from all across the United States, Cameron did not have to travel far. The rising sophomore studying neurobiology and physiology at the University of Maryland, College Park, presented the results of a study that aimed to identify new drug combinations for treating glioblastoma, a form of brain cancer. His project specifically focused on a cellular signaling pathway that is important to the growth and survival of glioblastoma cells and depends on a protein called AKT.
Like all signaling pathways, the AKT pathway consists of a series of many steps, each of which depends on a different molecule. Cameron found that combining an AKT-inhibiting compound with one that inhibits a molecule more than three steps removed from AKT in that chain of events made for a more effective combination therapy compared to pairing an AKT-inhibiting drug with a drug targeting a protein closer to AKT in the signaling pathway. Studies like Cameron's could help produce therapies that are better at destroying wily cancer cells, which have a tendency to become resistant to treatments that rely on only a single medication.
"Working at the NIH was a unique experience and something I was very honored to be a part of," he says. "I enjoyed being in a lab and being able to pipette, take care of cells, and do actual experiments rather than just reading papers. Hopefully, I can come back next year and continue to do research here."
Meagan Colie: Identifying Indicators of Immune System Aging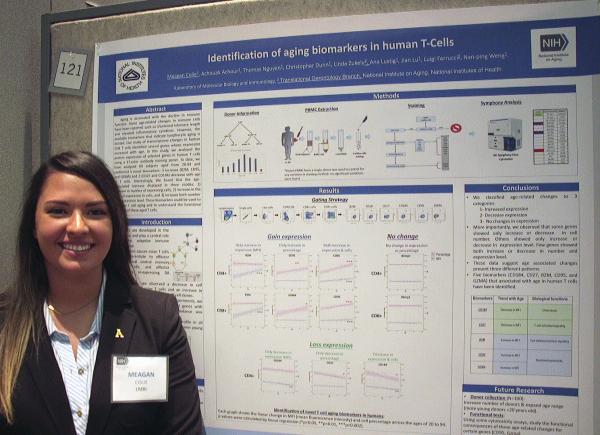 A recent graduate of Appalachian State University in Boone, North Carolina, Meagan spent her summer searching for measurable changes, called biomarkers, that occur in immune system cells as people age. Meagan examined blood samples from healthy volunteers aged 20 to 94 and identified five proteins found in different amounts in immune cells called T cells based on a person's age — three that increased with aging and two that decreased. Her results, in combination with prior studies, suggest that those proteins might play a role in the weakening of the immune system that typically occurs as people age.
"Doing research at the NIH has been a life-changing experience for me," Meagan says. "I've learned so much. My mentors have been amazing — they've provided me with everything I needed to know and then some. I feel like I've really grown as a person over the past 10 weeks, and I really have my goals in line now compared to when I first started."
Lina Gu: Enlisting the Immune System to Kill Cancer Cells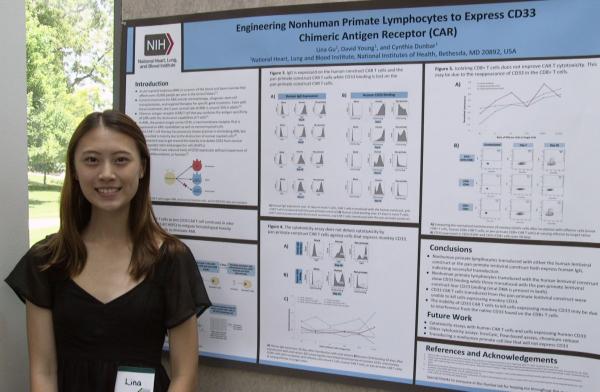 Georgia native Lina Gu, a rising senior at the Georgia Institute of Technology in Atlanta, spent her summer working on the cutting-edge frontier of cancer therapy: immunotherapy. Cancer is able to evade the immune system for reasons that scientists do not fully understand. As a result, a major area of cancer research investigates how to turn immune system cells called T cells into so-called "CAR-T' cells that can detect and kill cancer cells. Lina worked on a preliminary step in the development of this therapy: genetically modifying immune cells — in this case from monkeys — so that they will attack the cancerous cells found in acute myeloid leukemia (AML), a cancer of the blood and bone marrow.
"I've gotten to learn a lot of new techniques and a lot of new information," she says. "I was taught about these CAR-T cells in my biology classes, but by coming to the NIH, I've gotten to be really hands-on and actually see the process and make them, which is really exciting."
Luke Tucker: Programming Exoskeletons to Help Children Walk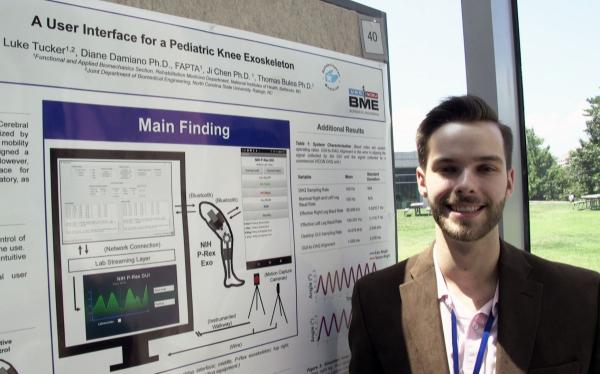 Luke will soon begin his final year in a combined program at North Carolina State University in Raleigh, North Carolina, and the University of North Carolina-Chapel Hill. Before finishing up his degree in biomedical engineering, however, he stopped at the NIH to develop an easy-to-use graphical user interface (GUI) for programming a robotic exoskeleton that helps children with cerebral palsy walk. The apparatus is designed to alleviate a walking difficulty called crouch gait, which leaves half of the children who have it unable to walk by the time they reach adulthood. However, children with cerebral palsy are much more likely to retain the ability to walk if they practice daily with the assistance of an exoskeleton — an activity made much easier by a user-friendly GUI.
"The lab I've been working in has been awesome," Luke says. "I've learned a ton and my lab mates have been super helpful. I wasn't a big coder coming in and I learned three different programming languages for this project, and they were super supportive throughout that process. It's been a great summer."
When it comes to becoming a scientist, there's no substitute for hands-on practice. These five students and their hundreds of fellow summer interns show that, with some high-quality mentoring and the resources of the IRP's state-of-the-art labs, even young people with limited research experience can substantially contribute to scientific progress. Now that they've finished their internships at NIH, they will take their newly acquired skills back home with them to continue the critical work of studying human biology and improving health.
Subscribe to our weekly newsletter to stay up-to-date on the latest breakthroughs in the NIH Intramural Research Program.
---
Tags:
poster day
,
summer interns
,
research training
,
brain
,
eye
,
neuroscience
,
cancer
,
immune system
,
biomarkers
,
aging
,
mass spectrometry
,
immunotherapy
,
T cells
,
computers
,
cerebral palsy
Related Blog Posts
This page was last updated on Wednesday, July 5, 2023