Scouting Out Summer Poster Day
Annual Event Held In-Person for First Time in Four Years
A few weeks ago, NIH's Natcher Conference Center bustled with the youthful scientific enthusiasm of IRP summer interns for the first time since 2019, the last time that the IRP's Summer Poster Day was held in-person. At this year's event, held on August 3 and 4, the hundreds of high school and college students who conducted research in IRP labs as part of NIH's Summer Internship Program this year eagerly showed off the fruits of their labors — from discoveries about how weight loss drugs affect the brain to new insights into a potential treatment target for age-related vision loss. Read on to learn more about a few of these scientific upstarts and the research revelations they've helped uncover.
Amia Black: Learning About the Latest Weight-Loss Craze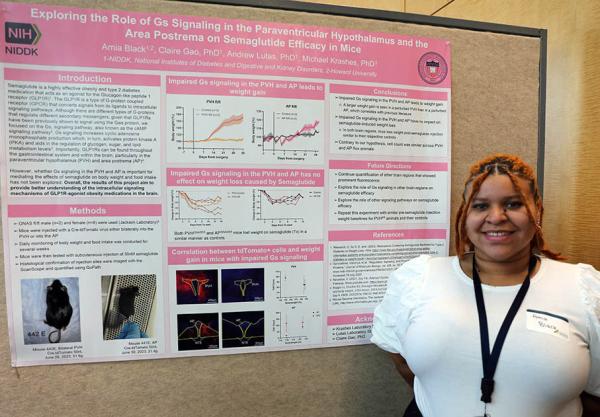 If you've picked up a newspaper or been online in the past year, you've likely heard about the rapidly growing use of the diabetes medications Wegovy and Ozempic to help people lose weight. However, you may not have realized that they actually utilize the same active ingredient, a compound called semaglutide that mimics a hormone released by the digestive system when we eat. With the recent attention to semaglutide's potential to treat obesity, it's not too surprising that Amia found herself studying it under the guidance of IRP senior investigator Michael Krashes, Ph.D., and IRP Stadtman Investigator Andrew Lutas, Ph.D. In particular, their labs have been seeking to better understand how semaglutide affects the brain.
"Despite semaglutide being a very popular and highly effective obesity and type 2 diabetes medication, not much study has been conducted on how it works in the brain," Amia explains.
Her summer research project specifically aimed to reveal whether a particular signaling pathway in the brain, called the 'Gs' pathway, might be involved in semaglutide's effects on appetite and digestion. Her experiments revealed that semaglutide still led to weight loss in mice that had the Gs pathway disabled in two particular brain regions, suggesting that semaglutide's effects do not depend on Gs signaling in those parts of the brain.
While Amia's study doesn't completely rule out the possibility that semaglutide's effects might depend in-part on Gs signaling in other brain areas, it does rule out some important suspects and narrow down the possibilities for why semaglutide is so effective as a weight loss aid. Aside from the scientific benefits of the study itself, conducting it also yielded important personal rewards for Amia, broadening her knowledge of science beyond what she has learned so far in her classes at Howard University in Washington, D.C.
"Being a Biology major, I merely scratch the surface of a plethora of disciplines, but my time in Dr. Krashes' and Dr. Lutas' labs has opened my eyes to the world of neuroscience," Amia says.
"I had nothing short of a perfect experience working as a summer student at the NIH," she continues. "Dr. Krashes and Dr. Lutas took the time out of their very busy schedules to explain the work at hand in great detail and aid in the development of my projects and personal knowledge. My mentor, Claire Gao, went above and beyond to ensure I not only understood the research and how to do all of the necessary methods, but that my time in the lab was beneficial to my personal and professional development. All of the lab staff was supportive, friendly, and informative. I cannot thank these labs enough for hosting me and providing me with such an amazing experience this summer."
Fun fact: Amia is the first person in her father's family to attend college. "My family has been extremely supportive and proud of me for pursuing higher education and finding a passion for research," she says.
Nolan Murphy-Genao: Improving Production of Lab-Grown Human Tissue Models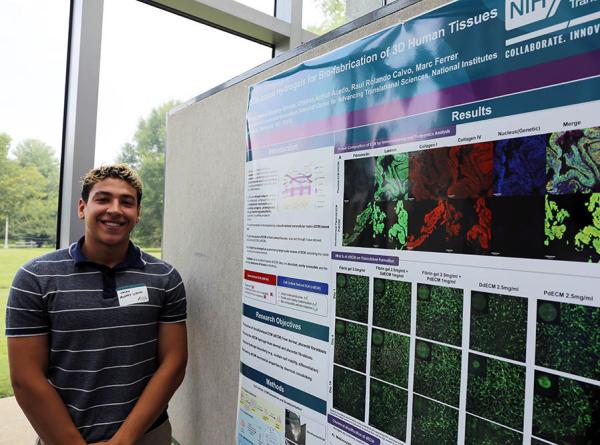 Nolan has been applying his love of chemistry to the construction of very small things since his sophomore year of college at the University of Connecticut, where he is studying Chemical & Biomolecular Engineering and Spanish. That year, he joined a research group at his university focused on utilizing microorganisms to remove plastic particles from wastewater. His specific contribution to the project was synthesizing the chain-like plastic 'polymer' molecules that most commonly pollute wastewater so the rest of the team could assess the effectiveness of its microbe-based water treatment. Nolan also spent the summer of 2022 helping a research lab at the University of Chicago synthesize yet more polymer molecules — in this case, to create a material that could one day replace rubber. It was there that Nolan first became intrigued by the possibility that he could leverage his skills in a domain quite different from environmental or materials science.
"At the University of Chicago, I was blessed to listen to several immunoengineering seminars, which opened my eyes to a nascent discipline that is quintessential to many contemporary problems, like fighting the coronavirus' many variants," he recalls. "As fascinating as the emerging field was, I did not want to abandon my passion for polymers, but rather forge a coalescence between materials science and biomedical engineering."
This new goal led Nolan to join the IRP's 3-D Tissue Bioprinting Laboratory this summer, where he worked under the guidance of the lab's director, Marc Ferrer, Ph.D. There, Nolan helped create and test a new method of producing 'extra-cellular matrix' in the lab. This intricate network of many different molecules provides structural support to cells inside the body and helps properly organize them. Outside the body, it can be used in laboratory research to create three-dimensional models of human tissue that much more closely resemble the way cells are organized in the human body compared with the flat layers of cells in petri dishes or on microscope slides. Potential treatments can then be tested on these tissue models to gauge their effects.
"Unfortunately, over 90 percent of drugs fail in clinical trials due to unexpected toxicity that was not seen in preclinical animal studies or lack of efficacy in patients," Nolan explains. "3D human tissue models have the potential to dramatically increase comprehension of the roots of disease and accelerate the preclinical development of new drug candidates by providing toxicity and efficacy data that it is closer to humans and thus eliminating the inter-species translational gap."
Utilizing his biomedical engineering knowledge in a new way was certainly challenging for Nolan, who had never worked with cells in a lab before. Fortunately, Dr. Ferrer and Dr. Cristina Antich, a postdoctoral fellow in his lab, provided expert mentorship that helped Nolan learn the skills he needed to make meaningful contributions to his lab's important work.
"I benefited from the faculty's collective experience and institutional knowledge, which taught me a great deal about integrating biology, chemistry, and polymer science for biomedical purposes that I would not find elsewhere," Nolan says. "My experience at NCATS will leave an indelible mark on my scientific career."
Fun fact: Prior to coming to NIH, Nolan spent a year studying abroad at the Polytechnic University of Valencia in Spain. "This unforgettable experience allowed me to immerse myself in a different culture and see a different way of life," he says.
Cody Hill: Applying AI to Racial Health Disparities
AI chatbots like ChatGPT have recently spurred a burst of both enthusiasm for, and fear of, artificial intelligence. However, AI has long been used both in the lab and in the clinic. As a result, many researchers have dedicated their careers to trying to shore up its weaknesses, such as the tendency of AI algorithms to reinforce harmful racial biases and health disparities.
A problem like that, which spans both biomedical and computer science, was well-matched to Cody's interests as a master's student pursuing a degree in Data Science at the University of Colorado, Boulder. Fortunately for him, NIH offers the Graduate Data Science Summer Program (GDSSP) specifically for students working towards such a degree, providing them a chance to apply their skills to problems in the domain of human health.
"In the beginning, it was science's ability to explain the natural world that brought me to science," he explains. "What kept me in the sciences has been a lifelong love of problem-solving with the goal of making an impact. The project I worked on this summer at the NIH hit on those two themes perfectly, exploring a bias gap in AI that has the potential to make a clinical difference in a vulnerable population and contributing to the work of filling in that gap."
With the help of IRP investigator Sameer Antani, Ph.D., Cody spent his summer evaluating an AI algorithm's ability to correctly identify tumors on dark skin that signify the cancer known as Kaposi sarcoma. Because existing medical databases typically lack images from dark-skinned patients with which to train AI systems, AI often does a much poorer job of identifying signs of worrying skin abnormalities like tumors on dark skin than on light skin. To reduce this disparity, Cody aimed to train an AI model using only images of dark-skinned individuals. In the end, his algorithm demonstrated a strong ability to identify images showing Kaposi sarcoma on dark skin, but it was not great at knowing when an abnormality on dark skin was not a sign of the disease. Though far from perfect, Cody concluded that his AI model "showed promising accuracy when compared to dermatologist metrics and laid the groundwork for ongoing research in the space of addressing AI bias," he says.
Despite NIH being better known for its biomedical research than its work in the realm of computer science, Cody found that he fit right in with his IRP peers. In fact, the opportunity to get out of his comfort zone with the support of experienced scientific mentors was one of the best parts of his experience.
"I've thoroughly enjoyed being a part of the NIH this summer," he says. "Specifically, the sense of community I felt in my research lab working with Dr. Antani and my direct mentor, Dr. Feng Yang, and through the Graduate Data Science Summer Program, really fueled my desire to succeed here. Weekly meetings with my research lab demystified the collaborative research process for me and gave great perspective on how to effectively approach difficult and complex problems."
Fun fact: Cody balances his time staring at computer screens with a love of walking in nature. He plans an overnight hike at least once a year, and this year's expedition will take him to the mountains of Austria. "I do my best thinking and find the most stress relief while on a hike," he says.
Monica Soliman: Evaluating Exercise Interventions for Brain Injury Patients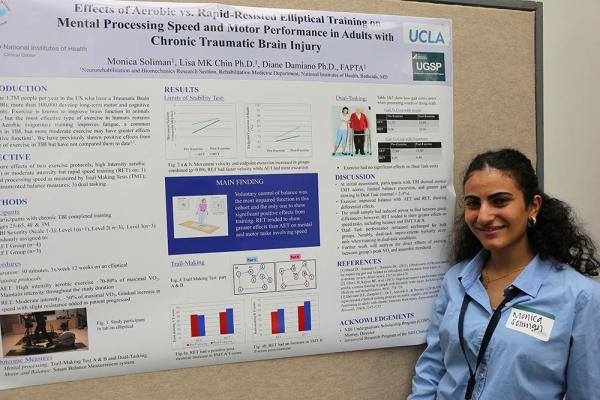 Movement has long been an important part of Monica's life, beginning with her family's move from Egypt to Los Angeles when she was in fourth grade. After growing up playing a variety of sports, she is now engaged with physical activity both outdoors and in the lab. This includes a stint conducting research on infants with the movement disorder cerebral palsy when she was an undergraduate at the University of California, Los Angeles (UCLA).
"Science has been a fascination since my childhood — it's simplicity hiding a world of complexity," she says. "Growing up, I saw its transformative potential to reshape perspectives and enhance lives. Beyond rigid answers, science offers boundless possibilities, a realm I'm excited to explore indefinitely."
Given her interest in both science and exercise, Monica was a perfect match for the lab of IRP senior investigator Diane Damiano, Ph.D., where she began working this summer as a part of NIH's Undergraduate Scholarship Program (UGSP). The UGSP helps students from disadvantaged backgrounds pay for college in return for performing research at NIH during summers and following graduation as a postbaccalaureate IRTA fellow.
At summer poster day, Monica presented the results of a study she conducted comparing how two different exercise regimens affected the recovery of patients with a traumatic brain injury (TBI). Her research revealed that a moderately intense workout on an elliptical machine, in which the speed was increased gradually over time, led to more improvement in the patients' balance and performance on a test of mental processing speed compared to a higher-intensity exercise routine in which the intensity was the same from start to finish.
"Whether it's applied to infants with cerebral palsy or adults with a TBI, the role of exercise and physical therapy interventions can play a crucial role in driving their progress," Monica says. "Exploring how exercise can impact both motor and cognitive functions in these individuals was an avenue that really captured my curiosity."
As a participant in the UGSP, Monica will spend the next year continuing her work with Dr. Damiano, a prospect she is very much looking forward to.
"My experience as a summer student at NIH has been truly enriching," she says. "My lab welcomed and supported me throughout my research journey. I'm excited to continue working with this exceptional group of scientists as a postbaccalaureate fellow, as it provides an invaluable opportunity to learn and grow."
Fun fact: Monica's favorite ways to get moving are swimming, tennis, and volleyball. She's also "always up for learning new sports," she says, and she recently took up golf.
Kieran Soliday: Eying a Treatment Target for Age-Related Vision Loss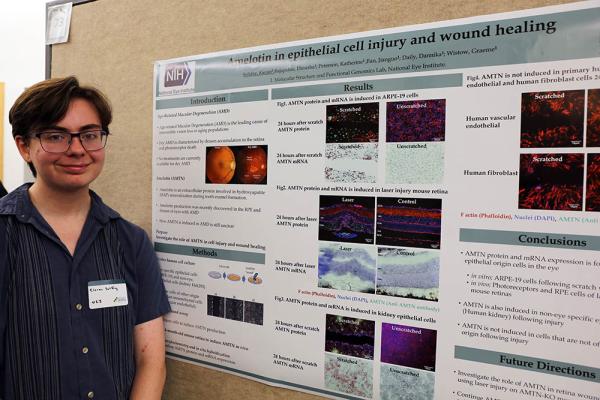 While many IRP summer interns arrive at NIH with at least some experience in biomedical research, for others it is their first glimpse of life in the lab. That was the case for Kieran, whose only prior exposure to scientific work was testing nitrate and phosphate levels in water samples from streams in Carroll County, Maryland, as part of his curriculum at Carroll Community College.
Ahead of transferring to the University of Maryland, Baltimore County, this fall to finish his degree in Biochemistry and Molecular Biology, Kieran wanted to get a taste of what a career in those fields might be like. However, with little hands-on experience in that area, Kieran had few expectations and an open mind when he applied to NIH's Community College Summer Enrichment Program (CCSEP), which brings community college students to NIH for summer internships.
"As I am early in my education and career, it is hard for me to narrow down my interest in everything related to this field," he says. "I even wrote on my statement of interest that I would be content to be thrown in any lab."
Based on Kieran's general interest in molecular biology, the CCSEP program placed him in the lab of IRP senior investigator Graeme Wistow, Ph.D., where he began studying a protein called amelotin that was originally thought to only be present in teeth. However, a few years ago, Dr. Wistow's lab found amelotin in certain cells in the eyes of people with dry age-related macular degeneration (AMD), a common form of vision loss in older adults.
Kieran's experiments found that amelotin is present only in injured cells from the eye's retina, and then only in cells classified as 'epithelial' cells — cells that cover the interior and exterior surfaces of the body, like the skin and blood vessels. Kieran also found the protein in injured epithelial cells from the kidney, but not in any cells that are not part of the epithelial family. Since epithelial cells play an important role in healing and Dr. Wistow's lab has only found amelotin in injured epithelial cells, Kieran's results present the possibility that epithelial cells produce amelotin as part of their natural healing response. If further experiments confirm that theory, they could lead to the first effective treatments for dry AMD.
"There are no treatments currently available for dry AMD, so further understanding the role of amelotin would allow for the development of therapeutics targeting this protein that would slow disease progression and thus slow vision loss," Kieran explains.
Being thrown into the scientific swimming pool that is the IRP can be a difficult adjustment for even a honed scientist, let alone a relative novice like Kieran. Fortunately, his mentors in Dr. Wistow's lab — research fellow Dinusha Rajapakse Todd, Ph.D., and staff scientist Katherine Peterson, Ph.D. — were eager to take him under their wing and make his time at NIH a special experience.
"The techniques and the science itself could be conducted with anyone, but Dr. Todd's and Dr. Peterson's enthusiasm, expertise, and advice were invaluable and are a huge part of what made my summer so amazing," Kieran says.
"Going into my internship, I wasn't sure what to expect due to my inexperience, but it far exceeded any expectations I did have," he continues. "It has definitely solidified my goal to become a biomedical research scientist!"
Fun fact: Kieran has a cat named Gris that his family rescued from under their shed. Three years ago, his family began hearing meows in their yard and found Gris living in a hole next to the shed that led underneath it. The previously feral kitten has been living with Kieran's family ever since.
Subscribe to our weekly newsletter to stay up-to-date on the latest breakthroughs in the NIH Intramural Research Program.
---
Tags:
summer interns
,
poster day
,
weight loss
,
neuroscience
,
brain
,
artificial intelligence
,
health disparities
,
exercise
,
traumatic brain injury
,
eye
,
vision
Related Blog Posts
This page was last updated on Tuesday, August 22, 2023