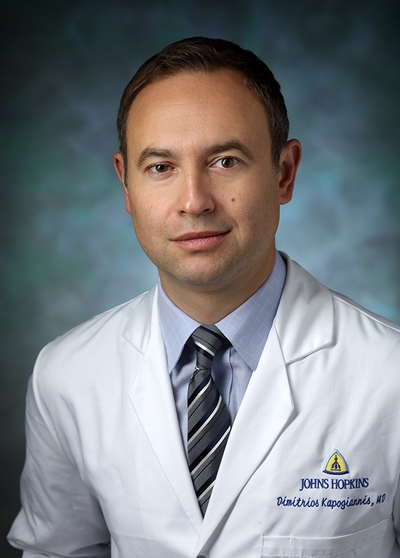 Dimitrios Kapogiannis, M.D.
Investigator
Cellular & Molecular Neurosciences Section
NIA
3001 S. Hanover St.
Harbor Building, Room NM-531
Baltimore, MD 21225
410-350-3953
Research Topics
Neurodegenerative diseases, such as Alzheimer's disease (AD), are characterized by a long preclinical phase with evolving and progressively irreversible pathology. Therefore, biomarkers are essential for identifying patients early in the course of the disease, when disease-modifying interventions may have the greatest chance of success. In addition, biomarkers have the potential to boost therapeutic discovery for neurodegenerative diseases by enriching the participant population in clinical trials for the presence of pathology, and as surrogate outcomes. Dr. Kapogiannis' research program is aimed at developing biomarkers for preclinical diagnosis and for demonstrating target engagement in clinical trials. A limitation of biomarkers measured in the soluble phase of blood is their tenuous link to brain pathology, since they are often produced by multiple tissues and their brain-derived fraction has to cross multiple barriers before reaching the circulation. Our team has pioneered a new approach to biomarker discovery in AD that addresses this limitation by harvesting extracellular vesicles enriched for neuronal origin from blood. Given their origin, neuronal-enriched extracellular vesicles can be used to interrogate intraneuronal pathogenic processes previously inaccessible in vivo, akin to a "liquid biopsy". In a series of case-control studies, Dr. Kapogiannis identified candidate biomarkers for AD diagnosis from extracellular vesicles enriched for neuronal and astrocytic origin. He is currently in the process of conducting larger-scale validation studies to validate lead candidate biomarkers and demonstrate their ability to predict AD diagnosis at the preclinical stage. Given the pathogenic significance of abnormal brain metabolism and the therapeutic potential of targeting brain insulin resistance in AD, he has also pioneered the use of Magnetic Resonance Spectroscopy biomarkers reflecting brain energy metabolism in AD. Finally, Dr. Kapogiannis is conducting early phase interventional studies targeting brain metabolism to treat or prevent AD. After having completed a Phase IIa double-blind placebo-controlled randomized clinical trial of the antidiabetic agent exendin-4 in early AD, he is currently conducting a controlled randomized clinical trial of 5-2 calorie restriction in middle aged participants examining changes in extracellular vesicle and Magnetic Resonance Spectroscopy biomarkers alongside cognitive outcomes.
Biography
Dimitrios Kapogiannis is a graduate of the University of Athens Medical School. He completed his Neurology Residency training at Massachusetts General Hospital/Harvard Medical School and a Clinical Fellowship in Behavioral Neurology at the National Institute of Neurological Disorders and Stroke. He is a Clinical Investigator at the Laboratory of Neurosciences at the National Institute on Aging conducting clinical and translational studies in Alzheimer's disease. His primary focus is on Extracellular Vesicles as a source of biomarkers and as effectors in neurodegenerative diseases pathogenesis. He is also conducting clinical trials of metabolism-based interventions for Alzheimer's disease prevention and treatment. He holds an adjunct appointment as Associate Professor at the Department of Neurology of Johns Hopkins University and providing clinical care as attending at the Johns Hopkins Memory and Alzheimer's Treatment Center. Dr. Kapogiannis has authored more than 60 peer-reviewed publications. He is also member of the Editorial Boards of "Ageing Research Reviews" and "npj Aging and Mechanisms of Disease". Dr. Kapogiannis is considered an expert on isolating neuronal-origin Extracellular Vesicles from peripheral blood as a source of biomarkers for neurological disorders.
Related Scientific Focus Areas

---
This page was last updated on July 22nd, 2019