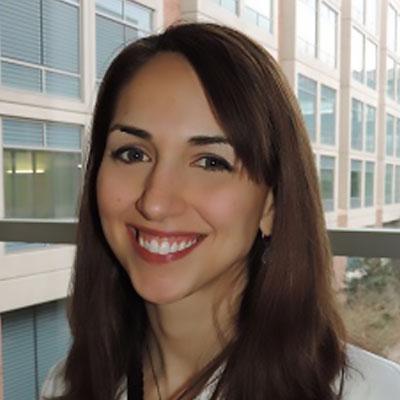 Laura B. Lewandowski, M.S., M.D.
Assistant Clinical Investigator
Lupus Genomics and Global Health Disparities Unit
NIAMS
Research Topics
Our goal is to understand more about lupus, specifically systemic lupus erythematosus (SLE), through studying diverse patients around the globe. Dr. Lewandowski is a clinician-scientist and has seen the impact of SLE on her patients, including severe inflammation and organ damage, when the disease begins in childhood. Dr. Lewandowski has worked internationally and established numerous collaborations to understand how lupus affects children throughout the world. Her previous work determined that pediatric lupus patients in South Africa had severe disease and high rates of non-reversible damage from inflammation. Dr. Lewandowski now aims to study the drivers of severe disease in childhood-onset patients globally, using genomics and transcriptomic techniques.
Our lab believes that lupus is a heterogeneous disease, and there are likely multiple molecular pathways that lead to this diagnosis. Defining those pathways in a diverse global population can lead to a more refined, molecular categorization of patients and a better understanding of the mechanism of disease. Our work is patient-focused, and our mission is to develop research programs that identify key targets in SLE and deliver precise therapeutics.
Biography
Laura Lewandowski, M.S., M.D., received her medical degree from Pennsylvania State University College of Medicine and her undergraduate degree from the College of the Holy Cross, Massachusetts. She completed pediatric residency training at the University of Massachusetts Medical Center and then became a chief resident in pediatrics. Dr. Lewandowski completed a combined four-year pediatric rheumatology/global health fellowship at Duke University Medical Center, during which she characterized a pediatric lupus patient cohort in South Africa. She holds a Master's in Global Health from Duke University. During her fellowship, she established a registry of pediatric lupus patients that continues to grow. It is now the largest cohort in sub-Saharan Africa. Dr. Lewandowski received a Fogarty Global Health Fellowship and a Lupus Foundation Early Career Award for her work with pediatric lupus patients in South Africa.
In 2015, Dr. Lewandowski joined the NIAMS at the NIH under Dr. Mariana Kaplan as a Lawrence Shulman Scholar in Translational Medicine. She currently holds the position of Assistant Clinical Investigator and is Head of the Lupus Genomics and Global Health Disparities Unit.
Related Scientific Focus Areas
This page was last updated on Saturday, August 19, 2023