IRP Scientist Shares Path From Stuttering to Science
Diversity-Focused NIH Program Helps Dr. Shahriar SheikhBahaei Investigate the Neuroscience of Voluntary Movement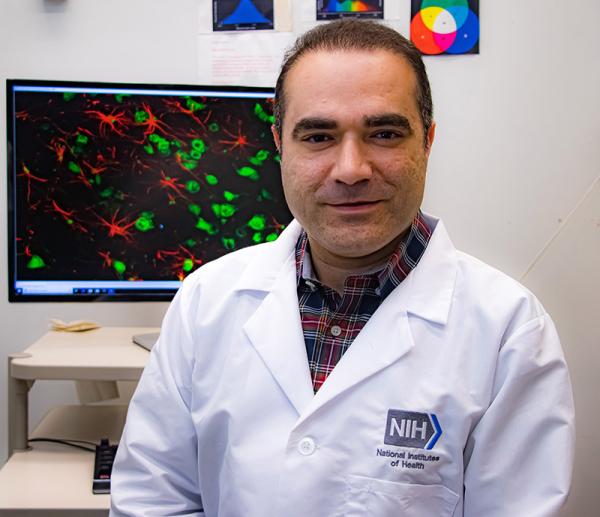 IRP neuroscientist Shahriar SheikhBahaei, Ph.D., first became aware of his stutter when he was 5 years old. Years later, his career would revolve around studying the biological roots of his speech impediment. But before he could start his own lab focused on how the brain controls voluntary movement, he needed a leg up from NIH's Independent Research Scholars (IRS) program.
Launched in 2019, the IRS program selects early-career scientists from groups traditionally under-represented in biomedical science to lead their own IRP research teams. One of the key criteria for selection is a "demonstrated commitment to improving the diversity and inclusion in the workforce," says Charles Dearolf, Ph.D., Director of Program Development and Support in the NIH Office of Intramural Research (OIR). Dr. SheikhBahaei's openness about his struggles with stuttering and willingness to tell his personal story are just some of the ways he fosters an inclusive workplace environment in his lab.
Dr. SheikhBahaei's relentless pursuit to understand the biological basis of his stuttering led him to pursue a medical degree in his home country of Iran. After that, due to the lack of research resources in Iran at the time, at his earliest opportunity, he pursued further education in the United States. After navigating the detailed application and immigration processes, he was accepted into the University California, Berkeley, where he had to start his undergraduate studies over due to delays in obtaining his academic credentials from Iran. As he transitioned to life in the United States, the Iranian researcher also encountered other challenges international students commonly experience, including social and cultural differences and a language barrier that was made even tougher by his speech problems.
"People who stutter do so in their not-mother language, so I tend to stutter more in English," he says.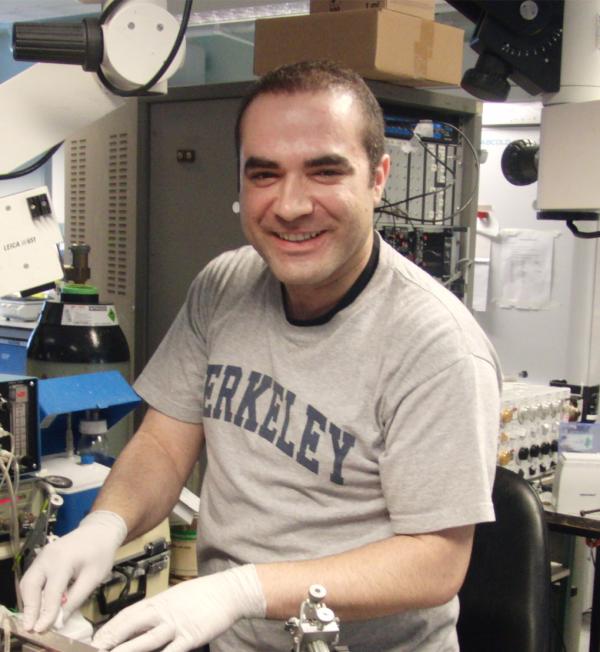 However, life in the United States was also filled with opportunities. UC Berkeley was where Dr. SheikhBahaei got his first taste of life in the lab, an experience that "opened my eyes to the beauty of neurobiological research," he says. After graduating from UC Berkeley, he secured a postbaccalaureate research position at the University of California, San Francisco, where he worked in a lab studying the development of specific neurons in the brain. While at UC San Francisco, Dr. SheikhBahaei sat in on a lecture given by Stanford University neuroscientist Ben Barres, M.D., Ph.D., that planted a seed for the future direction of his research. Dr. Barres spoke about his studies on brain cells called astrocytes and their unique role in regulating the development of neuronal 'circuits,' the many connections between neurons that allow them to efficiently communicate with one another.
"That was the first time I heard the word 'astrocytes', which are the 'other' cell types, not neurons, that can modulate the activity of neurons," says Dr. SheikhBahaei.
As he listened, he formulated a question: maybe there are faulty astrocytes in areas of the brain that regulate speech in people who stutter. Unfortunately, there was no animal model available to do basic research on stuttering at that time, so Dr. SheikhBahaei decided to study how astrocytes are involved in breathing, a motor activity related to speech that he would be able to study in animal models.
"Breathing and speaking are closely interrelated — for example, we only speak when we exhale — and so the understanding of breathing may help the understanding of speech," he says.
This newfound interest in the neuroscience behind breathing led him to enter a Ph.D. program in 2013 jointly run by University College London and NIH's National Institute of Mental Health (NIMH). The NIMH component of the program placed him in the lab of IRP senior investigator Jeffrey Smith, Ph.D., whose research team had discovered a special area in the brain that controls the rate and pattern of breathing. Upon completing his Ph.D. in 2017 and a short stint as a postdoctoral fellow in Dr. Smith's lab, Dr. SheikhBahaei was selected into the IRS program's inaugural class in 2019 and started his own lab at NIH's National Institute of Neurological Disorders and Stroke (NINDS). As chief of the Neuron-Glia Signaling and Circuits Unit, Dr. SheikhBahaei says he is doing what he always wanted to do. His work continues to focus on how those 'other' brain cells, astrocytes, influence complex motor behaviors, including stuttering. Already, his lab has shed light on two different groups of astrocytes critical for the production of speech, one located on the brain's surface, or cortex, and the other hidden below in the 'subcortical' area of the brain.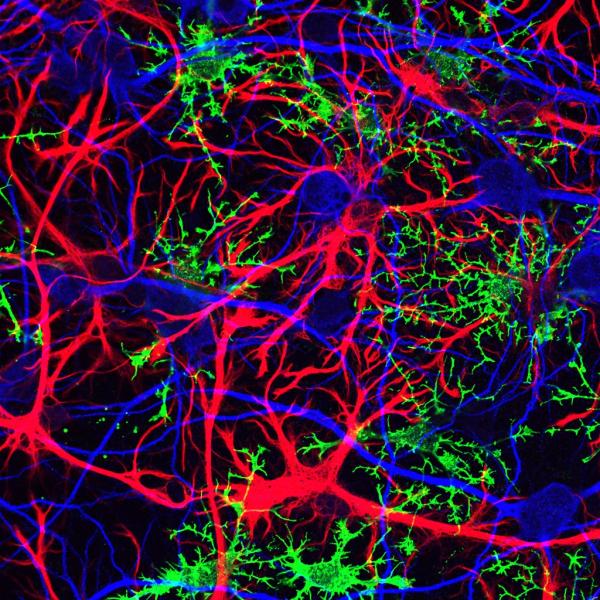 "My hope is that the basic neuroscience research to understand more of the biology of stuttering will decrease the stigma of stuttering," Dr. SheikhBahaei says. "It's important to de-sensitize disfluent speech in science and in the community as well. Having good communication skills is not just about being a fluent speaker. People who stutter can be good communicators; we just speak differently, and we ask for people to be more patient with us."
The IRS program not only set Dr. SheikhBahaei up in his own independent IRP lab but also influenced his approach as a mentor to the members of his team. He aims to re-create the inclusive workplace environments that welcomed him during his years of scientific training, which he accomplishes by actively seeking out and retaining members of groups under-represented in scientific and technological fields. His efforts in this area earned him the NINDS Director's Award for Outstanding Mentorship in 2020 and 2022.
In this way, Dr. SheikhBahaei provides a perfect example of what the IRS program aims to accomplish: to build a diverse and inclusive workforce through recruitment and mentoring. The program has not only given Dr. SheikhBahaei a path to running his own lab, but also provided a platform for him to speak openly about his personal story, career experiences, and commitment to promoting diversity, equity, and inclusion in science.
"The IRS program has been phenomenal in providing me with the resources, research support, and a group of fantastic mentors to navigate my career," he says.
The IRS program's application window closes in just a few weeks, on March 1. Visit the OIR website to learn how to apply, and subscribe to our weekly newsletter to stay up-to-date on the latest breakthroughs in the NIH Intramural Research Program.
---
Related Blog Posts
This page was last updated on Wednesday, July 5, 2023