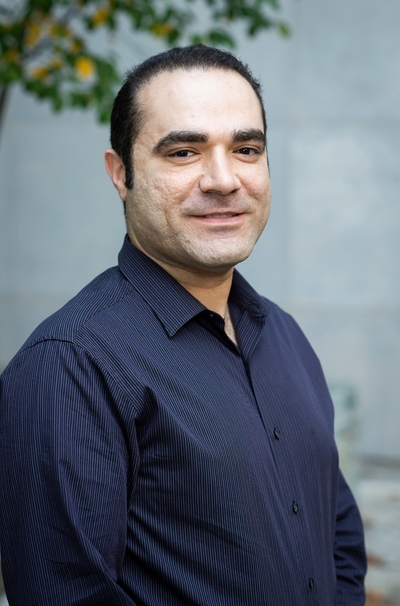 Shahriar SheikhBahaei, Ph.D.
Independent Research Scholar
Neuron-Glia Signaling and Circuits Unit
NINDS
Research Topics
Research in the Neuron-Glia Signaling and Circuits (NGSC) Unit is directed toward understanding mechanisms underlying the generation and control of voluntary motor behavior in the mammalian CNS at the cellular, circuit, and systems levels of neurons and glia interactions. Recent tool development has allowed an unprecedented opportunity to study the activity of brain cells – including glial cells – in a cell-type-specific manner. It is now possible to target genetically- and anatomically-defined cell types in the brain and measure the contributions of their activity in neuronal circuits that control complex behavior.
The unit focuses on brain networks producing volitional movements. The long-range goal is to create a complete circuit diagram for how different glial and neuronal cell types in the brain contribute to the neural circuits controlling voluntary speech production. Understanding this process will enhance the unit's ability to intervene in motor control disorders, which may provide novel therapeutic agents in neurological motor disorders, including developmental stuttering disorder.
Biography
Dr. SheikhBahaei received his bachelor's degree from University of California at Berkeley, where he worked with Dr. Bob Zucker on the regulation of neurotransmitter release, and completed his doctoral studies in Neuroscience (2017) jointly at the NIH and the University College London (UCL), where he worked with Drs. Jeffrey Smith (NINDS) and Alexander Gourine (UCL). His graduate studies were on how astrocytic networks control activities of respiratory motor circuits within the brainstem. After a short postdoctoral research with Dr. Jeffrey Smith, Dr. SheikhBahaei received Independent Research Scholar Award from the NIH Office of Intramural Research in 2019. Dr. SheikhBahaei leads Neuron-Glia Signaling and Circuits Unit at NINDS, and his laboratory is studying the cellular and circuit mechanisms underlying motor control disorders.
Related Scientific Focus Areas
This page was last updated on Tuesday, May 10, 2022