Celebrating NIH's History-Making Women
As Women's History month draws to a close, we'd like to introduce you to some of the IRP researchers who have received the honor of delivering the Anita B. Roberts Lecture. The Anita B. Roberts Lecture Series is organized by the NIH Women Scientist Advisors Committee to highlight outstanding research achievements by female scientists at NIH. The series is supported by the Office of Research on Women's Health.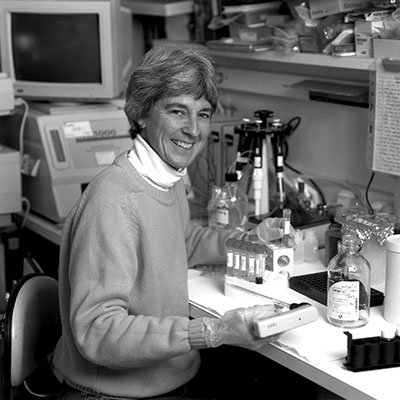 Dr. Anita B. Roberts (1942-2006) was both a stellar scientist — she was among the top 50 most-cited researchers for 20 years — and a beloved mentor to dozens of young scientists. Her pioneering work focused on the protein TGF-β, which is critical in healing wounds and bone fractures and can either block or stimulate cancer development. Roberts joined National Cancer Institute (NCI) in 1976, becoming the chief of the Laboratory of Cell Regulation and Carcinogenesis in 1995.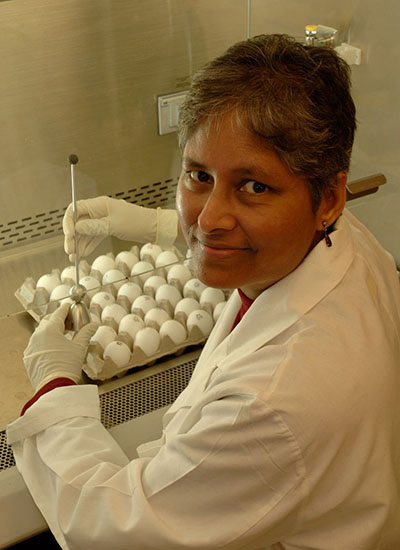 Dr. Kanta Subbarao was convinced to join the influenza program at the National Institute of Allergy and Infectious Diseases (NIAID) when all of the positions in the Respiratory Syncytial Virus program, which she wanted to join, were filled. Now she is one of the people standing between us and a pandemic of influenza or SARS or MERS. After serving as chief of the NIAID Emerging Respiratory Viruses Section, she became director of the WHO Collaborating Centre for Reference and Research on Influenza in 2016. Subbarao received her M.B.B.S. from Christian Medical College, Vellore in India, and an M.P.H. in epidemiology from the University of Oklahoma. In April 2009, she gave an Anita B. Roberts Lecture on "The Pandemic Threat of Avian Influenza Viruses."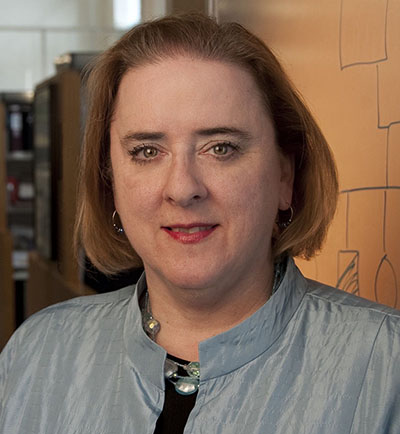 Humans love dogs and our furry pets love us. Big dogs, little dogs, long leg and short leg dogs, even hairless dogs are all part of our families. What makes dog breeds unique? How can we keep our dogs healthy? What can we learn about human health from studying dog genetics and disease? These are questions that Dr. Elaine Ostrander is answering at the National Human Genome Research Institute (NHGRI) Cancer Genetics and Comparative Genomics Branch. (She also heads the Section of Comparative Genetics). Each dog breed is unique in appearance, and often behavior. Studying the genetics of canine disease can help us find genetic variants that contribute to human health. Ostrander has won many honors, including giving the Anita B. Roberts Lecture in 2011. 
Ostrander received her Ph.D. from the Oregon Health Sciences University, did her postdoctoral training at Harvard, and then went to UC Berkeley and the Lawrence Berkeley National Labs. She was at the Fred Hutchinson Cancer Research Center and University of Washington before joining the IRP 2004.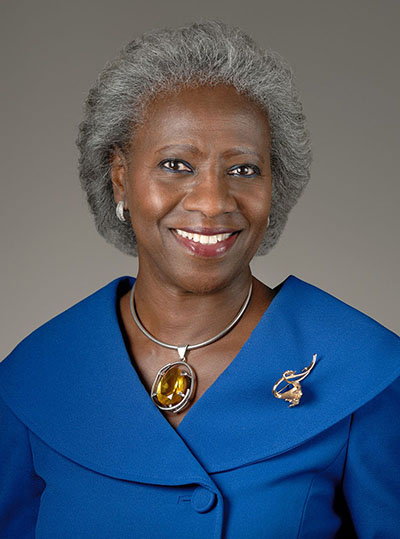 Gambia, England, Hong Kong, and now the United States. Dr. Hannah Valantine has lived on four continents, which befits the first Chief Officer for Scientific Workforce Diversity at NIH. In that position, Valantine seeks to apply evidence-based strategies to enhance diversity and inclusion in the IRP and at all NIH-funded institutions. Valantine, a cardiologist, is also an active investigator at the National Heart, Lung, and Blood Institute (NHLBI). Her interest in getting diverse organisms to work together is reflected in her research on organ transplants, the subject of her 2015 Anita B. Roberts Lecture, "Precision Medicine In Action: Applying Genomic Tools To Improve Patient Outcomes After Organ Transplantation."
Born in Gambia, Valantine received her M.B.B.S. degree and specialty training from London University. In 1985, Dr. Valantine moved to the United States for postdoctoral training in cardiology at Stanford University and eventually became a full Professor of Medicine in the Division of Cardiovascular Medicine and Director of Heart Transplantation Research. Thereafter she led Stanford's diversity efforts as its first Senior Associate Dean for diversity and leadership until she joined the NIH in 2014. Dr. Valantine has received numerous awards including a Best Doctor in America honor in 2002.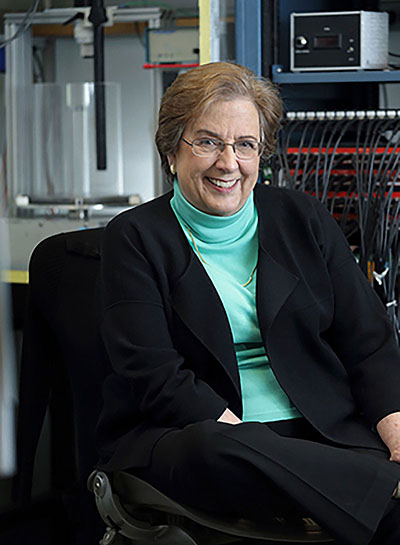 Perhaps Dr. Judith Walters is such a good mentor because she had good mentors when she was a young scientist in the 1960s-1970s. Now that she is Chief of the Neurophysiological Pharmacology Section at the National Institute of Neurological Disorders and Stroke (NINDS), Walters encourages her staff to find a work-life balance that benefits them, which benefits science too. A neuropharmacologist — someone who studies how drugs affect the brain — Walters is known for her studies of mechanisms in the brain that mediate dysfunctions associated with neurological diseases and disorders such as Parkinson's disease. She became a Fellow of the American Association for the Advancement of Science in 2018. A skilled scientist and mentor, Walters was the perfect candidate to give an Anita B. Roberts Lecture. Her 2012 Anita B. Roberts Lecture was titled "Inside the Parkinsonian Brain: Is Too Much Rhythm a Bad Thing?"
Walters received her B.A. degree from Mt. Holyoke College and her Ph.D. from Yale University. She did postdoctoral work at the Department of Psychiatry at the Yale University School of Medicine and then moved to the Experimental Therapeutics Branch in NINDS.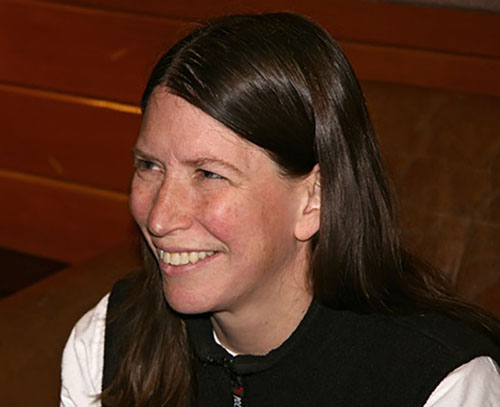 "Integrating T Cell Signals" was the title of Dr. Pamela Schwartzberg's Anita B. Roberts Lecture, which described Schwartzberg's multidisciplinary approach to studying T lymphocytes (T cells). T cells are white blood cells that are important to our immune systems. Schwartzberg's NHGRI Cell Signaling in Immunity Section uses genetics, cell biology, biochemistry, genomics, and studies of infectious disease and immunization to help understand the role of T cells in our responses to infections, immunization, and cancer. 
Schwartzberg received her B.A. from Princeton University and her M.D. and Ph.D. from the Columbia College of Physicians and Surgeons, Columbia University. She was a Special Fellow of the Leukemia and Lymphoma Society at the NCI. She started her own laboratory at NHGRI in 1997 and moved to NIAID at the end of 2018.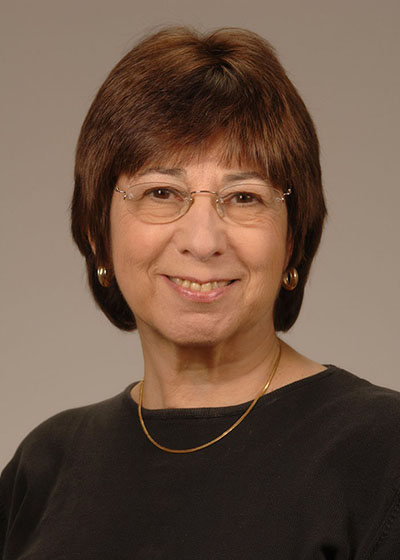 How do we recognize each other? And how do we know how another person is feeling by the look on their face? Dr. Leslie Ungerleider spoke about her research into how the brain processes visual information to identify faces as well as to read facial expressions of emotion at her 2016 Anita B. Roberts Lecture. Several different areas of the brain work together to perform these functions, including a section that tracks movements of the eyes, gaze, lips, and facial expressions. Her work unravels the mystery of a basic cognitive function, and gives us insight into why people with brain injuries or conditions such as autism have trouble recognizing people or their facial expressions of emotions.
Dr. Ungerleider received her B.A. degree from the State University of New York at Binghamton and her Ph.D. degree from New York University. She did postdoctoral training at Stanford University, and moved to the National Institute of Mental Health (NIMH) in 1975, joining the Laboratory of Neuropsychology. In 1995, Dr. Ungerleider became chief of the Laboratory of Brain and Cognition at NIMH. She is a member of the National Academy of Sciences, the National Academy of Medicine, and the American Academy of Arts and Sciences. In 2001, she was the recipient of the Women in Neuroscience Lifetime Achievement Award, and in 2009 she received the William James Fellow Award for her mentorship of younger scientists as well as her scientific work.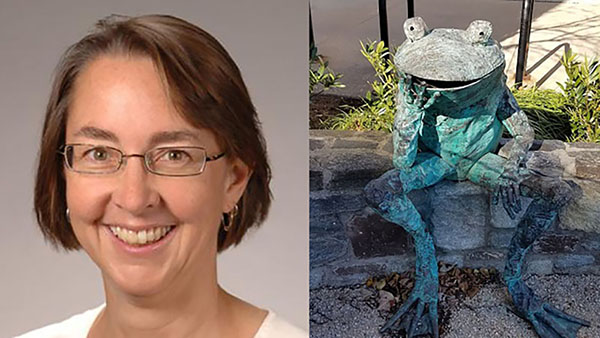 "What is the frog pondering today?" wonders Dr. Gisela Storz when she passes the Anita B. Roberts Contemplation Garden on the NIH campus. This happy frog perched between a bike rack and a garden represents more than Roberts' research; it represents the love and respect that scientists feel for their friends in the IRP. Roberts, who was the chief of the NCI Laboratory of Cell Regulation and Carcinogenesis, created a supportive and stimulating laboratory atmosphere. She died in 2006. While it is difficult to get a named memorial for an NIH scientist, Roberts is honored by three: the lecture series in her name; the Dr. Anita Roberts Memorial Fund; and this small garden inspiring whimsy and wonder.
The quote is from Storz' 2017 Anita B. Roberts Lecture, "The Hidden Secrets of Small Genes."
---
Tags:
history
,
NIH history
,
women's history
,
women in science
,
cancer
,
influenza
,
flu
,
genetics
,
diversity
,
brain
,
neuroscience
,
immune system
,
T cells
,
autism
Related Blog Posts
This page was last updated on Tuesday, May 23, 2023