Nurturing Diversity in STEM
Lessons Learned from Studying the Microbiota
BY TAYLOR FARLEY, NIAID
A healthy microbiome is a diverse microbiome, not unlike the workplace.
The origin of research on microbiota, microorganisms found in a specified environment, dates back to the late 1600s with Dutch scientist Antoine van Leeuwenhoek's revolutionary development of the microscope, which he used to observe "animalcules," now known as bacteria, from his own oral and fecal microbiota.
The definition of the microbiota has since been expanded to include all organisms living within and upon the body including bacteria, viruses, fungi, and protozoa.
Most of these microorganisms are indispensable for nutrient acquisition. They provide resilience from infection and are key educators of the host immune system. Recent reports have linked the microbiota to driving host responses to immunization, cancer therapies, and development of allergic and inflammatory diseases. Put simply, humanity would not be able to thrive without our microbial companions.
An observable pattern emerges throughout these studies: highly diverse microbiota typically indicates a healthy host system. Conversely, in disordered states there is often an establishment of a dominant microbe, or class of microbes, that might provoke disease.
The prevailing theory is that diversity of our gut microbial ecosystem equates to health and links to host resilience, adaptation, and evolution. Thus, many therapeutic advancements targeting the microbiota have focused on establishing or supporting a variety of bacteria for the betterment of the host.
Diversity in STEM and the problem of attrition
But these evolving scientific concepts cheering on diversity must not remain solely under the microscope. We need diversity, equity, inclusion, and accessibility (DEIA) throughout our workplace as well.
Science, Technology, Engineering, and Math (STEM) are the pillars of innovation and discovery. The fruits of these fields impact us all, from the medicine that cures our ailments, to the technology we use daily. To combat biases in these innovations, it is vital that the individuals designing protocols, performing studies, and developing novel technologies reflect the diverse populations that their products and discoveries will affect.
Further, research from the business sector parallels what we see when studying the microbiota—diversity within the workforce breeds resilience and improves innovation. In fact, mathematical frameworks to model teams of problem solvers conclude that identity-diverse groups outperform more homogenous groups due to greater functional diversity and ability to source solutions from multiple angles.
Attrition within STEM is highest in women, underrepresented minorities, first generation students, and those from low socioeconomic backgrounds. NIH workforce surveys have highlighted challenges in maintaining diversity, particularly in positions of senior leadership. Given these results, it then begs the question of how we can better establish and support growth of these vital members of our NIH community.
Best practices
In 2021, the National Science and Technology Council, released "Best Practices for Diversity and Inclusion in STEM Education and Research: A Guide By and For Federal Agencies". These guidelines identify barriers to DEIA in STEM, including discriminatory policies, hostile workplace climate, compensation disparities and cost of education, lack of support and mentorship, fear of stereotyping or bias, and inaccessibility for individuals with disabilities. Reflecting upon these barriers, the council suggests four areas for advancing DEIA within STEM.
STEM Pathways: Investigate why individuals enter and exit STEM careers and create pathways to success. For example, the National Institute of General Medical Sciences grants Science Education Partnership Awards to support educational activities that encourage the engagement of individuals from diverse backgrounds within the biomedical sciences.
Access and Recruitment: Develop initiatives that combat barriers to entry and improve outreach to minority-serving institutions.
Retention: Foster nutrients that are required to retain and encourage the growth of diverse community members. The NIH recently released "The Fiscal Years 2023-2027 NIH-Wide Strategic Plan for DEIA" which outlines key DEIA measures for both intramural and extramural NIH-funded labs.
Achievement and Advancement: Increase access and opportunity, motivation, and morale for achievement with DEIA in mind. For example, the NIH Distinguished Scholars Program recruits investigators who have a commitment to building diversity within the biomedical research workforce.
DEIA belongs in STEM and in our microbiota
Allow me to take the microbiota analogy one step further. There are two commercially available strategies to promote a healthy gut ecosystem: probiotic and prebiotic therapies. Probiotic treatments seed a few well-defined "good" bacteria into the gut, and prebiotics are compounds that specifically encourage the growth of favorable bacteria. Supplements containing both are termed synbiotics. It is likely that synbiotics will soon become commonplace.
From synbiotic to synergistic, diversity is the future of microbiome research and STEM at-large, and DEIA is the future of NIH. Similarly, it is not sufficient to bring 'biotics or underrepresented individuals into milieus that are not built to support and sustain them. If we want to foster longstanding diversity within our STEM ecosystem, we must study the factors necessary to nurture these vital members of our community and apply solutions for the health and betterment of us all.
Diversity is our strength—both in our guts and at the precipice of discovery.
---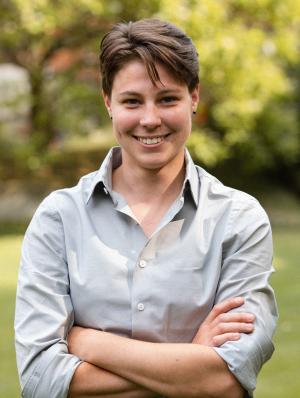 Taylor Farley is a doctoral candidate at the University of Oxford studying innate-like immune responses to the microbiota in the gut during homeostasis and inflammation. When not in the NIAID lab, she enjoys playing guitar, rock climbing, and cheering on The Roommates during their Sunday LGBTQ+ Stonewall Kickball season.
---
"Give Me My Flowers"
BY NIH CATALYST STAFF
The NIH Office of Equity, Diversity, and Inclusion (EDI) Director's Speaker Series kicked off May 10 with a fireside chat between EDI Director Kevin Williams and longtime NIHer, Yvonne Thompson Maddox.
Maddox, now retired, worked her way up through the ranks from health administrator to former Acting Deputy Director of NIH, as well as Deputy Director of the Eunice Kennedy Shriver National Institute of Child Health and Human Development. She also served as Acting Director of the National Institute on Minority Health and Health Disparities.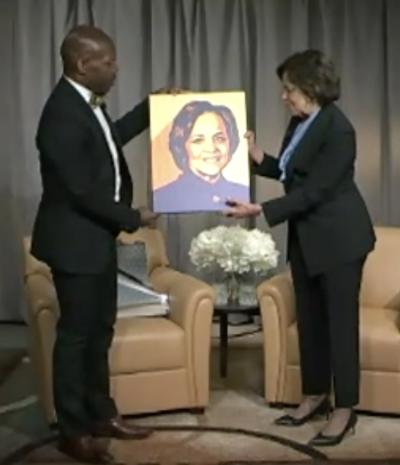 Maddox was Senior Strategic Advisor for the NIH Path to Excellence and Innovation Initiative, an effort aimed at equipping Historically Black Colleges and Universities (HBCUs) with tools and resources needed to successfully compete for NIH funding opportunities. She also was a big supporter of the NIH Medical Research Scholars Program.
"In policy and practice, a commitment to DEIA is everyone's responsibility," she said, as she reflected on her time at NIH. Her fondest memories rested upon all the mentees and mentors she met along the way—in particular, she highlighted the advocacy and support of NIH's first woman director, Ruth Lillian Kirschstein.
Williams said scientific progress relies on diversity. "Science is an inherently collaborative and interdisciplinary field and scientific breakthroughs often come from a combination of different perspectives, skills, and backgrounds," he said. "A lack of diversity in the workforce can hinder scientific progress by limiting the range of perspectives and ideas that are brought to the table. Diverse teams perform better than homogeneous ones both in terms of scientific outcomes and team dynamics. By promoting EDI in science, we can demonstrate our commitment to fairness, transparency, and social responsibility, which can help build public trust in science."
The EDI Director's Speaker Series aims to promote cultural awareness and provide learning opportunities for the NIH community through this new series. For more information visit https://www.edi.nih.gov/.
This page was last updated on Wednesday, July 12, 2023