From the Annals of NIH History
Inaugural Victoria A. Harden Lecture
The Art of Telling NIH History, Story by Story
BY SATABDI NANDI, NIA
Life may be like a box of chocolates. But the story of NIH history? That's more like a marble cake, according to Victoria Harden, founding Director of the Office of NIH History and Stetten Museum (ONHM).
"One can cut through it in many different ways to tell in detail specific parts of the story" of this one delicious cake with its many swirls, Harden said.
Harden delivered, fittingly enough, the inaugural Victoria A. Harden Lecture in NIH History, one of four planned quarterly lectures in the new ONHM History and Context seminar series. Harden retired from NIH in 2006.
ONHM's current Director, Kim Pelis, hopes the series will find its own place in NIH history. "[Harden's] talk was a tour de force, setting the stage for future NIH history lectures, and more, with wisdom, depth, and wide-ranging brilliance," said Pelis. In the lecture, Harden covered the broad arc of NIH's history and gave a glimpse into the many activities undertaken by ONHM over the years.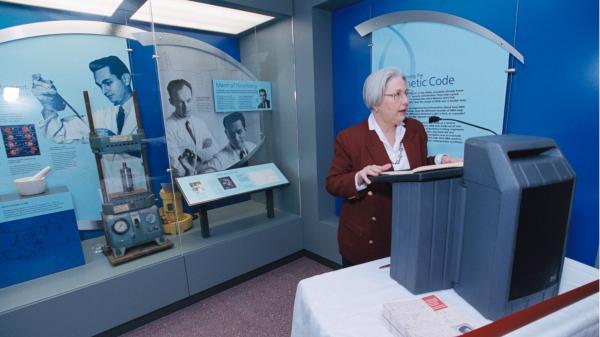 Blending history and medicine
Harden's father's side of the family fought in World War II, and she grew up intrigued by their stories and life experiences. A high school teacher's stories about influential women sparked an early interest in history. Harden would go on to earn her doctorate in American history at Emory University (Atlanta) in 1983. The following year, she joined the National Institute of Allergy and Infectious Diseases (NIAID). While at NIH, she authored several books including Rocky Mountain Spotted Fever: History of a Twentieth-Century Disease and, after she retired, AIDS at 30: A History.
To celebrate NIH's centennial year in 1987, DeWitt Stetten Jr., who at that time served as Senior Scientific Advisor to former NIH Director James Wyngaarden, founded the NIH Museum of Medical Research—later named in his honor—to preserve the instruments used for research at NIH. Harden was appointed Director, NIH Historian and Curator to implement the development of the Stetten Museum and the Office of NIH History.
Harden continues to serve the office as a special volunteer and considers herself a lifelong champion for NIH history. She conveyed the importance of connecting scientific and social milestones to weave a story on how they influence biomedical research trajectories. For example, after the death of actor Rock Hudson in 1985 from an HIV-related illness, the Reagan administration freed up money for HIV research, much of which was conducted at NIH.
Harden's advice to young people looking to make history? "When the door opens, one has to have trained well enough to walk through that door and seize the opportunity," she said.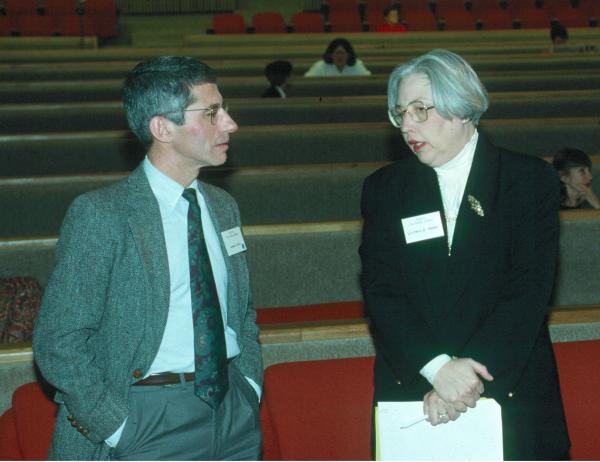 Archiving history in a timely manner
"It is of key importance that NIH history continues to be written, as historians of the future will begin with evidence that we leave behind," said Harden. She urges current leadership to ensure that oral histories are recorded, particularly for those investigators who are recognized in their fields, and that all scientists and administrators are educated in the need to document their work. In addition, focused history projects may be undertaken by professionally trained historians, NIH physicians, scientists, or administrators.
Harden encourages everyone to contact ONHM before they retire for advice about archiving photographs and documents and about donating instruments. "Seventy-five years from now an unidentified photograph is worthless unless it is cataloged," she said, "so it is important to capture identifying information before it is lost." It is difficult to predict what will be historically significant tomorrow. Harden simply advises casting a broad net. Those materials will inform the stories that the American people—who ultimately fund NIH research—will value over time.
ONHM's History and Context seminar series will highlight historical topics of interest to the NIH community. Events will range from traditional lectures to conversations between those telling, and those making, history—with additional formats to be explored. The Harden Lecture will be delivered by a scholar of note, who will speak on a topic that spotlights NIH's rich history.
To watch the May 4 videocast of Harden's lecture, visit https://videocast.nih.gov/watch=49384.
---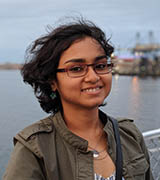 Satabdi Nandi, a postdoctoral fellow in the National Institute on Aging's Laboratory of Molecular Biology and Immunology, is investigating the generation of antibody diversity in mouse B cells. Outside of work, she enjoys visiting museums to learn about the past, diverse cultures, and the motivation behind artists' creations.
This page was last updated on Tuesday, July 11, 2023