Bioengineering to Advance by Collaboration and Inclusion
Manu Platt and the Trans-NIH BETA Center
BY STEPHEN ANDREWS, NCI
"I aim to be the science connector," said Manu Platt of his role as director of the newly created trans-NIH Biomedical Engineering Technology Acceleration (BETA) Center. Established by the National Institute of Biomedical Imaging and Bioengineering (NIBIB) in January, the BETA Center will serve as a hub for expert teams of technology developers at the NIH intramural program and beyond to work together to rapidly address pressing health needs.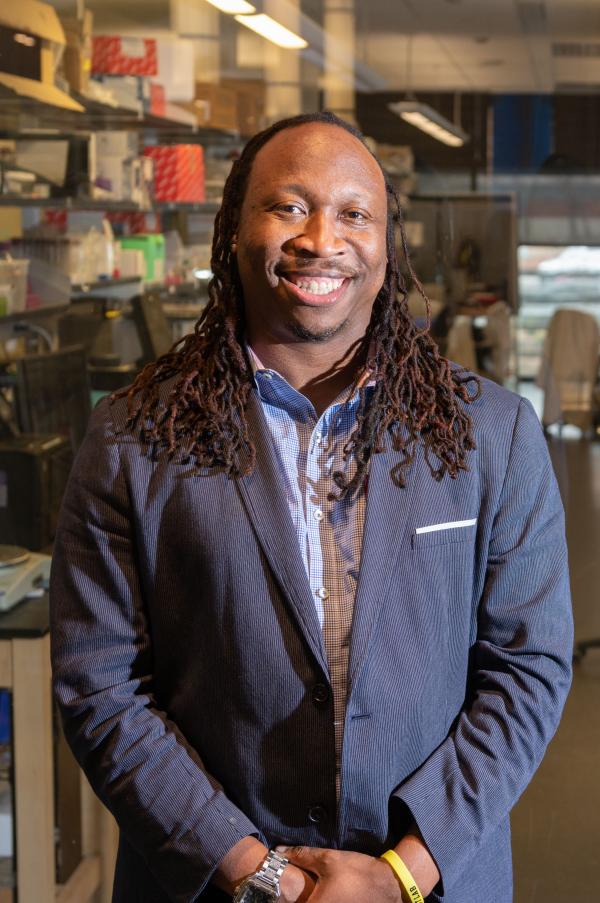 NIBIB chose wisely with its recruitment of Platt, who joined NIH in February (Read more about Platt's education and professional background at https://irp.nih.gov/catalyst/31/3/colleagues-recently-tenured). With a passion for collaboration in an interdisciplinary environment, Platt can leverage his broad experience in tissue regeneration, cardiovascular bioengineering, and HIV and AIDS outreach to foster scientific innovation that cultivates systemic improvements in health care technology across the globe.
"Science is a people business," said Platt, who also serves as NIBIB's Associate Director for Scientific Diversity, Equity, and Inclusion. Indeed, his research has long been motivated by adopting an inclusive mindset.
"Bioengineering is primarily about communication and brainstorming exciting ideas with others, the opportunity to bring fresh ideas and fresh faces to the table when solving problems," he said. "Let's bring that [mindset] to the NIH."
The goal of the BETA Center is to develop cutting-edge, broadly applicable technologies that enable scientists to answer medicine's big questions. One unit is perfecting more powerful and precise microscopes; another unit is a microfabrication laboratory, led by BETA Center Deputy Director Nicole Morgan, where scientists can design devices to the precise specifications required for their experiments. Platt's own lab is involved in understanding how strokes occur in children with sickle-cell disease using computational fluid dynamics, imaging, and biological methods. They hope the BETA Center's modeling capabilities and collaborations with NIH clinicians might lead to more predictive diagnosis and treatment options.
Other areas of emphasis will include wearable biosensors, engineered and synthetic biology, nanomaterials and biomaterials, artificial intelligence, computation, and informatics.
Bioengineering and medicine are inherently interdisciplinary, Platt said, which is why a fundamental objective of the BETA Center is to expand upon diversity, equity, inclusion, and accessibility to maximize the flow of creative ideas. Platt aims to apply such experiences as BETA Center Director. One strategy he will use is listening sessions structured to provide an equal playing field in a lab or office and allow everyone on the team to provide input and feedback.
Ready to get a project off the ground with BETA? Platt invites interested researchers to email him or Morgan directly to start.
An online portal and website for engineers seeking to collaborate and access BETA Center services is in the works. "In the near future, an interested investigator will have a discussion with a dedicated group of BETA Center expert scientists and engineers to learn the needs and directions of that researcher and guide them toward resources they know about and perhaps other techniques that they did not know about, but could be incredibly useful for their research goals," said Platt.
He adds that potential scientists should expect to discuss their research goals, find practical solutions to their questions, and be trained on new equipment, software, and techniques. "We are working on building relationships that lower the administrative hurdles to accessing new resources that may be housed within other institutes. The goal here is to lower the bar to trying new things and novel technologies."
Platt is optimistic for the future. "Science can bring people together," he said, adding that valuing other's ideas and giving them a platform to share can be a catalyst for simultaneously improving both the diversity and the power of research conducted at NIH.
"We need to make sure that engineers know that there is a community here."
---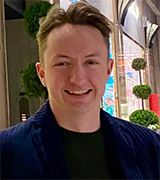 Stephen Andrews, a postbaccalaureate research fellow in the National Cancer Institute, is studying molecular genetics and tumor modeling related to neuroendocrine tumors of the small intestine and pancreas. Outside of the laboratory, he enjoys running, cycling, cooking, and visiting art galleries.
This page was last updated on Tuesday, July 11, 2023