News Briefs
New Directors Named for NCI and ARPA-H
New NCI Director: Monica M. Bertagnolli
The National Cancer Institute's (NCI's) 16th director is the first woman to ever hold the position. On October 3, 2022, surgical oncologist Monica M. Bertagnolli became the new NCI director, succeeding Norman E. Sharpless who stepped down as director in April 2022. Douglas R. Lowy, who served as NCI's acting director in the interim, will resume his role as principal deputy director and will continue his work as chief of the Laboratory of Cellular Oncology in NCI's Center for Cancer Research.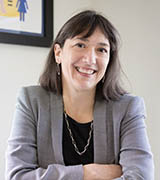 Bertagnolli was previously the Richard E. Wilson Professor of Surgery at Harvard Medical School, a surgeon at Brigham and Women's Hospital, and a member of the Gastrointestinal Cancer Treatment and Sarcoma Centers at Dana-Farber Cancer Institute (all in Boston).
She specializes in treating gastrointestinal cancers and advocates for increasing the diversity of patients enrolled in clinical trials. Earlier in her career, she led the Adenoma Prevention with Celecoxib Trial, which showed that daily use of the nonsteroidal anti-inflammatory drug celecoxib (Celebrex) could lower the risk of precancerous colorectal polyps coming back. Her leadership in the NCI-funded Cooperative Groups Program (now NCI's National Clinical Trials Network) has led to the integration of tumor-specific biomarkers in clinical-trial protocols. More recently, her research on the APC gene and the role of inflammation in influencing its activity has transformed our understanding of how colorectal cancer develops.
Bertagnolli earned a bachelor's degree in engineering from Princeton University (Princeton, New Jersey) and a medical degree from the University of Utah School of Medicine (Salt Lake City), completing a residency at Brigham and Women's Hospital. She served as an attending surgeon at New York-Presbyterian Hospital/Weill Cornell Medical Center before joining Harvard Medical School and Dana-Farber Cancer Institute in 1999.
She has served in a number of leadership roles including as vice president of Coalition of Cancer Cooperative Groups, group chair of the Alliance for Clinical Trials in Oncology, president of the Alliance for Clinical Trials in Oncology Foundation, and CEO of Alliance Foundation Trials, LLC. She was president of the American Society of Clinical Oncology in 2018-2019 and was elected to the National Academy of Medicine in 2021.
"Dr. Bertagnolli brings exceptional experience to NIH as a surgical oncologist, professor, scientist, and leader in the cancer-research community," said Lawrence A. Tabak, who is performing the duties of the NIH director. "She is ideally suited to lead NCI at a point in time when opportunities abound for major advancements in cancer research and cancer care."
This article was adapted from an NIH news release issued on October 3, 2022: https://www.nih.gov/news-events/news-releases/monica-bertagnolli-begins-work-16th-director-national-cancer-institute.
---
First ARPA-H Director: Renee Wegrzyn
On October 11, 2022, Renee Wegrzyn became the first director of the Advanced Research Projects Agency for Health (ARPA-H), the agency newly established to drive biomedical innovation that supports the health of all Americans.
In announcing his selection on September 12—the 60th anniversary of President John F. Kennedy's "Moonshot" speech—President Joseph Biden talked about his vision for another American Moonshot: ending cancer as we know it. ARPA-H figures prominently among other initiatives to reach that goal.
Biden described Wegrzyn as a leading biomedical scientist and an entrepreneur in synthetic biology with a decade of experience leading multiple biotech projects at the Defense Advanced Research Projects Agency (DARPA). "She's going to bring the legendary DARPA attitude and culture and boldness and risk-taking to ARPA-H to fill a critical need," he said. "Discoveries that save lives, change lives, often start at the lab bench. But then those basic research breakthroughs need to be tested, scaled, and brought to the clinic. This may require unusual partnerships that may require support to get over many obstacles that exist. That's what ARPA-H is designed to do, so the advances can reach all Americans sooner. I predict ARPA-H will emerge as a new and exciting member of America's biomedical ecosystem."
ARPA-H was created earlier this year to push the limits of U.S. biomedical and health research and innovation. Public Law 117-103, which was enacted on March 15, 2022, authorized establishment of ARPA-H within the Department of Health and Human Services (HHS). On April 14, HHS Secretary Xavier Becerra transferred ARPA-H to NIH, and on May 25, he formally established ARPA-H as an independent entity within NIH to ensure its ability to operate autonomously and partner across HHS and the wider U.S. government to identify projects that will be transformative and far reaching.
Wegrzyn has professional experience working for two of the institutions that inspired the creation of ARPA-H—DARPA and Intelligence Advanced Research Projects Activity. At DARPA, she was program manager in the Biological Technologies Office, where she leveraged the tools of synthetic biology and gene editing to enhance biosecurity, promote public health, and support the domestic bioeconomy.
Wegrzyn received the Superior Public Service Medal for her work and contributions at DARPA. Before joining DARPA, she led technical teams in private industry in the areas of biosecurity, gene therapies, emerging infectious disease, neuromodulation, and synthetic biology, and research and development teams commercializing multiplex immunoassays and peptide-based disease diagnostics.
Wegrzyn holds doctorate and bachelor's degrees in applied biology from the Georgia Institute of Technology (Atlanta). She was a fellow in the Johns Hopkins Center for Health Security Emerging Leaders in Biosecurity Initiative and completed postdoctoral training as an Alexander von Humboldt fellow at the European Molecular Biology Laboratory (Heidelberg, Germany).
"President Biden could not have chosen a better inaugural director for ARPA-H," said Becerra. "With Dr. Wegrzyn at the helm, ARPA-H is poised to drive health innovation and launch bold and ambitious research programs. She will lead us in tackling some of the most pressing health challenges of our time."
This article is adapted from one that appeared in the October 14, 2022, edition of the NIH Record: https://nihrecord.nih.gov/2022/10/14/wegrzyn-named-first-arpa-h-director.
This page was last updated on Wednesday, November 9, 2022