Chemists of the NIH, Unite!
BY NIH CATALYST STAFF
The NIH Catalyst is commemorating 30 years of publishing with a series of updates to past coverage. In this issue, we highlight the exceptional contributions of NIH chemists in their pursuit of identifying molecular structures, synthesizing, isolating or formulating molecules of interest, or otherwise providing the backbone on which so much of NIH biomedical research is based.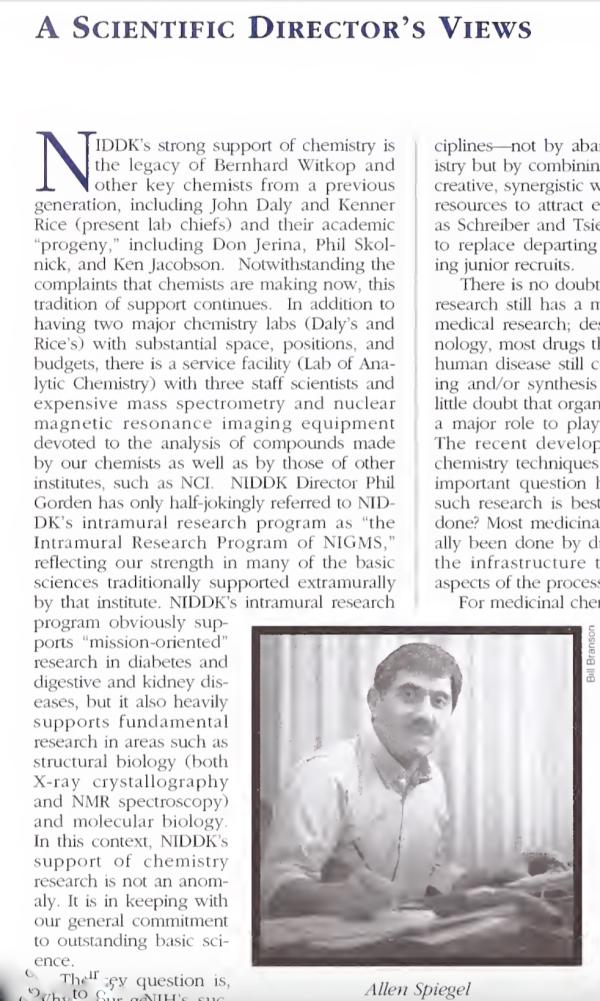 It all started with a perhaps not-so-innocent "call for catalytic reactions," a back-page question in the May–June 1996 issue that read, "We are working on an article about chemists at NIH. What role do you see for chemists in today's biomedical research environment? How do you think NIH in general has treated the chemistry profession?"
The editor sure got an earful about the perceived "low profile of chemistry at NIH." A few months later, for the September–October issue, the Catalyst dedicated nearly seven of its 16 pages to the concerns expressed by NIH chemists, including a full-page defense of sorts from National Institute of Diabetes and Digestive and Kidney Diseases (NIDDK) Scientific Director Allen Spiegel, who would become NIDDK Director in 1999.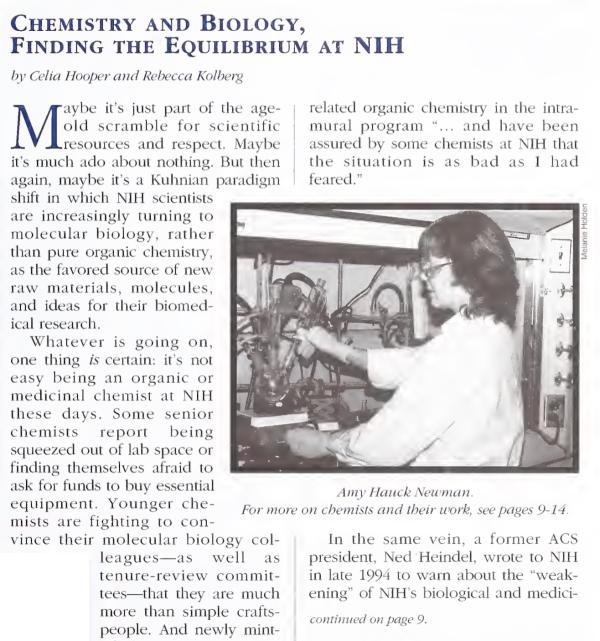 The expertise among NIH chemists then and now goes without question. Kenner Rice, Chief of the Drug Design and Synthesis Section in the National Institute on Drug Abuse (NIDA), has made monumental contributions to understanding opioid receptor pharmacology through directed organic chemistry. Amy Newman, NIDA Scientific Director and Chief of the Molecular Targets and Medications Discovery Branch, is a highly cited medicinal chemist who designs and synthesizes novel ligands to study the structure and function of G-protein-coupled receptors and monoamine transporters associated with addiction.
NIDDK's Kenneth Jacobson has received numerous high-profile awards for his discoveries of medicinally active substances, including the 2023 E.B. Hershberg Award from the American Chemical Society. NIDDK's Robert Tycko and Ad Bax, albeit on the physics side of chemistry, are internationally recognized for using nuclear magnetic resonance methods to elucidate the structure and dynamics of myriad large molecules.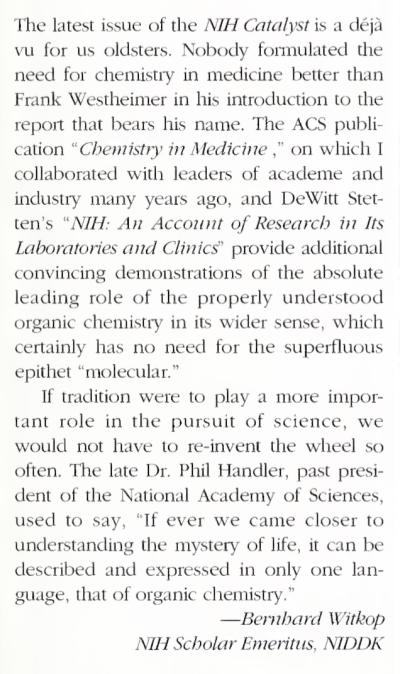 Although never stated, that 1996 Catalyst feature touched on the decades-long movement unfolding across the biomedical research enterprise, a transition from classical chemistry to molecular biology. Many prominent NIH chemists from the 1950s and '60s, such as immensely respected Bernhard Witkop, were beginning to retire, and they weren't being immediately replaced.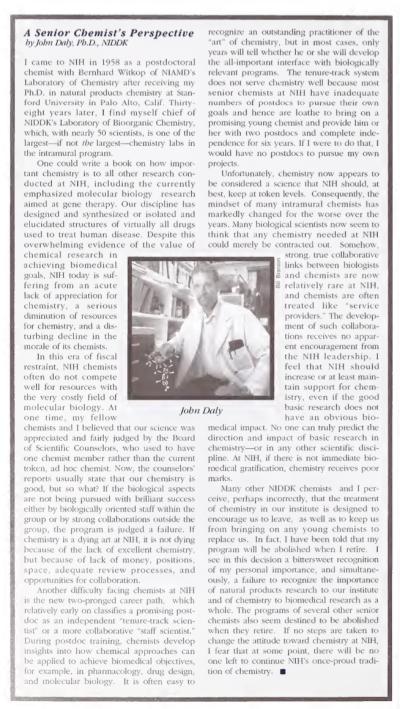 It took the IRP a few years to reposition itself. The National Cancer Institute, with its long tradition of chemists on staff, recommitted itself to the art and science of chemistry and hired many chemists, particularly at its Frederick campus. As the National Center for Advancing Translational Sciences (NCATS) was ramping up, the National Heart, Lung, and Blood Institute started the Ligand Probe Development Center, and the National Human Genome Research Institute launched the NIH Chemical Genomics Center. NCATS would soon rely on medicinal chemistry to identify and improve specific target affinities and selectivities. Concurrently, NIH PIs in several institutes by the end of the 1990s were embracing glycobiology, a relatively new field blending carbohydrate chemistry and biochemistry to understand glycans at the cellular and molecular level.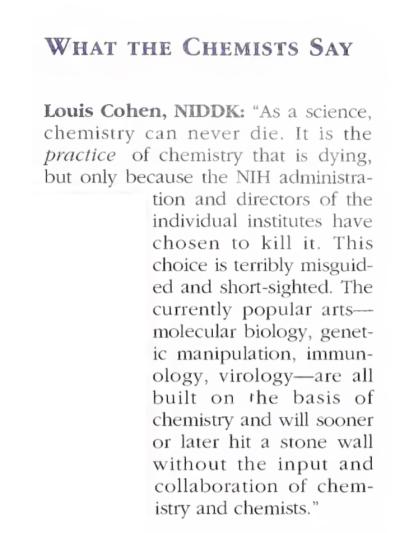 Newman, in her role as NIDA Scientific Director, and with support of NIDA Director Nora Volkow, has grown the number of medicinal and computational chemists recruited to that institute. NIDDK has traditionally been a home for chemists, and the legacy lives on there, too, particularly within the Laboratory of Bioorganic Chemistry under the leadership of Carole Bewley.
Today, nearly 70 of the NIH's approximately 1,100 PIs "self-identify" in the scientific focus area of Chemical Biology (see https://irp.nih.gov/our-research/principal-investigators/focus/chemical-biology), a prime list for future collaborations.
This page was last updated on Tuesday, October 31, 2023