Bright, Fresh Ideas
Snapshots from Early-career Investigators
BY STEPHEN ANDREWS, NCI
A new cohort of early-career investigators from across the NIH set an enlivening tone for this year's NIH Research Festival with a series of lectures on September 18 and 19 in the Lipsett Amphitheater in Building 10 describing their innovative and collaborative research.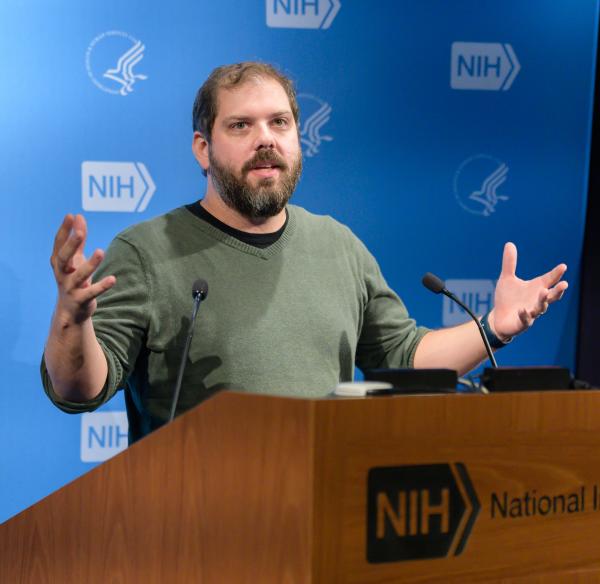 The unstated theme for the 2023 NIH Research Festival was "the next generation," and if these lectures are an indication, the future of NIH looks bright. From community-centered engagement to cutting-edge medical technology, Independent Research Scholars (IRS) and Assistant Clinical Investigators (ACI) showcased their high-impact work and creative spirit for new ways to answer difficult questions.
The next generation
Session one featured six IRS presenters, whose research runs the gamut from the microbiome to medial septum glutamate neurons.
First to speak was Andrew Kesner from the National Institute on Alcohol Abuse and Alcoholism. A neuroscientist by training, Kesner has long been interested in the ways that the brain can affect the way we as humans interact with and interpret stimuli. He outlined the ways in which glutamate neurons, brain cells that release a specific neurotransmitter, influence addiction.
Carrie Mae Long, from the National Institute of Allergy and Infectious Diseases (NIAID) Rocky Mountain Labs, presented her work on Q fever, a dangerous bacterial disease, admittedly rare but nevertheless high-risk in certain animal husbandry and veterinary settings. She is leading the charge in developing a better vaccine to prevent transmission and advanced disease.
Keeping with the infectious disease thread, NIAID's Emily Ricotta highlighted her data-focused approach to monitoring public health and emerging disease outbreaks. And Oyebola Oyesola from NIAID's Laboratory of Parasitic Diseases then described how parasitic worms known as helminths may play a role in immunity to SARS-CoV-2 in mice through the adaptive immune system.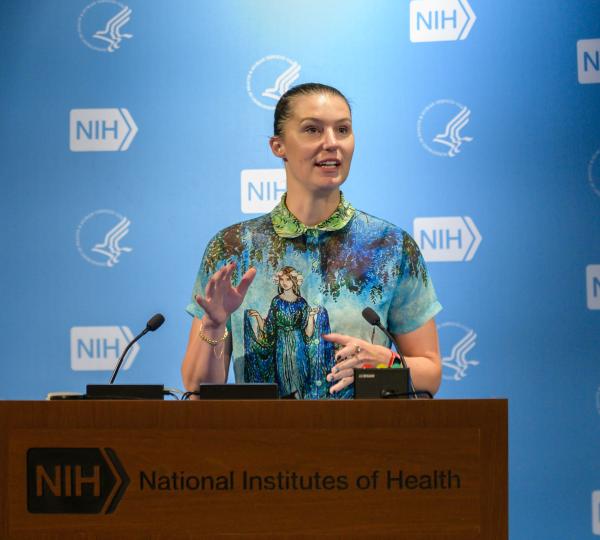 Shaun Abrams of the National Institute of Dental and Craniofacial Research (NIDCR) outlined how intricacies of cell biology can affect how the face develops in utero. And Mary Diaz Santana of the National Institute of Environmental Health Sciences (NIEHS) closed the first session with insights on the epidemiology of breast cancer in Hispanic women.
Throughout these morning talks, it was apparent that the IRS program—with its dual goals of improving workforce diversity and prepping gifted scientists for the rigors of a future, tenure-eligible position—additionally allows early-career scientists the opportunity to be creative and ask unique questions to investigate issues that are less mainstream or perhaps understudied by the greater scientific community.
Watch the Session I archive at https://videocast.nih.gov/watch=49913.
From clinical collaboration to neurosurgical insights
For the afternoon session on September 18, ACI presenters took to the stage. First up was Blake Warner, from NIDCR, whose research targets the impact of Sjögren's disease on maxillofacial immunopathology. Through large sequencing datasets, primarily with RNA, Warner can use patient salivary gland tissue from his procedures to elucidate signaling pathway differences that play a role in this disease pathology. He discovered a pathway that may be implicated and plans to continue validating these findings with new experiments.
Sara Inati of the National Institute of Neurological Disorders and Stroke (NINDS) detailed her work monitoring patient outcomes during and after temporal lobe surgery for epilepsy. With a multimodal approach to brain imaging, Inati can paint a full picture of the brain pre- and postoperation with a series of controlled functional magnetic-resonance imaging scans and subdural electroencephalogram modeling. She credited her work to a productive working relationship with other investigators and clinicians at NIH. "We cannot do anything without collaboration," said Inati.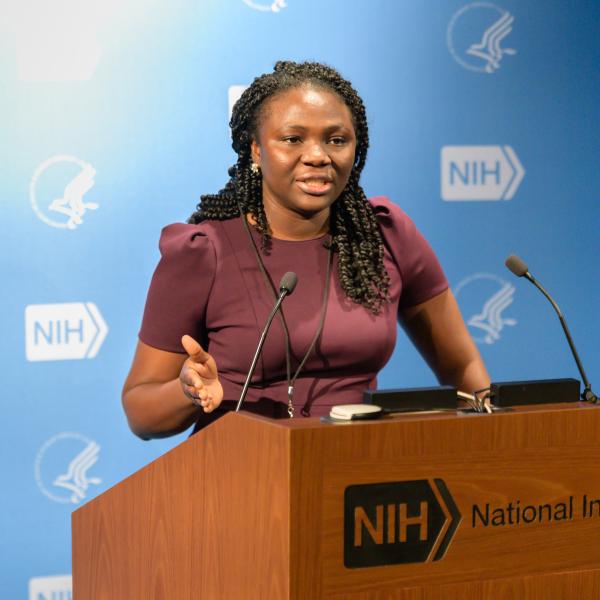 This thread of collaboration within the NIH remained strong throughout the lecture sessions and provided a view of how these investigators are changing the landscape of medical research and affecting the outside community. Lisa J. Reynolds from the Division of Cancer Epidemiology at NCI spoke next. By blending clinical cancer care and epidemiology, Reynolds described her prospective "genotype-first" research on Fanconi anemia, a genetic condition that is associated with an increased risk for cancer, specifically acute myeloid leukemia.
Desmond Brown of NINDS closed Session II, still in his scrubs, fresh from the clinic. For his lecture, he described the value of using insights from neurosurgery to research the biology of aggressive brain cancers, such as glioblastoma multiforme. And then back to the clinic he quickly went.
Watch the Session II archive at https://videocast.nih.gov/watch=49915.
Clinical expertise informing data-driven research
Four more ACIs took the stage the next day for Session III, focused on investigations of cancer biology and neuroscience via data science and community engagement. The first speaker, Padma Sheila Rajagopal from NCI, detailed germline and somatic interactions in cancer, a relationship that is often overlooked in oncologic research. By using large, relational databases that connect sequencing data to patient information and outcomes, her group can make more appropriate conclusions that have been fruitful for common cancers, such as breast and prostate. Rajagopal hopes to apply the method to rare cancers, too. "The Rare Tumor Initiative here at NIH moves us in the right direction toward getting the data that we require for these studies," she said.
Cancer research through a different lens was the focus of NCI's Ramya Ramaswami's talk. Her work on Kaposi sarcoma biology highlighted the effects of health disparities both domestically and globally in how they affect the incidence of this HIV-associated pathology. Her work aims to close the gap in care for these patients. Samira Sadowski from NCI, a surgical oncologist, provided her perspective on pancreatic neuroendocrine tumors and how uncovering the epigenetic regulation of drug targets may improve outcomes for patients with advanced disease.
To conclude the session, An Dang Do of NICHD, who had doubled as the session moderator, described her research efforts to uncover biomarkers associated with stress responses in neurological conditions, highlighting how these ACI investigators are able to leverage their unique clinical expertise to inform cutting-edge, data-driven research.
Watch the Session III archive at https://videocast.nih.gov/watch=49935.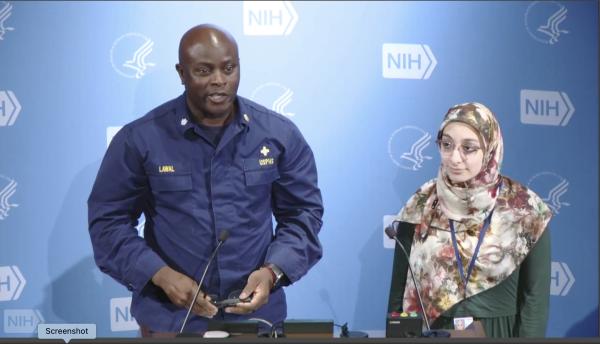 Expanding community research and probing pathogenesis
To conclude this year's early-career investigator lecture series, six additional IRS presenters took to the podium for Session IV. First to speak was Jessica Madrigal from NCI. She described her community-oriented approach to investigating the effect of air pollutants on the etiology of cancer in a variety of sociodemographic groups across the United States.
Another health-disparities researcher, NIEHS's Alex Montiel Ishino, outlined transdisciplinary approaches to epidemiological research in pursuit of health equity, the most philosophical presentation of those first two days of the Research Festival, included how the goal is to "create pipelines for communities and researchers" to make lasting connections.
Yukiko Yano from NCI next provided insights into how the oral microbiome can affect health throughout the body. Then, Tasha A. Morrison from the National Institute of Arthritis and Musculoskeletal and Skin Diseases detailed her investigations deep into the molecular biology of the immune system's natural killer (NK) cells, which neutralize and kill damaged cells. She described how the UGCG gene affects glycosphingolipid synthesis, which is vital for the cytotoxic functions of these NK cells.
NICHD's Philip Patrick Adams explained his investigations into Borrelia burgdorfei, one of the main pathogens associated with Lyme disease. He described how bacterial motility could be associated with the increase in the rates of the disease seen in regions in the United States where ticks are prominent. To conclude the final session of lectures, Portia Gough of NIAID presented on another pathogenic organism, Roseomonas mucosa.
Across the two days of lecture, many of these presenters revealed how truly connected they are to the communities and patient cohorts that they serve. Such relationships, they emphasized, provide insights that drive their research questions and increase the impact of their work.
Watch the Session IV archive at https://videocast.nih.gov/watch=49937.
---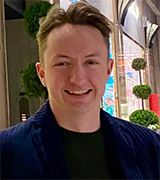 Stephen Andrews, a postbaccalaureate research fellow in the National Cancer Institute, is studying molecular genetics and tumor modeling related to neuroendocrine tumors of the small intestine and pancreas. Outside of the laboratory, he enjoys running, cycling, cooking, and visiting art galleries.
This page was last updated on Wednesday, November 8, 2023