Research Briefs
Read about scientific advances and discoveries by NIH intramural scientists: investigating hypervirulent bacterium; proteogenomic dataset to aid in cancer research; air pollution associated with breast cancer; evaluating treatment candidates for stroke; gene-therapy procedure preserves fertility; diagnosing polycystic ovary syndrome
NIAID: INVESTIGATING MULTIDRUG-RESISTANT AND HYPERVIRULENT BACTERIUM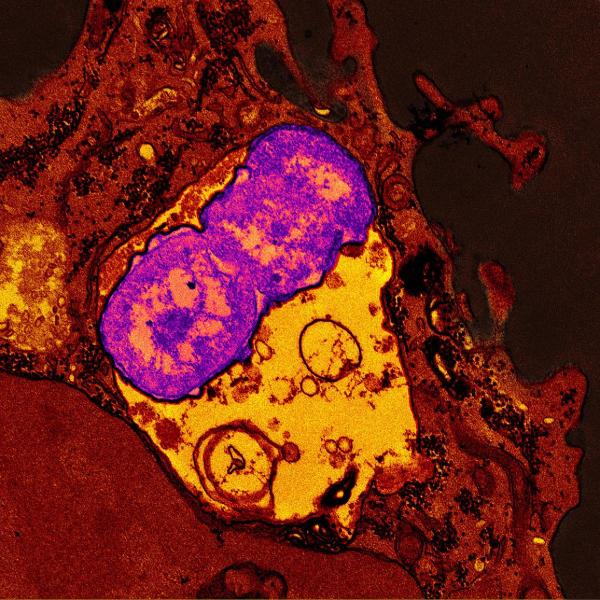 NIAID researchers at Rocky Mountain Laboratories investigated hypervirulent Klebsiella pneumoniae in a study to evaluate how its strains evade human host immune defense.
Two kinds of hypervirulent strains were investigated, hypervirulent K. pneumoniae (hvKp), which emerges in healthy populations, and multidrug-resistant hypervirulent K. pneumoniae (MDR hvKp). The research group evaluated the genomic characteristics of hvKp and MDR hvKp in 19 clinical isolates for the presence of virulence genes and loss-of-function mutations. They found several enzymes and/or mutations that could influence susceptibility to the human immune system.
The team also tested the survivability of hvKp and MDR hvKp in normal human blood and serum and found that MDR hvKp isolates had significantly lower survivability over time in blood and serum than hvKp isolates.
The findings demonstrated variability among K. pneumoniae clinical isolates and pointed to their persistence. For example, the researchers determined that human neutrophils (white blood cells) ingested less than 5% of the hvKp strain but were able to digest more than 67% of the MDR hvKp strain. Neutrophil ability to digest hvKp increased with addition of host defense antiserum, presenting a potential clinical solution to treating infection.
In future studies, the authors plan to explore other factors that might make MDR hvKp strains more susceptible to human host immune defenses than hvKp strains, which could inform treatment strategies to prevent or decrease disease severity. (NIH authors: F. DeLeo, A. Porter, S. Kobayashi, and B. Freedman, mBio 2023; DOI:10.1128/mbio.01949-23e0194923)
[BY ARTHI RAMKUMAR, NIAID]
---
NCI: COMPREHENSIVE PROTEOGENOMIC DATASET TO AID IN CANCER RESEARCH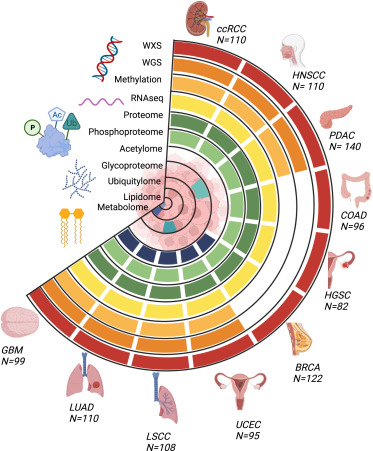 NCI's Clinical Proteomic Tumor Analysis Consortium (CPTAC) has created a comprehensive proteogenomic dataset to serve as an open-access resource for the global cancer research community. Proteogenomics is the study of how information about the DNA in a cell or organism relates to the proteins made by that cell or organism. The resource will help scientists, organizations, and institutions dedicated to studying and finding solutions for cancer link genomic mutations to their broader impact on function and further understand the cellular and molecular mechanisms of tumor formation.
Generated from individual studies of more than 1,000 tumors across 10 tumor types, the dataset standardizes and integrates genomic, proteomic, imaging, and clinical data. Access to such data could reveal insights about how cancers develop, progress, and evade treatments.
Proteomics is essential to characterize different types of tumors. The CPTAC dataset will help scientists further understand the pathophysiology behind tumor formation by addressing the need for a true proteogenomic approach that links tumor genotype to phenotype.
The launch of the CPTAC dataset is part of the goal of the Biden–Harris Administration's Cancer Moonshot initiative to accelerate progress in cancer research. This dataset is made publicly available through the NCI Cancer Research Data Commons repositories, including the Genomic Data Commons, the Proteomic Data Commons and the Cancer Data Service. (NIH authors: M. Thiagarajan, A.I. Robles, E. An, J. Bavarva, T. Hiltke, M. Mesri, H. Rodriguez, X. Zhang, and the Clinical Proteomic Tumor Analysis Consortium Cancer Cell 41:1397–1406, 2023; DOI:10.1016/j.ccell.2023.06.009)
[BY JOHN CARLO JADORMEO COMBISTA, NIMH]
---
NIEHS, NCI: PARTICULATE AIR POLLUTION ASSOCIATED WITH BREAST CANCER
Inhaling fine particulate matter less than 2.5 micrometers in diameter (PM2.5) may increase the risk for breast cancer, according to new research by NIH scientists. PM2.5 contains solid particles and liquid droplets that can be inhaled deep into the lungs. Sources of PM2.5 include motor vehicle exhaust, industrial emissions, and burning vegetation.
In one of the largest studies conducted to date that considered the effects of geographic variability on the incidence of breast cancer, and of tumor subtype, NIEHS and NCI researchers combined historical air-quality data with breast-cancer data using a cohort of women from the NIH-AARP Diet and Health Study. The women averaged 62 years old, and most self-identified as non-Hispanic white and lived in various geographical areas across the United States.
Researchers estimated annual PM2.5 concentrations for each participant's residence and exposures during a period of 10–15 years before study enrollment. Over approximately 20 years, 15,870 breast-cancer cases were identified, with an 8% increase in incidence among those with higher levels of PM2.5 exposures.
The investigators also found that PM2.5 was associated with a higher incidence of estrogen receptor-positive tumors, versus estrogen receptor-negative tumors, the former being the most common among U.S. women. The results indicate that PM2.5 may affect breast cancer through an underlying biologic pathway of endocrine disruption.
The authors suggested future research should explore how geographical differences in air pollution, including the various types of PM2.5 that women are exposed to, could influence the risk of developing breast cancer. (NIH authors: A.J. White, J.A. Fisher, N.D. Freedman, D.T. Silverman, and R.R. Jones, JNCI 2023; DOI:10.1093/jnci/djad170)
[BY SEPPIDEH SAMI, CC]
---
NINDS: HIGHLY COLLABORATIVE STUDY EVALUATES TREATMENT CANDIDATES FOR STROKE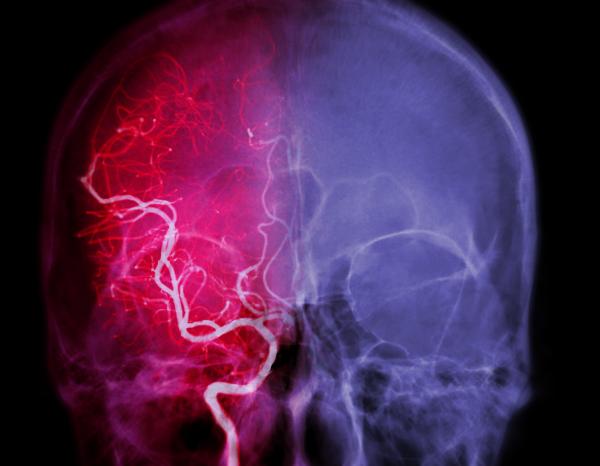 Uric acid is a potential therapy for acute ischemic stroke and worthy of further investigation, according to a preclinical study by NINDS scientists and their collaborators.
Orchestrated by NINDS, the study assessed the efficacy of a preclinical study network to make results reproducible in other laboratories. Scientists from six independent research institutions used a common protocol to perform a four-stage preclinical project using mice and rats to evaluate the effectiveness of six potential neuroprotective interventions selected through rigorous NIH peer-review.
To evaluate each treatment, mice were provided one of six treatments and filmed during two behavioral tests 7 and 30 days after sustaining a simulated stroke. Videos of the tests were then interpreted by assessors who were unaware of the given intervention. Results indicated that only one treatment, uric acid, exceeded the efficacy boundary established by investigators.
The authors identified no significant differences in the execution of the protocol or results of the study among the six research teams. Brain scans of lesion size were also performed; however, the researchers prioritized the behavioral test as the primary outcome because the success of stroke interventions in humans is often measured by the patients' survival and improved wellbeing. (NIH authors: F. Bosetti and J. Koenig, Sci Transl Med 2023; DOI:10.1126/scitranslmed.adg8656)
[BY CODY R.K. CONRAD, NIAID]
---
NHLBI, NIDDK: NEW GENE-THERAPY PROCEDURE PRESERVES FERTILITY
Researchers at NHLBI, NIDDK, and their colleagues successfully tested in animals a new antibody-drug conjugate, or conditioning agent, that could preserve fertility in people undergoing gene therapy for sickle cell disease (SCD) and other genetic blood conditions.
Current successful gene therapies use toxic compounds, such as busulfan, as a conditioning agent to remove diseased stem cells and allow healthy stem cells to form. This process sometimes results in infertility in subjects undergoing clinical trials and is a common reason why some people of reproductive age choose not to pursue treatment.
In this study, the investigators used a single dose of a new conditioning agent called CD117-ADC in nonhuman primate gene-therapy models. They found that a single dose of CD117-ADC promoted successful engraftment of gene-modified hematopoietic stem cells while maintaining fertility, indicated by the pregnancy of the treated females and the females paired with the treated males. Additionally, the modified cells were shown to increase the oxygen-carrying protein fetal hemoglobin, which can reduce complications associated with SCD.
The authors note that the proposed intervention's single-dose design gives it practical use but that additional research and clinical trials are needed to validate and improve this promising fertility-preserving therapy. (NIH authors: N. Uchida, U. Stasula, S. Demirci, P. Germino-Watnick, M. Hinds, A. Le, R. Chu, A. Berg, X. Liu, A.E. Krouse, N. Seth Linde, A. Bonifacino, S. Gun Hong, C.E. Dunbar, R.E. Donahue, and J.F. Tisdale, Nat Commun 14:6291, 2023; DOI:10.1038/s41467-023-41153-5)
[BY DARWING PADILLA ROLON, NIAID]
---
NIEHS, ORS: AI AND MACHINE LEARNING CAN SUCCESSFULLY DIAGNOSE POLYCYSTIC OVARY SYNDROME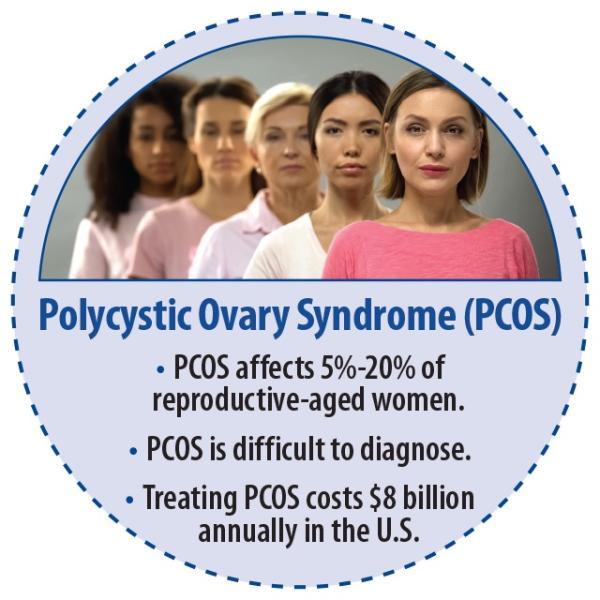 Artificial intelligence (AI) and machine learning (ML) proved to be useful tools in detecting polycystic ovary syndrome (PCOS), according to a study published by NIEHS scientists and their colleagues. The study was a systematic review of the literature published from 1990 through January 1, 2022, during which time a range of AI/ML software was identified and used to successfully detect and diagnose PCOS, the most prevalent yet underdiagnosed hormone disorder among women.
With the help of NIH library Biomedical Librarian Nancy Terry, the researchers found 31 eligible studies to include in the review. The type of AI/ML used varied among the studies, but all performed a similar task of sifting through patients' clinical, radiological, or biochemical data to find indicators of PCOS. The software was then able to identify which patients were likely to have the condition.
According to the senior author of the paper, NIEHS Assistant Research Physician and endocrinologist Skand Shekhar, the AI/ML programs used in the review performed extremely well, accurately identifying 80% to 90% of patients.
These findings could prompt physicians to add AI/ML to the diagnostic process, potentially leading to an earlier diagnosis for millions of women with PCOS, which often goes undetected due to its diversity in clinical presentation and overlap of symptoms with other conditions. The authors note that early and more efficient diagnoses could reduce the burden of PCOS on both patients and the healthcare system. (NIH authors: E.D.L. Brown, J.E. Hall, N. Terry, and S. Shekhar, Front Endocrinol 14:1106625, 2023; DOI:10.3389/fendo.2023.1106625)
[BY MEAGAN MARKS, NIAAA]
This page was last updated on Sunday, November 5, 2023