Bringing Science to Tribal Community
Tribal Leaders Discuss Research Priorities, Glimpse Into Intramural Life
BY MICHAEL TABASKO, OD
Alicia Mousseau, Vice President of the Oglala Sioux Tribe, set the day's tone with an opening invocation, "that the research and efforts we do here are taken back to our communities and help them and continue to help us prosper and grow."
This was day two of NIH's annual Tribal Advisory Committee (TAC) meeting where Mousseau and other elected Tribal officials exchanged views, gathered information, and advised how NIH programs could best address the health challenges facing their respective nations. The TAC agenda typically includes panel presentations by American Indian and Alaska Native (AI/AN) researchers, a Tribal caucus, and discussions with NIH leadership.
This year, the delegates were also invited to tour intramural labs at NIH's Clinical Center (CC).
"We want to make sure that AI/AN people understand the research that we do here and that they have the opportunity to participate," said Senior Investigator and Clinical Director Richard Childs of the National Heart, Lung, and Blood Institute (NHLBI) as he welcomed the TAC to the CC's medical board room on August 17.
Childs gave them a flavor of what the CC does best: translating the elements of basic science into important clinical discoveries that would be often impossible to conduct anywhere else, technologies such as advanced cardiac magnetic-resonance imaging to accurately diagnose cardiovascular disease, or drugs that have dropped the mortality rate of the rare disease aplastic anemia from 80 percent to less than 5 percent in recent years.
He pressed the importance of increasing diversity in research, citing repeated examples where some ethnic groups were shown to metabolize and respond to drugs quite differently. "We believe that with diversity comes excellence," said Childs. "It's very important that when we do these studies, we determine that we have the correct dose for all groups."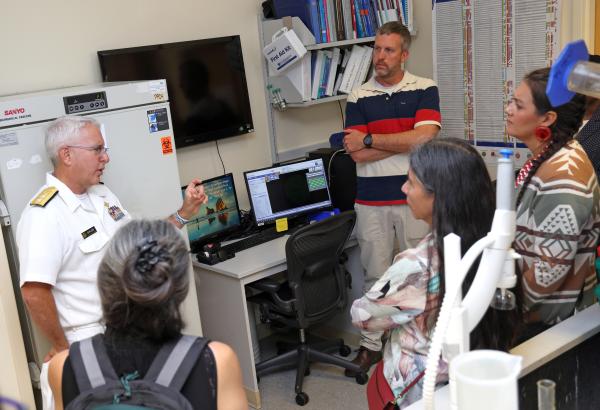 That's a sentiment shared by Julie Erb-Alvarez, Chief of NHLBI's Patient Engagement and Recruitment. Erb-Alvarez is a member of the Cherokee Nation and is passionate about connecting science to underrepresented communities.
"We may not understand the burden of diseases in certain populations because of the lack of diversity in research," she said before the group departed for the CC labs. "This is just one of the ways that we can educate about what we do so that more people feel comfortable and choose to come here and be involved in research."
The TAC delegates' first peek into intramural lab life was at Childs' Laboratory of Transplantation Immunotherapy. Here, scientists explained how they grow natural killer (NK) and T cells to large numbers and then genetically alter them to be more effective at killing cancer.
Gathering around a microscope's digital display, the group peered down at glowing green multiple myeloma cells in a dish. The cancer cells' numbers had been decimated over the course of eight hours by reprogrammed NK cells.
"We're really good at killing cancer in vitro," said Childs, before detailing the rigorous, years-long process of optimizing safe and effective therapies in humans. "If you do this work well in the lab, when you bring it to human trials the treatment will have a much higher likelihood of being effective," he said.
Childs' lab is currently finishing up a phase 1 trial treating patients with a type of kidney cancer using genetically reprogrammed T cells.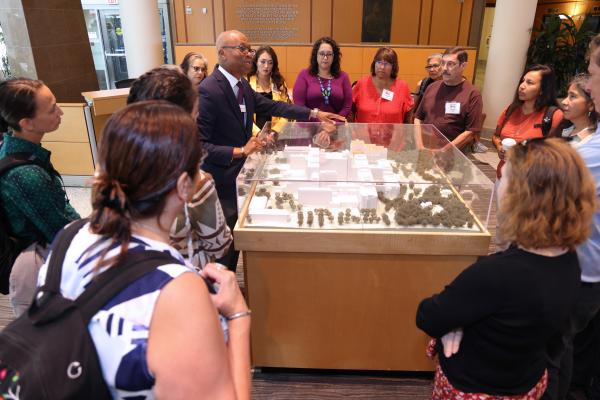 Next up on the tour was the lab of NHLBI's Stadtman Investigator Tiffany Powell-Wiley. Her Social Determinants of Obesity and Cardiovascular Risk Laboratory founded a clinic in Washington, D.C., called the Hope Center to make it easier for individuals in underserved areas of the city to be a part of research. "That allowed us to build trust and bring patients here for our studies," she said.
The community-centered approach, in which underrepresented groups participate in all aspects of a research project to help tailor culturally relevant interventions, has been gaining traction. It's often used among researchers working with AI/AN populations experiencing multifaceted health challenges including addictions, access to behavioral health suicide preventions, and effects of climate change.
Beyond family risk factors, the Powell-Wiley lab is studying how the social environment, such as neighborhood crime rate, may be associated with cardiovascular disease. One theory is that high-stress environments can trigger a release of catecholamines—fight-or-flight hormones—and increase disease risk.
Powell-Wiley hopes to find interventions to build resilience among patients living in those adverse conditions. "How do social factors get under the skin, and how can we find interventions that target some of those pathways that we identify here in the lab?" she asked.
Her lab is working on a physical activity intervention study to see how it improves cardiovascular health or changes some of the adversity-related biomarkers that they've discovered. And they're collaborating with extramural labs studying epigenetic markers and biomarkers of stress in the brain.
A second project is looking at how neighborhood factors and stressors play a role in immune function and vascular health.
Connecting the dots between environmental stress and disease risk resonates with Tribal communities, too. "How do we find out about these projects?" asked one of the delegates.
NIH's Tribal Consultation Policy ensures that Tribal leaders have early input into NIH programs and priorities. And Karina Walters, Director of NIH's Tribal Health Research Office (THRO), hopes to increase NIH presence in Tribal communities to listen to their health priorities and provide information about NIH's research programs.
Internal NIH cultural awareness training for staff to better understand AI/AN cultural considerations for ethical and appropriate inclusion in research is another priority. THRO also plans to develop and grow more NIH programs and opportunities that will increase the number of AI/AN researchers conducting biomedical and behavioral research.
"The combination of Indigenous strengths and knowledge in partnership with NIH's broad research interests and capacity have the potential to address AI/AN health challenges in a collaborative approach," said Walters.
Powell-Wiley suggested that perhaps future studies could incorporate questionnaires that capture the effects of intergenerational trauma and begin to tease out precisely how shared traumatic experiences influence health. "We are very open to thinking about other populations," she said, "where we could look into some of these pathways that we've seen in other cohorts, and sharing some of these methods that we do."
This page was last updated on Monday, November 6, 2023