NIDCR Summer Poster Day Highlights Students Working, Learning in Labs
BY MICHELLE MCGINN, NIDCR
Each summer, the NIH hosts hundreds of college students as summer research interns. NIDCR welcomed 22 such interns, who each conducted full-time research in the laboratory of an NIDCR intramural investigator. The students also attended networking events, a graduate and professional school fair, a scientific lecture series, and a research day held in collaboration with the University of Maryland School of Dentistry (Baltimore).
Below, you can read how a few of the presenters at NIDCR's Summer Poster Day described their NIH experience.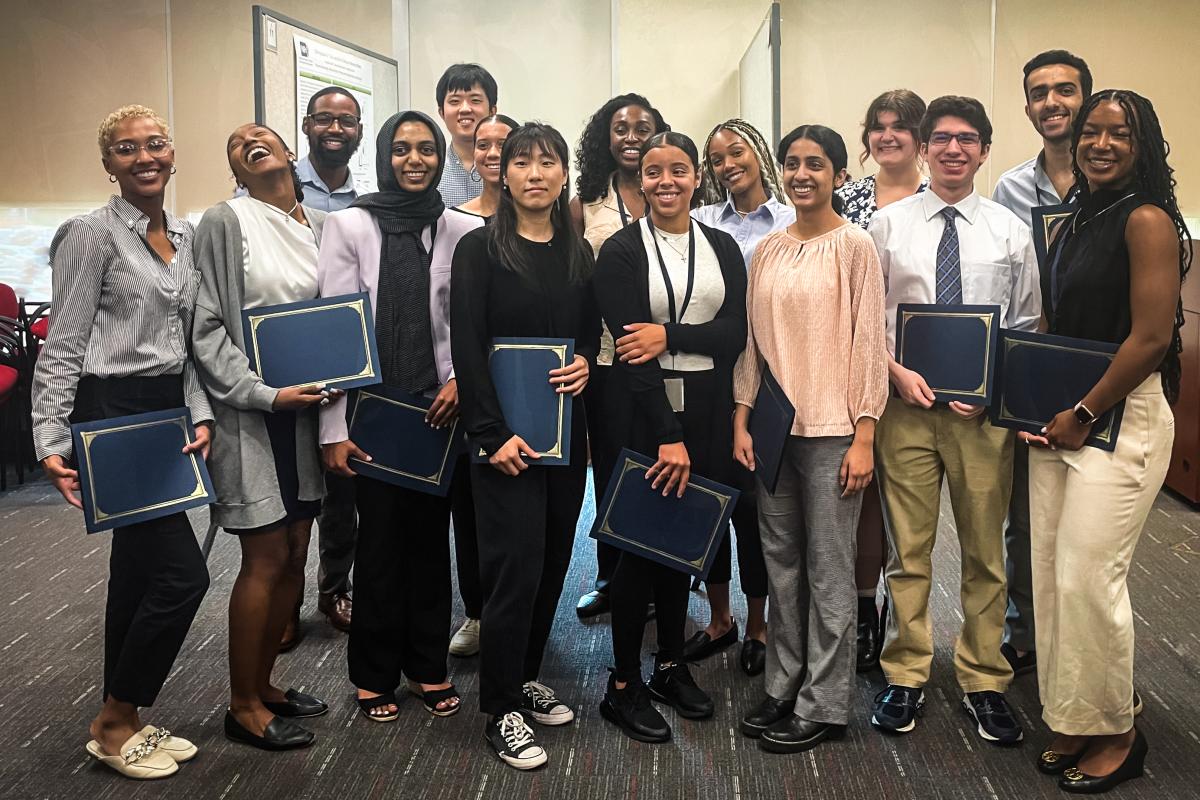 Lovelace Adeniseun—Seeking New Therapies for Head and Neck Cancer
School: Howard University (Washington, D.C.)
Poster title: Testing mTORC3 Small Molecule Binders in Head and Neck Cancer Cells
Principal Investigator: Beverly Mock
Small-molecule binders—compounds that bind to unique protein targets and affect cellular activity—are novel therapies used to treat head and neck cancer. Lovelace Adeniseun spent her summer learning how these small molecules work mechanistically with the goal of helping to create more-targeted, less-harmful treatments. "We've found several that are very promising," she said.
When asked about her NIH experience, she said, "I was surprised at how long everything takes. There is a lot of repetition to confirm or validate your results to ensure you're getting the right information to the public."
---
Minelis Brito—Understanding Viruses to Improve Gene Therapy
School: Louisiana State University (Baton Rouge)
Poster title: Analyzing the Relationship Between Genome Length and Viral Protein Length in T1 Particles
Principal Investigator: John A. Chiorini
The type of cell a virus can infect is based largely on the structure of its capsid, the protein shell that encapsulates viral genetic material. The simplest arrangement of capsid proteins, known as T1, forms an icosahedron, like a 20-sided die. Many current gene therapies harness T1 viruses as gene-delivery vehicles (first, the viruses are stripped of their disease-causing ability). The T1 group of viruses have genomes that vary in length from 1 kilobase (kb) to more than 5 kb. To better understand how T1 virus particles form, Brito investigated whether there is a correlation between the length of the viral genome and the size of the capsid protein. Understanding this relationship could lead to the development of new capsids for use in gene therapy.
"I found that I really enjoyed computational biology," she said. "I'm still exploring everything going on in my lab, but I hope I keep going with computational biology."
---
Janaylin Carela—Understanding Periodontitis
School: American University (Washington, D.C.)
Poster title: Characterizing the Activity of the Fusobacterium nucleatum Glycosyltransferase PeIF in Pel Exopolysaccharide Biosynthesis
Principal Investigator: Nadine Samara
Janaylin Carela spent her time at NIH studying bacteria associated with periodontitis, a serious gum infection that can lead to pain and tooth loss. The condition is typically caused by poor brushing and flossing habits that allow a sticky biofilm of several species of bacteria to build up on the teeth and harden. Carela focused on characterizing an enzyme called PelF in Fusobacterium nucleatum, a species of bacteria that plays a key role in the development of periodontitis. She hopes her work will help reduce dental disparities by bringing an affordable treatment to those most affected by periodontitis, including people living in rural and low-income areas of America.
Carela says she gained valuable life skills in the program: "You learn how to speak to others and gain confidence in yourself when conducting these experiments. You also learn to be a problem-solver and act more independently in your work. You grow a lot and can become really resilient."
---
Peyton Green—Neurons, Ion Channels, and Pain Perception
School: Howard University
Poster title: Subcategorizing the Response Profiles of TRPV1-Neurons
Principal Investigator: Mark Hoon
Have you ever heard of the capsaicin receptor? It's an ion channel found on certain sensory neurons, and it triggers the burning pain we feel when we eat spicy foods such as chili peppers. It also helps our bodies sense temperature changes. Over the summer, Peyton Green studied the nerve cells that express this ion channel, which is more formally called transient receptor potential vanilloid subtype 1 (TRPV1). She learned how TRPV1-nerves can detect painful stimuli—and possibly serve as a target to relieve it.
"I wish I could have more time to see where my research goes next," she said. "I came here not knowing too much of anything about this research topic. I'm in dental school, so I have a general science background. But I've never been able to dive into anything like this in depth before. I could definitely see myself doing research on the side after I become a dentist."
---
Eric Mao—Visualizing Neural Crest Cells
School: Columbia University (New York)
Poster title: Development of Neural Crest Reporter iPSC Lines for CRISPRi Screens
Principal Investigator: Achim Werner
Neural-crest cells play a vital role in early development and give rise to diverse cell types throughout the body. Eric Mao's research focused on developing a way to detect and visualize neural-crest cells using a fluorescent "reporter" protein. Malfunctions in neural-crest cells account for about a quarter of all birth defects. Mao worked to develop a stem-cell line designed to provide other researchers with a consistent tool to detect cells that successfully differentiate into neural-crest stem cells and bone-cell precursors (osteoblasts).
"The NIH is the size of a university," he observed. "There are so many people here, and everyone is so passionate about science, about biomedical research.... It's really neat to be surrounded by so many exciting and passionate people."
---
Sabahat Rahman—Engineering Bone Marrow Cells
School: Johns Hopkins University (Baltimore)
Poster title: Developing a Strategy to Knock Out Hypertrophy-Associated Genes in Bone Marrow Stromal Cells
Principal Investigator: Pamela Robey
Sabahat Rahman spent her summer figuring out how to knock out genes in bone-marrow stromal cells. These cells seem ideally suited for stem-cell therapies designed to repair cartilage in injured or diseased joints, but they have a major drawback. Although they initially make cartilage, the cells eventually balloon in size and remodel into bone, a process called hypertrophy. Rahman sought to solve this problem by knocking out genes associated with hypertrophy.
Rahman said her work had a slightly anticlimactic ending: the in vitro conditions often proved too toxic for the cells under study. She's not discouraged, however. "We can explore this further, and it opens up new possibilities for us," she says.
She has this advice for future summer research interns: "Background research is a key to success. In the first two weeks, I underestimated how much just reading papers would help me. Also, strive to form a good relationship with your mentor. I had a great workplace environment, and that made the summer really enjoyable."
---
Danielle Smith—Tumor Prognosis via T Cells
School: Howard University
Poster title: CD8 Regulatory T Cells and B16-F10 Mouse Melanoma Model
Principal Investigator: Wanjun Chen
Melanoma is the deadliest form of skin cancer and is most successfully treated when detected early. Using mice injected with melanoma cells, Danielle Smith investigated whether certain white blood cells could serve as a marker for melanoma. She demonstrated that a particular type of white blood cell—the CD8 regulatory T cell—increased in number in melanoma tumors as the tumors grew.
She said the NIH internship program revealed a variety of career options. "There's working in a hospital setting, there's research work—it's so broad." For future interns, she offers these thoughts: "If you're part of next year's cohort, take advantage of your time here. There's so much to see, everyone is friendly, and they don't mind helping."
This page was last updated on Tuesday, October 31, 2023