NIH Rare Disease Day 2023
Virtual No More, Rare Disease Day Comes Charging Back to the NIH
Hundreds of researchers, medical industry representatives, patient advocates, and patients with a rare disease and their families dusted off their zebra-printed neckties, shirts, and shawls and packed the Natcher Conference Center for Rare Disease Day (RDD), the first in-person event after a pandemic-induced two-year hiatus.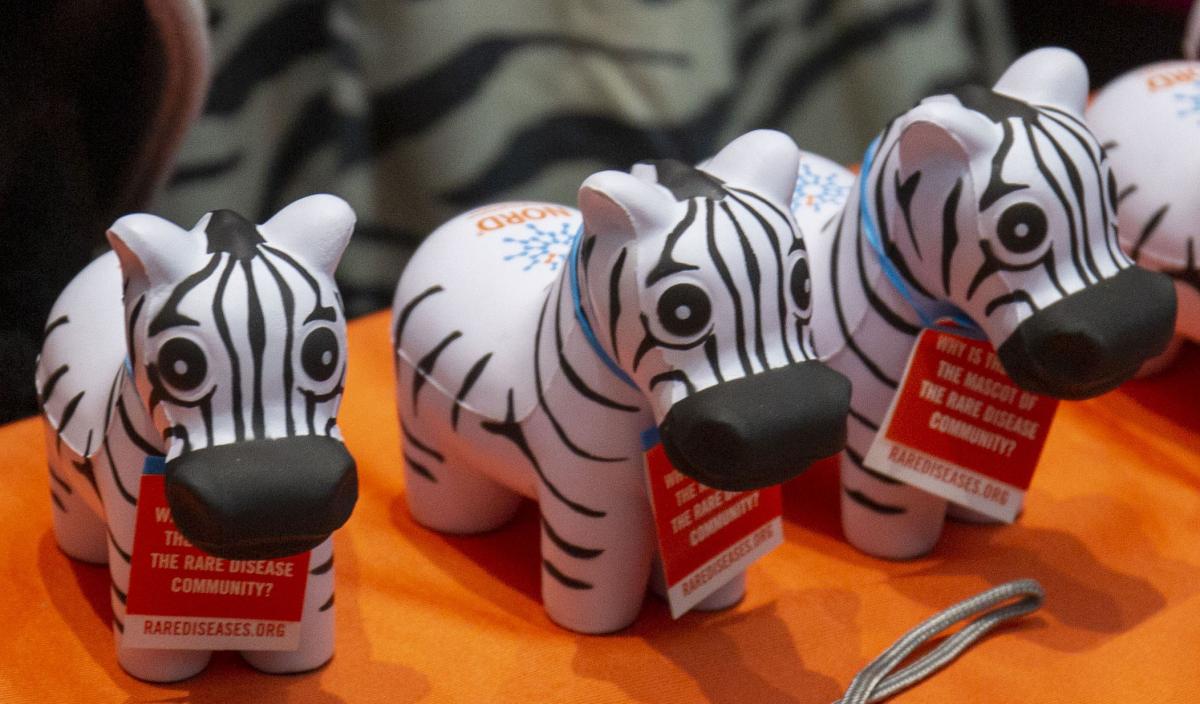 RDD is a global event held on or near the last day of February to raise awareness among policymakers and the public of rare diseases and their impact on patients' lives. Zebra stripes have come to symbolize the cause, a sassy retort to the old medical professor maxim, "if you hear hoofbeats, think horses, not zebras."
Since 2011, the NIH Clinical Center (CC) and the National Center for Advancing Translational Sciences (NCATS) have hosted RDD to call attention to the fact that upwards of 10 percent of the United States population has a rare disease, and the study of such conditions—ranging from accelerated aging to painful inflammation—can benefit us all.
Links to the Feb. 28 agenda and archived VideoCast are at https://ncats.nih.gov/events/rdd/past-events. The Catalyst reports on a few event sessions, below.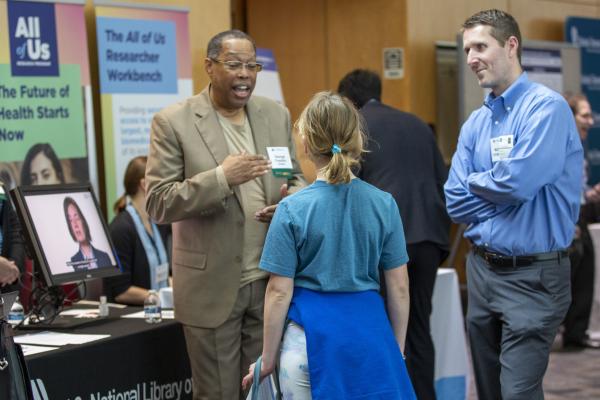 One platform, many treatments
Most rare diseases are genetic and caused by a defect in a single gene. One treatment called adeno-associated virus (AAV) gene therapy has already shown promise in treating some of those conditions. The technology uses a modified version of a virus to deliver a working copy of a defective gene into the cells affected by a given disease. But developing an AAV gene therapy treatment for many other monogenic disorders faces stiff headwinds. The process is far from standardized. And often, private industry is reluctant to invest time and money into a therapeutic that might treat only a single condition with very few patients.
The ongoing NCATS-led Platform Vector Gene Therapy (PaVe-GT) program hopes to change that. In the day's first session, Scientific Project Manager Richa Madan Lomash at the NCATS Therapeutic Development Branch (TDB) spoke about the collaborative project, which is testing a single streamlined manufacturing and clinical testing procedure using AAV to develop separate treatments for four distinct rare diseases.
"Our goal is to develop common processes throughout the preclinical development for the four diseases, covering manufacturing, safety, regulatory, and clinical activities and operations," Lomash said.
Once those hurdles are cleared, the AAV platform could serve as a scaffold to develop other rare disease gene therapies. PaVe-GT is focusing on two neuromuscular junction disorders and two metabolic diseases. All four inherited conditions are under study by investigators at NHGRI, the National Institute of Neurological Disorders and Stroke, and the CC.
Lessons learned from PaVe-GT could smooth over the path for others. From proof-of-concept studies to interactions with the FDA that clear the way to develop and test an investigational new drug, the program's templates and applications are being made publicly available on the PaVe-GT website. And the TDB team recently published a paper (Hum Gene Ther 34:5-6, 2023) that describes how the first treatment candidate received two valuable FDA designations—the Orphan Drug and the Rare Pediatric Disease—which provide financial incentives for the development of rare disease treatments. "It's very important for us to share the lessons learned in our platform-development journey to help future gene-therapy projects," said Lomash. The development of the other three gene therapy products is also in progress.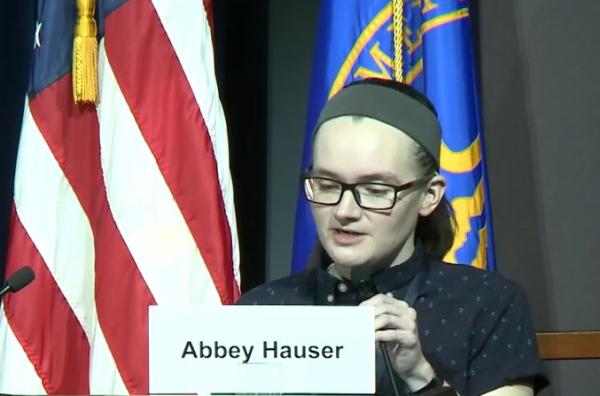 Meeting the needs of adolescents and young adults
Session two concentrated on the needs of adolescents and young adults (AYA). These rare disease patients can fall through the cracks: too old for pediatric care, with its toy-filled waiting rooms and tiny tables etched in crayon scribble; yet too young for adult care, with the scary independence thrust upon them at age 18.
These patients are maturing physically and emotionally, yearning to fit in, be expressive, and prepare for adulthood, explained Alison Silberman, the CEO of Stupid Cancer, Inc., who participated in a panel discussion.
In that same panel discussion, Lori Wiener, Senior Associate Scientist in the National Cancer Institute Pediatric Oncology Branch, relayed her research on psychosocial therapeutic tools and interventions to help AYA navigate an uncertain future. She led an NIH team in the creation of an advance-care planning tool for AYA facing end of life (EoL), called Voicing My Choices. The booklet, first published in 2012, helps AYAs relay to family and friends how they wish to be honored and remembered.
Research by Wiener and her colleagues has found that the tool significantly decreased anxiety about EoL discussions in those who completed several pages of the document. Their clinical study continues today in a new phase of comparative research at NIH and at three university medical centers to assess patient preferences between the original and revised versions of Voicing My Choices.
Weiner's work is helping patients take control of their lives. The same can be said for Abbey Hauser, an AYA rare disease advocate. Through the course of the day, Hauser, who has Ehlers-Danlos syndrome, a rare genetic connective tissue disorder, staffed an information booth for the EveryLife Foundation, which advocates for science-driven legislation that advances the equitable development of lifesaving diagnoses, treatments, and cures. In session two, Hauser presented a talk titled "Becoming the Captain."
Hauser, who grew up on the water in Minnesota, the land of 10,000 lakes, used the captain analogy to describe the challenging process of needing to take charge of the ship that was her life when she became a legal adult. When she started on her "rare disease voyage" at age 6 she was "not the captain of this ship." Indeed, there were times when she did not know who was steering.
For Hauser, rare disease is like a ship with a varied crew—physicians, nurses, pharmacists, family—each with different yet important roles to keep the ship afloat. Her caring parents might have been at the helm, but a multitude of specialists and constant change of course left her seasick.
Hauser needed surgery just six days after her 18th birthday, when she was barely a legal adult and suddenly pushed out of pediatrics. She felt small in a big, new world. She wasn't prepared to be the captain.
She managed, of course: Here she was lecturing at the NIH. But her advice to the audience was that parents need to educate their children well about their disease to prepare them for that transition to captain at age 18.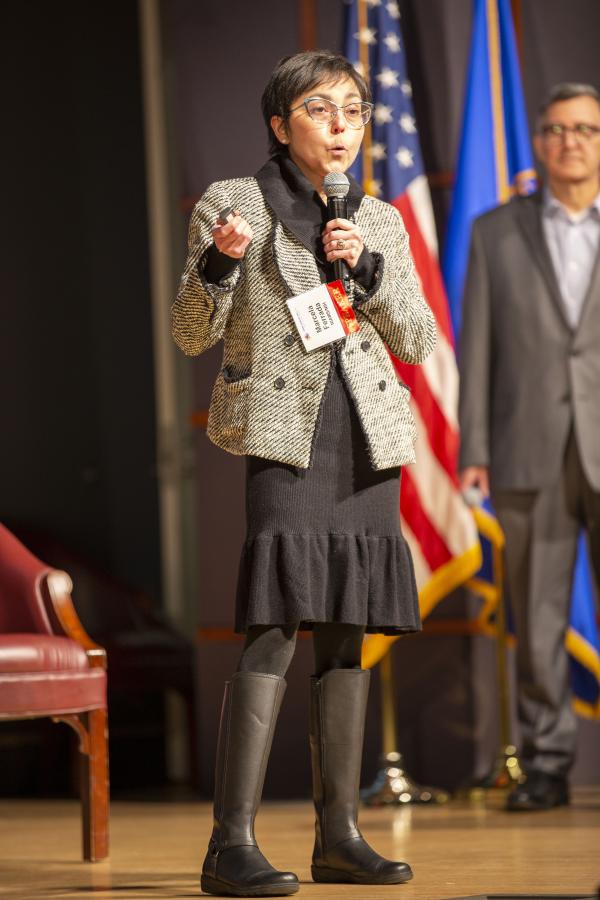 Where there is research, there is hope
"It is your personal decision what you're going to do to move forward…but think about what you can do to help others," said National Institute of Arthritis and Musculoskeletal and Skin Diseases (NIAMS) Staff Clinician Marcela Ferrada. In 2015, she was diagnosed with relapsing polychondritis (RP), a rare disorder characterized by recurrent bouts of painful swelling and inflammation of cartilage and other tissues throughout the body. Now recognized as an expert and world leader in RP research, Ferrada spoke in the day's third session to share her personal challenges and triumphs.
Growing up in a family of doctors and nurses, Ferrada always wanted to be a doctor. She completed a dual fellowship in critical care medicine at the NIH CC and in infectious diseases at Johns Hopkins Hospital (Baltimore, Maryland). However, when she was diagnosed with RP, she completely changed her career trajectory.
She remembers asking her doctor James Katz, then-Director of the NIAMS Rheumatology Fellowship and Training Branch, "Can you fix it?" but little was known about the disease at the time. Ferrada began reading articles and documenting her own experience. "During that time, being hopeful was very hard and what got me going was thinking about setting up an RP study [to help others]," said Ferrada. She decided to stay at NIH to do an additional fellowship in rheumatology, to be able to see patients and do research in RP.
During her rheumatology fellowship she was able to create a prospective cohort of patients with RP, under the guidance and support of many members of NIAMS, particularly Peter Grayson, currently Chief of the Vasculitis Translational Research Program.
That study has since identified three unique clinical presentations of RP (Arthritis Rheumatol 72:1396-1402, 2020), and enrolled patients are being followed over several years to closely monitor the disease's progression. Ferrada's group found that most people are diagnosed in middle age. By identifying the disorder's main clinical symptoms along with those that are largely unknown, more individuals with RP might be diagnosed earlier.
To find hope during the difficult times, Ferrada has often considered the advice of her NIH colleagues and mentors, such as Anthony Suffredini, Deputy Chief of the CC's Critical Care Medicine Department, who told her "to have very good mentors, to have a very good environment, to be persistent, and to believe in what you are doing."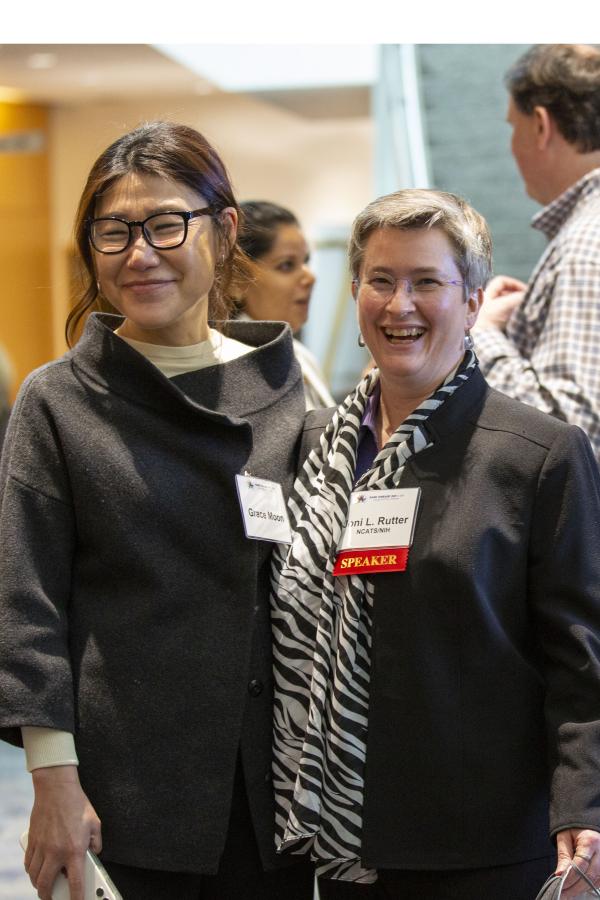 Remarkable progress; more work to be done
NCATS Director Joni Rutter estimates that there are more than 7,000 rare diseases, but fewer than 600 have an FDA-approved treatment. Yet on display this year was palpable optimism amid reports of advances in both treatments and services.
One other thing that isn't rare is the staggering success of NCATS in bringing FDA-approved drugs for rare diseases to the market—44 such drugs and counting, all in just a brisk decade of research since the center was established in December 2011. Today, RDD has grown into a significant scientific event with over 570 attendees, nearly 2,000 live viewers, 33 scientific posters, and 44 exhibit booths.
"Rare Disease Day at NIH has it all—the moving patient stories, promising research advances, advocacy to spur more action—and this year's event was no exception," Rutter told The Catalyst. "The day ended with a special announcement about the first FDA-approved treatment for Friedreich ataxia, marking an incredible moment for the rare diseases community and reminding us what's possible."
Things get really rare next year, as RDD is celebrated on February 29.
---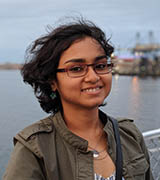 Satabdi Nandi, a Postdoctoral Fellow in the National Institute on Aging Laboratory of Molecular Biology and Immunology, is investigating the generation of antibody diversity in mouse B cells. Outside of work, she enjoys visiting museums to learn about the past, diverse cultures, and the motivation behind artists' creations.
This page was last updated on Thursday, May 4, 2023