The SIG Beat: Psychedelic Medicine
NEWS FROM AND ABOUT THE SCIENTIFIC INTEREST GROUPS
Psychedelic Medicine Returns to the NIH
Lecture by a SIG in Development
More than 60 NIH researchers representing multiple institutes, disciplines, and generations tuned in on January 24, 2023, for the inaugural meeting of the Psychedelic Science and Medicine Interest Group.
And if their enthusiastic reception was any indication, it appears that the NIH is primed to start anew on research on molecules, receptors, and neural systems that mediate the actions of psychedelic drugs.
Psychedelic drugs, according to the National Institute on Drug Abuse (NIDA), are characterized as classic hallucinogens that can cause users to see images, hear sounds, and feel sensations that seem real but do not exist. Such drugs include the synthetic hallucinogen LSD and natural products such as mescaline (peyote cactus) and psilocybin ("magic mushrooms").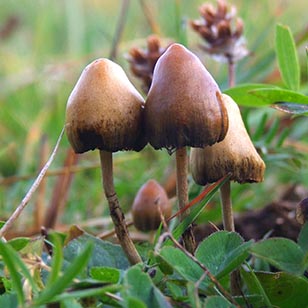 The very notion of studies on psychedelics might conjure up memories of Timothy Leary, leader of the controversial Harvard Psilocybin Project, and even research funded by the NIH in the 1950s and 1960s. The early research environment was marred, however, by a naive and experimenting 1960s youth counterculture, in part instructed by Leary himself to "Turn on, tune in, drop out."
Universities and the NIH began to question the safety and legitimacy of this line of research. Researchers themselves, by and large, did drop out…of studying psychedelics. The Controlled Substances Act of 1970 classified psilocybin, the main psychoactive constituent of psychedelic mushrooms, as a Schedule I substance—denoted as having no accepted medical use and a high potential for abuse.
Federal funding on psychedelics would remain dry for 50 years, until 2021 when Johns Hopkins University (Baltimore) was awarded a nearly $4 million NIH grant to investigate the potential effects of psilocybin on tobacco addiction. This study had followed a slow but steady resurgence in research with psychedelics in the preceding two decades on major depression, cancer-related existential distress, and substance-use disorders, funded mostly by philanthropy.
Today, researchers are seeing a surge of clinical trials nationwide using psychedelic drugs such as psilocybin and LSD, according to David Goldman, Clinical Director of the National Institute on Alcohol Abuse and Alcoholism (NIAAA).
Goldman led the inaugural meeting of this interest group with a talk titled "State of Psychedelics," in which he discussed the history and nature of psychedelic drugs and summarized their diverse effects, mechanisms, and origins from plants, fungi, and even toads.
He discussed pitfalls in clinical trials with psychedelic drugs, including the importance of concurrent psychotherapy, expectancy, and placebo effects, and the peculiar problem that participants who do not receive the expected drug can react negatively, a phenomenon known as nocebo effect.
The robust change in research funding could be attributed to the success of the use of ketamine to treat depression and suicidal tendencies, according to Carlos Zarate Jr., a world-renowned leader in ketamine research and Chief of the Experimental Therapeutics and Pathophysiology Branch at the National Institute of Mental Health.
Ketamine is a dissociative drug, not a classic hallucinogenic, according to NIDA. Zarate explained that in the 2000-2009 decade, the NIH intramural research program was able to conduct safe and well-designed clinical studies on ketamine and demonstrate its ability to elicit rapid and lasting improvement.
Joking that his opinion was his own and should be subject to editorial review, he speculated that ketamine helped relaunch psychedelic medicine by defining a pathway for other high-risk, high-reward research.
Also aiding in the psychedelic renaissance was the growing recognition of the importance of clinical setting. Goldman additionally mentioned a well-conducted study by researchers at Yale University (New Haven, Connecticut) and the University of New Mexico (Albuquerque, New Mexico) on the use of psilocybin and alcohol-use disorder.
Jessica Laudie, a Postbaccalaureate Fellow in the NIAAA Office of the Clinical Director, originated the idea for the Psychedelic Science and Medicine Interest Group, seeking guidance from Goldman, Nancy Diazgranados, (NIAAA Deputy Clinical Director), and Ann Berger (Chief, Pain and Palliative Care, NIH Clinical Center).
"With a majority, if not all, of psychedelic research occurring outside the NIH, I realized there was a disconnect between the intramural program and psychedelic researchers," Laudie told The NIH Catalyst. "I wanted to create a space where those currently leading the movement could share their work with those who are interested in learning more, or who may have critical perspectives to offer."
---
For more details about this group and instructions for joining its LISTSERV, please visit https://oir.nih.gov/sigs/psychedelic.
This page was last updated on Thursday, March 16, 2023