Inclusion of People with Disabilities in Technology Research and Development
A WALS Talk by Rory Cooper, Ph.D.
Rory Cooper knows wheelchairs. He's been using them since he was 20, after a bicycle accident in 1980 while serving in the U.S. Army in Germany left him with a spinal injury limiting the mobility of his legs.
He knows how cumbersome wheelchairs can be. He knows how they can tear up your arms. He knows what a bear it can be folding them and lifting them into a car, particularly when you don't have full use of your legs. He knows they don't do well in the rain. He knows that common motorized wheelchairs are not something you can take into a waterpark without the threat of electrocution.
And he knows that making better wheelchairs for those who depend on them can unlock human potential otherwise constrained for lack of accessibility and inclusion.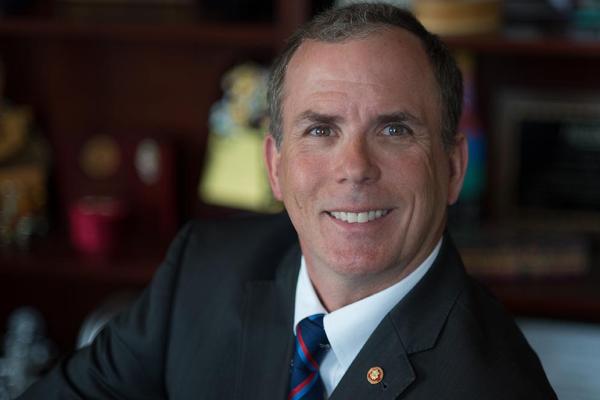 You may know these things, too, but you likely don't feel them the way Cooper and his diverse staff of engineers and scientists and administrators at the University of Pittsburgh feel them—because many of them live with inaccessibility and exclusion every day.
Cooper, who founded and leads the Human Engineering Research Laboratories (HERL), a partnership between the University of Pittsburgh and the Department of Veterans Affairs, made his case clear for diversity and inclusion in the sciences in a Wednesday Afternoon Lecture Series talk on January 11, 2023, titled "Forging a New Future: Inclusion of People with Disabilities in Technology Research and Development."
In his lecture, Cooper described a multitude of projects and approaches at HERL that incorporate firsthand experiences or empathy in the search for solutions to mobility and other obstacles to health care. Approximately 20% of the HERL team has some form of impairment, and many others have a close family member with an impairment. They are drawn to HERL because of a passion for the mission.
HERL's success can be measured in numerous ways: hundreds of peer-reviewed papers; more than 25 patents; dozens of students with disabilities graduating to rewarding careers and leadership positions; and, most poignantly, the shrieks of delight from a child with the newfound independence and confidence to play in a waterpark for the first time in the safety of a wheelchair powered not by batteries but rather pneumatics.
An unplanned path, of sorts
For Cooper, a wheelchair was not in the plan when he enlisted in the Army at age 17. Yet what would follow makes sense. Cooper had an innate passion to serve others and, for the record, to compete fiercely. He was an athlete before his spinal-cord injury, and he would maintain that drive afterward. In various competitions, including the Paralympic Games, he has earned more than 200 medals in handcycle racing, swimming, and table tennis.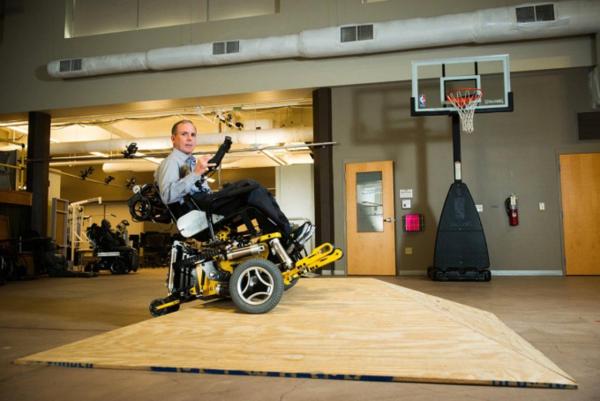 He was attracted to engineering at an early age. After his military service, Cooper returned to his home state to attend California Polytechnic State University (Cal Poly) in San Luis Obispo, California, where he earned a B.S. degree in electrical engineering, followed by an M.S. degree in electrical engineering. He then received a Ph.D. degree in electrical and computer engineering with a concentration in bioengineering from the University of California at Santa Barbara (UCSB).
And so, it all came together.
"I learned of and became interested in the bigger picture very quickly, literally within a year of starting college through learning of the challenges facing other adaptive sports athletes and other students on campus," Cooper told The NIH Catalyst. "Soon I was introduced to the disability rights advocacy community and quickly learned of the complexity and magnitude of the challenges."
Among Cooper's first engineering accomplishments was making wheelchairs that helped him get in and out of his car more easily or to race faster. He said his Ph.D. advisor helped him see the broader potential.
"'You're a brilliant engineer; you understand people with disabilities' needs; and they need you,'" Cooper relayed about what his advisor, Steven Horvath, had told him. "'And if you don't go into this field, why should anybody else? You can make a real difference if you do this.'"
California proved to be relatively accommodating for the disabled, providing a grounding on which Cooper could launch his career. He had completed all his college degrees before the passage of the Americans with Disabilities Act of 1990. But California was ahead of many states in accessibility as it relates to narrow aisles, high lab benches, and stairs with no practical alternative, Cooper said.
Cooper added that he was fortunate that students, faculty, and staff at both Cal Poly and UCSB were supportive and open to listening and working collaboratively. The biggest attitude barriers he faced came from outside his local community, in areas such as establishing credit, renting a car, flying on a plane, and staying in a hotel. These attitudes linger, he said.
Forging a new future
In his WALS lecture, Cooper said that he sees great potential in collaborating with the NIH. He already has extensive collaborative ties to Walter Reed National Military Medical Center (Bethesda, Maryland), where he works with disabled veterans.
For his visit to the NIH, Cooper was accompanied by his wife, Rosemarie, a physical therapist and HERL Associate Director for Stakeholder Engagement. Together they visited with NIH scientific staff in a tour organized by Tom Bulea, a tenure-track investigator and Lead of the NeuroRobotics Research Group in the Clinical Center Department of Rehabilitation Medicine.
The potential that Cooper sees for the NIH is in building a more inclusive workplace with a critical mass of professionals from diverse backgrounds, who could turn to each other for advice and inspiration and ultimately serve the NIH mission in reducing the burdens of disabilities.
---
To watch a videocast of Cooper's January 11, 2023, talk, "Forging a New Future: Inclusion of People with Disabilities in Technology Research and Development," go to https://videocast.nih.gov/watch=46052. The website for the Human Engineering Research Laboratories is https://www.herl.pitt.edu.
This page was last updated on Thursday, March 16, 2023