The Training Page
From the Fellows Committee
How to Prepare for the In-Person Conference Post-Pandemic
BY LARISA GEARHART-SERNA, NCI
"In-person and hybrid events increased 255% between the fourth quarter of 2021 and the second quarter of 2022," and the vast majority of events from 2022 were predicted to have an in-person element, according to Forbes Council Member Eran Ben-Shushan in his recent article in Forbes titled "In-Person Events Are Back, But They Look Nothing Like They Used To."
Now that we are returning to in-person events en masse, we scientists find ourselves with a large and looming question: What will our beloved, in-person conferences look like? We are faced with uncertainties about what to expect moving forward. Here we have compiled some helpful tips on how best to prepare for in-person conferences, to help you make the most of renewed opportunities to reunite with your colleagues, collaborators, and scientific communities.
Prepare to mask up (or not), based on your own preference
Sofia Bhalwani, a Postbaccalaureate Fellow in the National Cancer Institute, recently went to the HIV Persistence conference in Miami. "I was definitely scared of all the sick people around me," she said. "I didn't realize how I'd notice people coughing and sniffling so much compared to pre-pandemic."
It's true that we are now more conscious than ever of obvious signs and symptoms of illness, and comfort levels with these vary widely. "Wear a mask if you're uncomfortable," said Bhalwani. While masks will likely be optional at conferences, do not be afraid to wear one and maintain social distancing if that is what you prefer. Conferences are not intended to push you out of your COVID comfort zone.
Prepare for the hybrid conference: It's here to stay
The in-person conference, as we once knew it, is gone. Instead, most conferences have adopted or will adopt hybrid approaches.
"Some participants attending in person and others joining online [create] a disparity in attendees' experiences and can take away from the experiences of both," cautioned one HR Daily Advisor Contributing Editor in her recent article "Conferences: Is it Time to Get Back on the Road?" Part of this disparity can be attributed to the challenges of inclusion, as conference organizers will have to decide whether to exclude virtual attendees from certain events or to shape all events around a format that can serve online audiences. Even with added complexities, virtual and hybrid formats increase meeting access in a way that was never fully realized before the pandemic. Now that organizers have seen the broad reach of hybrid meetings, it is likely such events are here to stay.
Prepare for each session, each day, and the conference meticulously
Dr. Ruth Gotian, in her Forbes article "Are You Ready To Return To In-Person Conferences?", admitted that returning to in-person conferences can be awkward. We are no longer accustomed to large, social, structured events. However, she noted a few simple tips that may help, such as arriving early to get a feel for your physical surroundings. Knowing the layout of the conference space can save you from feeling overwhelmed, confused, or anxious. Becoming acquainted with room layouts also lets you know what to expect in terms of presentation format and proximity to other attendees. Further, Gotian noted that mapping out on the schedule what you will be attending can help you take maximum advantage of the opportunities and time that you have. She even suggested contacting persons of interest beforehand, a great way to proactively network.
Prepare to take advantage of in-person networking
In their write-up "ASHG 2022: Re-envisioning the new 'normal' for in-person conferences," the American Society of Human Genetics highlighted that "meeting up again in person offers unmatched opportunities to attend events live, reunite with colleagues and friends, and forge new relationships with peers and mentors." Indeed, events such as conferences are key to professional relationship building. Forbes author Eran Ben-Shushan shared that "roughly 80% of professionals agree that networking is crucial to their career success." While Zoom, Webex, and Teams have seen us through our pandemic personal and professional lives, there is just no substitute for real, live human interaction. It's critical to capitalize on networking opportunities at conferences, both formal and informal.
"Just talk to everyone you meet and ask them how they got to where they were," said Bhalwani. "It's really important to be engaged in the conversation and ask questions as needed. The more you do it, the more comfortable you'll get…."
---
References
Ben-Shushan, Ben, "In-person events are back, but they look nothing like they used to," Forbes (online), August 22, 2022: https://www.forbes.com/sites/forbesbusinesscouncil/2022/08/22/in-person-events-are-back-but-they-look-nothing-like-they-used-to/?sh=355a9a632066
Grensing-Pophal, Lin, "Conferences: Is it time to get back on the road?" HR Daily Advisor, April 28, 2022 (online): https://hrdailyadvisor.blr.com/2022/04/28/conferences-is-it-time-to-get-back-on-the-road/
Gotian, Ruth, "Are you ready to return to in-person conferences?" Forbes, October 19, 2021. https://www.forbes.com/sites/ruthgotian/2021/10/19/are-you-ready-to-return-to-in-person-conferences/?sh=3937d1413701
"ASHG 2022: Re-envisioning the new 'normal' for in-person conferences," American Society of Human Genetics website, July 13, 2022: https://www.ashg.org/publications-news/trainee-newsletter/ashg-2022-re-envisioning-the-new-normal/
---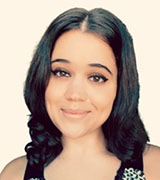 Larisa Gearhart-Serna, a Postdoctoral Fellow in the National Cancer Institute's Technology Transfer Center, is a member of The NIH Catalyst Editorial Board. Outside of work, she enjoys flamenco dancing, baking, annoying her pet rabbit, and finding the best spots for ice cream and hiking in the area.
This page was last updated on Friday, March 17, 2023