Our Shared Ancestry in African Genomes Can Be Harnessed to Improve Health For All
Ambroise Wonkam's WALS Lecture
"Less than 2% of human genomes analyzed so far have been those of African people, despite the fact that Africa, where humans originated, contains more genetic diversity than any other continent," medical geneticist Ambroise Wonkam wrote in a Nature commentary (Nature 590:209-211, 2021). He explained further at a Wednesday Afternoon Lecture last September that "to make genetic medicine truly equitable, we need to have representation of a wide genome [by starting] with our common ancestral genomes—genomes of the population of African ancestry."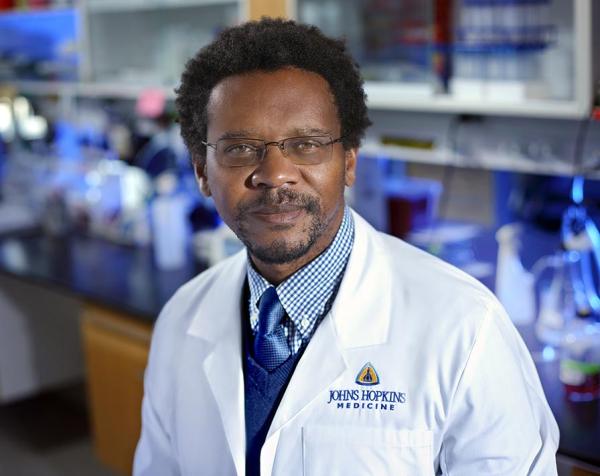 Wonkam, who is a Professor of Genetic Medicine and Director of the McKusick-Nathans Institute and Department of Genetic Medicine at Johns Hopkins Medicine (Baltimore), is investigating the genetics of people from Africa to obtain a more thorough understanding of the genetic origins of diseases and other health conditions. The African genomes hold many secrets: There's about 10% more DNA than in the human reference genome built from the Human Genome Project (Nature Genetics 51:30-35, 2019).
By gathering more information from African genomes, scientists can identify genes and variants that haven't been found in previous studies, most of which are based on people of European descent. Wonkam and Charles Rotimi, the Scientific Director in the National Human Genome Research Institute, have collaborated on the Human Heredity and Health in Africa (H3Africa) consortium, which is partially funded by NIH and facilitates projects led by African scientists. The H3Africa initiative is helping to develop the infrastructure, resources, and training needed for African researchers to be competitive in genomic sciences. Projects have included population-based genomic studies of common, noncommunicable disorders such as heart and renal disease, as well as communicable diseases such as tuberculosis, and have identified three-million previously unidentified variants (Nature 592:E26, 2021).
Because most participants in genome-wide association studies are of European descent (they make up only 16% of the world's population), genetic risk factors for certain diseases and conditions are more accurate for that population. But results from African genome studies are revealing information that may be beneficial for larger populations.
For example, up to 2% of African genomes contain mutations in the PCSK9 gene, which are related to lower cholesterol levels over a person's lifetime. The finding has led to the development of cholesterol-lowering medications for Africans and other human populations worldwide. And Huntington's disease is associated with at least two genes in African patients versus only one gene in patients with European ancestry. Understanding why such mutations are differentially prevalent in African and diverse populations can provide insights into better diagnosis and care for sickle-cell disease, heart disease, high cholesterol, Huntington's, and many other diseases and conditions.
In his lecture, Wonkam also stressed the need to investigate the origins of "ghost DNA," which is estimated to have been introduced into modern human genomes about 24,000 years ago. Some DNA markers derived from Neanderthal ancestors have recently been shown to make up about 2% to 4% of genomes of people of European descent, making them more susceptible to COVID-19 and other immunological conditions than people of African descent (Nature 587:610-612, 2020). Studying African genomes would help us understand why.
Implications
In an interview with The NIH Catalyst, Charles Rotimi discussed how the American landscape is shaped by African genomics. Rotimi, who is also the Director of the trans-NIH Center for Research on Genomics and Global Health, regularly uses data from African American study participants as controls to explore the evolutionary contexts of diseases, especially in his work on triglycerides.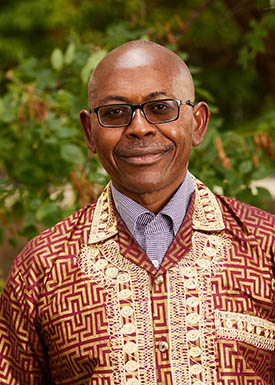 Using genetic sequencing, Rotimi and his group found that African Americans who have higher concentrations of triglycerides in their blood are likely to have higher proportions of European ancestry in genes associated with triglycerides. This finding shows how crucial Rotimi's work is to developing a better understanding of how the complex ancestral backgrounds of African Americans compared with West Africans and Europeans can inform health disparities here in the United States. Rotimi and Wonkam are both interested in epigenetic changes to the genome. Their work suggests that studying African genomics can further our understanding of modern medicine.
"African genomic variation is the next frontier of global genetic medicine," Wonkam proclaimed during his talk.
---
To watch a videocast of Ambroise Wonkam's WALS lecture "Harnessing African Genomic Variation to Improve Health Globally," held on September 14, 2022, go to https://videocast.nih.gov/watch=45982.
---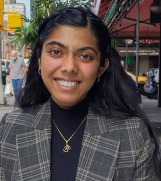 Sreya Sanyal is a Postbaccalaureate Fellow in the National Institute of Dental and Craniofacial Research's Proteases and Tissue Remodeling Section. She is studying the modification of anthrax toxin variants for use as a potential therapy for cancer. In her spare time, she likes to visit new restaurants, practice singing, and embroider.
This page was last updated on Thursday, March 16, 2023