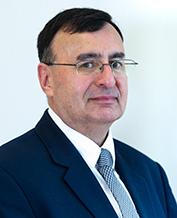 Carlos Zarate, Jr, M.D.
NIH Distinguished Investigator
Experimental Therapeutics & Pathophysiology Branch
NIMH
Research Topics
Dr. Zarate's current research focus is on developing novel medications for treatment-resistant depression and bipolar disorder. His areas of expertise include biological and pharmacological aspects of mood disorders in adults. Dr. Zarate's group conducts proof-of-concept studies utilizing novel compounds and biomarkers (magnetoencephalography [MEG] and polysomnography [PSG], positron emission tomography [PET], functional magnetic resonance imaging [fMRI] and magnetic resonance spectroscopy [MRS]) to identify potentially relevant drug targets and biosignatures of treatment response. A multidisciplinary translational research team conducts the research in the ETPB. In addition, the Branch provides training to develop the next generation of clinical translational researchers.
See Dr. Zarate's current clinical research studies here.
Biography
Carlos A. Zarate, M.D. is Chief, Section on the Neurobiology and Treatment of Mood Disorders and Chief of Experimental Therapeutics and Pathophysiology Branch (ETPB) at the National Institute of Mental Health, and Clinical Professor of Psychiatry and Behavioral Sciences, at The George Washington University.
Dr. Zarate completed a Fellowship in Clinical Psychopharmacology at McLean Hospital from 1992-1993, after which he remained as a staff member until 1998. At the McLean Hospital Consolidated Department of Psychiatry, Harvard Medical School, Dr. Zarate was the Director of the Bipolar and Psychotic Disorders Outpatient Services, Chair of the Pharmacy and Therapeutic Committee, and Director of the New and Experimental Clinic. From 1998 to 2000, Dr. Zarate was the Chief of the Bipolar and Psychotic Disorders Program, Associate Professor of Psychiatry, and Chair of the Grand Rounds Committee at the University of Massachusetts Medical School. In January 2001, he joined the Mood and Anxiety Disorders Program at the NIMH as Chief of the Mood Disorders Research Unit. In 2009, Dr. Zarate formed the Experimental Therapeutics and Pathophysiology Branch at the NIMH.
His achievements and awards include the Ethel-DuPont Warren Award and Livingston Awards, Consolidated Department of Psychiatry, Harvard Medical School, 1993-1994; NIH-NIMH Travel Award, 1994; American College of Neuropsychopharmacology Travel Awards, 1994 and 1995; Program for Minority Research Training in Psychiatry, American Psychiatric Association, 1996; the National Alliance for Research on Schizophrenia and Depression Young Investigator Award, 1996-1998; Outstanding Psychiatrist Research Award, Massachusetts Psychiatric Association, 1997; the Diversity and Advocacy Award, Hispanic Research Initiative Committee, NIMH, 2002; the Mentor of the Year, Intramural Research Program, NIMH, 2004; the Supervisor of the Year, NIMH,2005; the National Alliance for Research on Schizophrenia and Depression Independent Investigator Award, 2005; the NIH Director's Award-Scientific/Medical, 2007; NIMH Directors Award, 2009; and, the Brain Behavior Research Foundation Award for Bipolar Mood Disorder Research (NARSAD), 2011
Related Scientific Focus Areas
This page was last updated on Tuesday, August 9, 2022