Colleagues: Recently Tenured
Meet your recently tenured colleagues: Isaac Brownell (NIAMS), Jill Koshiol (NCI-DCEG), Christopher J. Westlake (NCI-CCR, pictured), and Kareem Zaghloul (NINDS).
ISAAC BROWNELL, M.D., PH.D., NIAMS
Senior Investigator and Head, Cutaneous Development and Carcinogenesis Section, Dermatology Branch, National Institute of Arthritis and Musculoskeletal and Skin Diseases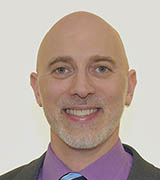 Education: University of Maryland at College Park, Maryland (B.S. in electrical engineering and in mathematics); Baylor College of Medicine, Houston, Texas (Ph.D. in molecular and cellular biology; M.D.)
Training: Transitional residency program, Christus St. Joseph Hospital (Houston, Texas); residency in dermatology (including Sulzberger Research Fellowship), New York University School of Medicine (New York); postdoctoral fellowship, Sloan-Kettering Institute (New York)
Before coming to NIH: Attending physician and instructor in dermatology, Memorial Sloan-Kettering Cancer Center (New York)
Came to NIH: In 2011 as investigator and head, Cutaneous Development and Carcinogenesis Section, Dermatology Branch, National Cancer Institute (program transferred to National Institute of Arthritis and Musculoskeletal and Skin Diseases in 2017)
Outside interests: Enjoys hiking, international travel, and storytelling
Website: https://www.niams.nih.gov/about/directory/isaac-brownell-md-phd
Research interests: I study the regulation of cutaneous stem cells and the molecular pathogenesis of skin cancer. Specifically, my team is investigating the development and maintenance of Merkel cells (neuroendocrine cells in the skin that sense light touch) and Merkel-cell carcinoma, a rare and very lethal type of skin cancer.
Using mouse genetics, we investigate the signals that regulate skin stem cells. We further use mouse models to study targets identified by high-dimensional oncogenomic analysis of human skin tumors. Collaborating with the National Center for Advancing Translational Science, we also use high-throughput screening techniques to identify novel therapeutic targets and treatments for skin cancers. In collaboration with oncologists in the National Cancer Institute, I conduct early-phase clinical trials treating skin cancer.
I contributed to the clinical development of avelumab, a novel immunotherapy drug to treat Merkel-cell carcinoma. The clinical trial was successful and resulted in the 2017 FDA approval of avelumab to treat this cancer (Lancet Oncol 17:1374–1385, 2016).
---
JILL KOSHIOL, PH.D. NCI-DCEG
Senior Investigator, Infections and Immunoepidemiology Branch, Division of Cancer Epidemiology and Genetics, National Cancer Institute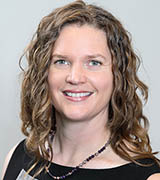 Education: William Jewell College, Liberty, Missouri (B.A. in biology; B.S. in composition/piano performance); University of North Carolina at Chapel Hill, School of Public Health, Chapel Hill, North Carolina (MSPH and Ph.D. in Epidemiology)
Training: Cancer Prevention Fellow in NCI-DCEG in the Office of Preventive Oncology, Division of Cancer Prevention, and Genetic Epidemiology Branch
Came to NIH: In 2005 for training; became Earl Stadtman Investigator in 2010
Outside interests: Making and writing music; playing keyboard and singing with her church praise band; staying active and being outdoors; looking forward to partner dancing again (especially salsa)
Website: https://irp.nih.gov/pi/jill-koshiol
Research interests: I am interested in developing a better understanding of hepatobiliary cancers, which are linked to both infections and inflammation. Biliary tract cancers are rare in much of the world, but there are hotspots where these cancers constitute a major public health burden. Because these cancers are rare in the developed world, their etiology is poorly understood. Biliary tract cancers have a multifactorial etiology, and inflammation is likely central in the carcinogenesis process. My work includes identifying previously unknown risk factors such as aflatoxin (carcinogens produced by certain molds). Identification of such determinants, as well as biomarkers, may lead to new opportunities for cancer prevention and early detection particularly in high-risk areas. (JAMA 313:2075–2077, 2015; Gastroenterology 153:488–494, 2017)
Chile is one such high-risk area. Gallbladder cancer (GBC) is a leading cause of cancer death in Chilean women. To investigate the epidemiologic and molecular predictors of gallbladder dysplasia and cancer, my team initiated the Chile Biliary Longitudinal Study. The very high rates of GBC and gallstones in Chile provide a unique opportunity to test several emerging hypotheses that are difficult to examine in other populations. (Am J Epidemiol 2020; DOI:10.1093/aje/kwaa199)
I am also the principal investigator for the Shanghai Biliary Tract Cancer Study and lead the Biliary Tract Cancer Pooling Project and the Cholecystectomy Risk Stratification study. In addition, I collaborate on the REVEAL-HBV and -HCV studies of individuals with chronic hepatitis B and C infection. Using these studies and others, my team plans to elucidate hepatobiliary cancer etiology and aid cancer prevention through the identification of cancer-related molecular pathways and targets.
---
CHRISTOPHER J. WESTLAKE, PH.D., NCI-CCR
Senior Investigator and Head, Membrane Trafficking and Signaling Section, Laboratory of Cell and Developmental Signaling, Center for Cancer Research, National Cancer Institute
Education: University of Guelph, Guelph, Canada (B.Sc. in biological science); Queen's University, Kingston, Canada (Ph.D. in biochemistry)
Training: Postdoctoral research fellow, Genentech (South San Francisco)
Came to NIH: In 2011 as tenure-track investigator in NCI-CCR
Outside interests: Spending time with his family; playing ice hockey; playing guitar
Website: https://irp.nih.gov/pi/christopher-westlake
Research interests: My laboratory studies the regulation of cellular membrane transport critical in development and normal homeostasis. We are currently trying to understand the role of membrane-trafficking regulators in ciliogenesis and ciliary signaling including the Hedgehog signaling pathway, which regulates many processes in vertebrate embryonic development. Defects in primary cilium formation and function are important in ciliopathies (genetic disorders that result in the abnormal formation or function of cilia) and are linked to cancer.
Specifically, we are investigating the role of the Rab small GTPase proteins and associated trafficking regulators—which function in membrane fusion and shaping—in the transport of ciliary cargo important in signaling to the developing and mature cilium. Using cell and zebrafish models along with cellular imaging, biochemistry and proteomics, and genetics systems, we have discovered mechanisms for how ciliogenesis is initiated, characterized new regulators of cilium assembly, identified novel ciliary trafficking pathways, and connected these processes to human disorders. (Dev Cell 50:229–246, 2019; Nat Commun 10:428, 2019; Cell Rep 20:384–396, 2017; and Nat Cell Biol 17:228–240, 2015)
Our findings also provide insight into the basic biological processes of membrane trafficking that are affected in a wide range of human diseases. For our cellular imaging studies, we use cutting-edge approaches including live-cell and super-resolution microscopy, transmission electron microscopy, focused-ion-beam scanning electron microscopy, and correlative light and electron microscopy.
---
KAREEM ZAGHLOUL, M.D., PH.D., NINDS
Senior Investigator, Functional Neurosurgery Section, National Institute of Neurological Disorders and Stroke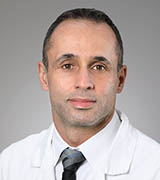 Education: Massachusetts Institute of Technology, Cambridge, Massachusetts (B.Sc. in electrical engineering and in computer science); University of Pennsylvania, Philadelphia (M.Sc. in bioengineering; Ph.D. in neuroscience; and M.D.)
Training: At University of Pennsylvania: postdoctoral training in experimental psychology, residency in neurosurgery, and fellowship in functional neurosurgery; at University of Bonn (Bonn, Germany): fellowship in epilepsy surgery
Came to NIH: In 2010 as a staff physician in the NINDS Surgical Neurology Branch; became tenure track investigator in 2013
Outside interests: Spending time with his family
Website: https://irp.nih.gov/pi/kareem-zaghloul
Research interests: My interests and training have spanned the fields of systems neuroscience, electrophysiology, electrical engineering, and clinical neurosurgery. My team focuses on examining the neural mechanisms involved in the formation of human memories. We gather information in the course of treating patients with epilepsy and movement disorders by recording neural signals directly from the brain.
For patients with epilepsy, clinical recordings captured from intracranial subdural electrodes (placed on the brain) and depth electrodes (inserted into the brain) are important tools for accurately defining areas of epileptic and functional cortex. These recordings offer a distinct opportunity to collect neurophysiologic data and to explore how those data correlate with a variety of cognitive functions. We are specifically investigating single-neuron and oscillatory activity to understand the neural mechanisms that underlie the formation of human episodic memory. We are mapping the distributed patterns of activity that occur across the brain when an item is stored in memory. We are also trying to understand how these patterns of activity reactivate when an item is remembered and how connections among different areas of the brain coordinate these changes across several regions (Science 367:1131–1134, 2020; DOI:10.1126/science.aba0672).
For patients with movement disorders, deep-brain stimulation surgery provides us an opportunity to learn about how subcortical structures, such as the basal ganglia, may participate in learning and decision making. We similarly examine oscillatory and single-unit neuronal activity to understand how these structures may coordinate with the cortex.
In addition, we are also examining how information stored and conveyed among brain regions may provide important insights into how pathological activity, such as in epilepsy, may originate and spread through the brain.
This page was last updated on Thursday, March 10, 2022