Announcements
BEHIND THE MASK
The Experiences of NIH Employees, Contractors, and Volunteers during the COVID-19 Pandemic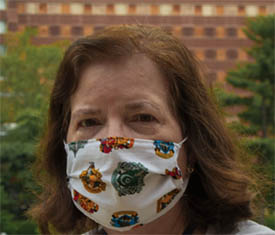 January 2021 marks the one-year anniversary of the NIH researching, combating, and providing information about the COVID-19 virus. Every person working at the NIH has been affected in some capacity. The Office of NIH History and Stetten Museum (ONHM) continues to collect accounts in English and Spanish from government employees, contractors, trainees, and volunteers about their professional and personal experiences during the pandemic. These accounts are being collected via an online portal as well as through short, recorded interviews with an ONHM staff member. Transcripts of the interviews are being made available on the ONHM oral history page, while clips of the interviews are featured on NIH social media channels. The transcripts and videos will be the primary source materials that future historians will use to understand the NIH's role at this critical time. Please take the time to tell your story! You can read the first edited and completed transcripts—there are many more in the pipeline by clicking here.
---
NEW LECTURE SERIES: "DIVERSE VOICES; COVID-19, INTERSECTIONALITY, AND THE HEALTH OF WOMEN"
"Sex and Gender Disparities in the COVID-19 Pandemic"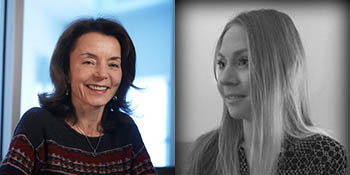 On January 27, 2021 ORWH will launch a new virtual lecture series titled "Diverse Voices: COVID-19, Intersectionality, and the Health of Women." In the first session of the series, Ana Langer, M.D., the director of the Women and Health Initiative (W&HI) at the Harvard T.H. Chan School of Public Health, and Jewel Gausman, Sc.D., M.H.S., a research associate at the W&HI, will lead a plain-language discussion of topics explored in their commentary article "Sex and Gender Disparities in the COVID-19 Pandemic," recently published in the Journal of Women's Health.
Although fewer women are dying from COVID-19 than men, the speakers posit that this finding may serve to oversimplify the biological, behavioral, social, and systemic factors that may affect differences in disease presentation, progression, and outcomes between women and men. Thus Langer and Gausman will discuss the necessity of studying the pandemic and associated policies through a sex-and-gender lens, particularly with considerations of disadvantaged populations and resource-poor communities, where women are especially vulnerable. The lecture will also consider how existing health and social services can support women during the pandemic as well as the need to support and protect informal caregivers.
---
ORWH RELEASES NEW E-LEARNING COURSES ON SEX AND GENDER
Website for more information and to take courses: ORWH e-learning webpage
ORWH recently expanded its e-learning course offerings with "Sex as a Biological Variable: A Primer" and the final two modules of the "Bench to Bedside: Integrating Sex and Gender to Improve Human Health" course.
The NIH Policy on Sex as a Biological Variable (SABV) articulates NIH's expectation that sex, as a biological variable, will be factored into research designs, analyses, and reporting in vertebrate animal and human studies. The SABV primer consists of four independent, interactive modules designed to help the research community—including trainees and researchers at all career stages, NIH grant applicants, and those engaged in peer review—account for and appropriately integrate SABV across all phases of biomedical and biobehavioral research.
Module 1: SABV and the Health of Women and Men
Module 2: SABV and Experimental Design
Module 3: SABV and Analyses
Module 4: SABV and Research Reporting
ORWH developed the SABV primer in partnership with the National Institute of General Medical Sciences (NIGMS).
ORWH also recently released the final two modules of the "Bench to Bedside" course, developed in partnership with the Food and Drug Administration Office of Women's Health.
Module 5 focuses on endocrinology and presents information on sex and gender differences related to three health conditions: osteoporosis, type 2 diabetes, and differentiated thyroid cancer.
Module 6, on mental health, explores two mental health disorders with pronounced sex differences: major depressive disorder and autism spectrum disorder.
The SABV primer, all six of the "Bench to Bedside" modules, and the previously released "Introduction: Sex- and Gender-Related Differences in Health" course are available, without cost, to all. Visit the ORWH e-learning webpage for more information and to take the courses.
---
2021 DEMYSTIFYING MEDICINE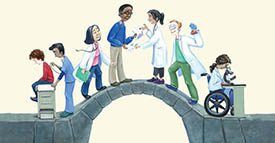 The NIH- and FAES-sponsored course "Demystifying Medicine" is designed to excite the interest of Ph.D. and M.D. students, fellows, researchers, and others in bridging the gap between amazing advances in basic science and the challenges of clinical disease. There are no formal requirements to attend as many of the weekly sessions as desired. The format involves a translational physician, a basic scientist, and usually a live patient who puts a human face on the disease.
January 12: COVID-19 and Influenza; Anthony Fauci, (NIAID), Jeffrey Taubenberger (NIAID)
January 19: COVID-19 Immunology and Vaccines; Luigi Notarangelo (NIAID), Barney Graham (NIAID)
January 26: Bone Marrow-Based Therapies Today and Tomorrow; Cynthia Dunbar (NHLBI); Harry Malech (NIAID)
February 2: Viruses and Immunodeficiency; Phillip Murphy (NIAID), Heidi Kong (NIAMS)
February 9: Multiple Sclerosis: Advances in Pathogenesis and Treatment; Bibiana Bielekova (NINDS), Alison Wichman (NINDS)
February 16: Role of Microbiome in Nutrition, Inflammation and Cancer; Yasmine Belkaid (NIAID), Giorgio Trinchieri (NCI)
February 23: Biomedical Challenges in Space: Human Biology, International Space Station and Beyond; Mark Shelhamer (Johns Hopkins/NASA), Christopher Wanjek, Science and Health Writer
March 2: RNA Viruses: How They Do What They Do; Nihal Altan Bonnet (NHLBI); Karla Kirkegaard (Stanford Genetics)
March 9: Ethics in vaccine development, testing and use; Christine Grady (NIH Clinical Center); Making a Covid19 Vaccine; Kizzmekia Corbett (NIAID)
March 16 (special time: 3:00-4:00 p.m.): How COVID-19, HIV and Other RNA Viruses Affect One Another (tentative); John Coffin (Tufts University) and colleague
March 23: Diversity and Disease in the Genomic Era; Gary Gibbons (NHLBI), Anne Summer (NIDDK)
March 30: How COVID-19 Pandemic Changes Medical Research, Teaching, and Patient Care; Ezekiel Emmanuel (University of Pennsylvania)
April 6: Autophagy: Mechanisms and Neurodegenerative Diseases; Ana Marie Cuervo (Albert Einstein College of Medicine), Michael Ward (NINDS)
April 13: Suicide and Depression in Time of COVID-19; Nora Volkov (NIDA), Carlos Zarate (NIMH)
April 20: Traumatic Brain Injury; David Brody (USUHS), Brad Dengler (USUHS)
April 27: Parkinson Disease: Advances and Challenges; Michael D. Fox (Harvard), Ellen Sidranski (NHGRI)
May 4: Reporting Science to Public; Stephen Smith (Health and Science Editor, Washington Post); How "Science" Adapts to the Pandemic; Valda Vinson (Editor, Science)
---
NIEHS CLINICAL RESEARCH GROUP REACHES OUT WITH WOMEN'S HEALTH WEBINARS
Understanding and Reversing Diabetes, Heart Disease, and Most Chronic Illnesses
Women's Health Awareness (WHA) Virtual Series
Thursday, January 14, 2021
6:30-7:45 p.m.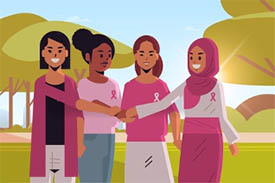 This session, part of the WHA Virtual Series "RealTalk With the Experts," will explain what causes diabetes, heart disease, and many other chronic diseases that plague our society. It will describe lifestyle changes that can reverse diabetes, heart disease, and most chronic illnesses. The WHA virtual series, planned for the second Thursday of each month, provides participants a unique opportunity to gain state-of-the-art health knowledge and ask specific questions of world-renowned experts. View the webinars, learn about resources shared, check out newsletters, upcoming events, and more on the NIEHS Women's Health Awareness webpages.
The NIEHS Women's Health Awareness reaches women of diverse backgrounds and works to remedy environmental health disparities.
---
WALS CONTINUES WITH VIRTUAL LECTURES
The NIH Director's Wednesday Afternoon Lecture Series (WALS) will be held most Wednesdays, 3:00–4:00 p.m., and can be viewed live online at videocast.nih.gov. The lectures will also be archived for later viewing. To view the full list of speakers this year and download the season's poster, please visit the WALS web site at http://wals.od.nih.gov. For any questions or requests, please the WALS office at WALSoffice@od.nih.gov.
January 13 (3:00-4:30 p.m.): Special NIAID and NHGRI Event: "Fueling the Next Genomic Revolution: Maximizing the Impact of Bacterial, Human, and Human Metagenome Genomic Knowledge and Technology (Panel Discussion)"; NIH Director Francis Collins (moderator); Claire M. Fraser (University of Maryland), Eric S. Lander (Broad Institute), and Charles Rotimi (NHGRI).
January 27: "Black Spot, Black Death, Black Pearl: the Tales of Bacterial Effectors"; Kim Orth, Ph.D., UT Southwestern Medical Center
February 3: "Design for Inference: from Cells to Circuits in Biology"; Aviv Regev, Ph.D., Broad Institute
February 9 (Tuesday, special): "Three (formerly) blind mice: Reprogramming tissues to be young again"; David A. Sinclair, Ph.D., Harvard Medical School
February 10: Robert S. Gordon, Jr. Lecture: "Epidemiology of Cognitive Aging: Why Observational Studies Still Matter"; Kristine Yaffe, M.D., University of California, San Francisco
February 17: Margaret Pittman Lecture: "Peering Beyond the Blindspot Seeking Authentic Risk Factors: A Case Study"; Eve Higginbotham, S.M., M.D., M.L., University of Pennsylvania
February 24: Marshall W. Nirenberg Lecture: "Colliding Ribosomes Function as a Sentinel for Cellular Distress"; Rachel Green, Ph.D., John Hopkins School of Medicine
March 3: George Khoury Lecture: "RNA antics in viral drug resistance and host immunosuppression"; Karla Kirkegaard, Ph.D., Stanford University School of Medicine
March 10: "Phage Therapy to Combat Infections by Antibiotic-Resistant Bacteria"; Paul E. Turner, Ph.D., Yale University School of Medicine
March 16 (Tuesday): "These Viruses Are Forever: Consequences of Retroviral DNA Integration to Aids and Evolution"; John Coffin, Ph.D., Tufts University
March 17: "Innate Immunity for Bacteria Against Phage"; Michael Laub, Ph.D., Massachusetts Institute of Technology
March 24: "Are piRNAs the Guardian Angels of the Genome or Just Tiny Narcissists?"; Phillip Zamore, Ph.D., University of Massachusetts Medical School
March 31: Florence Mahoney Lecture on Aging: "Young Blood for Old Brains"; Tony Wyss-Coray, Ph.D., Stanford University
April 7: Florence Mahoney Lecture on Aging: "Understanding and Modeling Aging"; Anne Brunet, Ph.D., Stanford University
April 14: "The Role of Genetics in Pain and What We Can Learn From It"; Luda Diatchenko, M.D., Ph.D., McGill University
For the rest of the schedule, go to https://oir.nih.gov/wals/current-lecture-season.
This page was last updated on Thursday, March 10, 2022