Lisa Cooper's WALS Dyer Lecture on Global Health Equity
Public Health Disparities, Humanism, and COVID-19
"We are only as healthy as the least healthy person in our society." –Lisa Cooper
For Lisa Cooper, COVID-19 health disparities are the result of both infectious disease and social pandemics. Her recent JAMA editorial, "A New Kind of Herd Immunity," ascribes a social definition to the commonly known public health term. Similar to COVID-19, social deprivation is an infection that spreads within communities and is invisible. At the heart of Cooper's humanistic messaging is the collective responsibility that we, as members of communities, have to each other and the interconnectedness of our lives, our social structures, and our institutions (JAMA 323:2478–2480, 2020; DOI:10.1001/jama.2020.8051).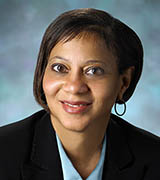 Documenting Health Disparities. Awarded the MacArthur Foundation Fellow's grant in 2007, Lisa Cooper was one of the first scientists to document disparities in the quality of relationships between physicians and patients from socially-at-risk groups. She has dedicated her career to researching and developing innovative interventions targeting the needs of marginalized populations that are experiencing health disparities. Today, she is the Bloomberg Distinguished Professor of Health and Healthcare Equity at Johns Hopkins University Schools of Medicine, Nursing, and Bloomberg School of Public Health (Baltimore) and the James F. Fries Professor of Medicine at Johns Hopkins School of Medicine.
Her work as a general internist, social epidemiologist, and health-services researcher was inspired by witnessing the effects of social deprivation on the health of people in Liberia, where she grew up. Although she came from an affluent family—her father was a surgeon, her mother a university librarian, and she (Cooper) attended a private international school—others in neighboring communities weren't so fortunate. She couldn't understand why so many others in her country were poor and had limited access to food, health care, and education. Her sensitivity to such inequities has driven her to a career in promoting social justice in medicine.
After earning a B.A. in chemistry in 1984 from Emory University (Atlanta, Georgia) and her M.D. in 1988 from the University of North Carolina School of Medicine (Chapel Hill, North Carolina), she began an internal medicine residency at the University of Maryland hospitals (Baltimore) at the height of the opioid and HIV/AIDS epidemics. She was struck by how so many patients were suffering the same way people in her country had. They lacked the social foundations and institutional support to be healthy; they had limited or no access to education; and their communities were beset by high rates of poverty, violence, and crime. Cooper was determined to learn what she could do alleviate health disparities. So she pursued an M.P.H. and postdoctoral fellowship at Johns Hopkins Bloomberg School of Public Health.
In 2010, she founded, and now directs, the Johns Hopkins Center for Health Equity, which strives "to advance effective health-system and community practices and policies that will achieve health equity in the United States and around the world," according to its website.
WALS Lecture. On October 28, 2020, Cooper presented (virtually) the annual Rolla E. Dyer lecture, which is part of the Wednesday Afternoon Lecture Series (WALS). In her talk, titled "Deep and Wide: The Voyage to Discover Local and Global Health Equity," she described the health-inequity crisis; how targeted interventions are helping; the ability of health-care organizations to address the needs of marginalized communities; and how the COVID-19 pandemic has disproportionately affected these communities.
She has developed interventions at multiple levels—from individuals and their families; to providers and organizations; to communities and policy-making organizations—that are helping little by little. Among her many initiatives are a patient program to improve engagement, activation, and empowerment in the medical interview; communication-training programs for physicians; and interventions targeting primary-care teams.
Cooper and her colleagues use implementation science and community-based participatory research to develop health programs. Implementation science, a burgeoning public-health field that is gaining NIH interest and funding support, is the scientific study of methods and strategies needed to implement evidence-based practices. Cooper seeks to understand health-care organization and community partner actions and how political, environmental, and social variables sustain or prevent the uptake of evidence-based programs.
Ultimately, Cooper hopes that scientists and society can temper skepticism with optimism as we progress toward eliminating health disparities in the treatment of COVID-19 and other health conditions.
---
Established in 1950, the WALS Rolla E. Dyer series honors the former NIH director and noted infectious disease physician. Each year, the Dyer series features an internationally renowned researcher who has contributed substantially to the infectious-disease field. To watch Lisa Cooper's Dyer lecture go to https://videocast.nih.gov/watch=36083.
---
Frances Fernando has been a postbaccalaureate fellow in the Division of Intramural Population Health Research (Eunice Kennedy Shriver National Institute of Child Health and Human Development) since 2019. After completing her NIH training in 2021, she plans to pursue a doctorate in public health to work on integrative global health issues and human rights. Outside of work, she gardens and explores Washington D.C. by bike.
This page was last updated on Thursday, March 10, 2022