A Destiny in Neuroendocrine Oncology
Profile: Jaydira del Rivero, M.D.
"What we do for ourselves dies with us. What we do for others and the world remains and is immortal." Albert Pike
Jaydira del Rivero is one of the world's few specialists in rare cancers that originate in the body's neuroendocrine system, which is made up of specialized cells that make hormones in response to neurological signals. Her goal is to treat these tumors holistically—using a biological approach as well as taking the whole patient into consideration.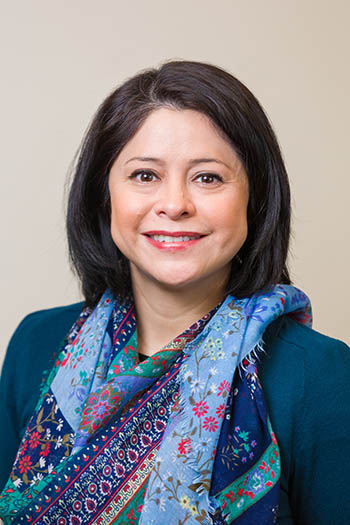 Such neuroendocrine tumors (NETs) make up less than 1% of cancer cases in the United States each year, but have a higher death rate than most cancers, as described in a JAMA Oncology Viewpoint essay she co-authored (JAMA Oncol 6:21–22, 2020). NETs affect both children and adults and can occur in any organ but are most common in the small intestine, pancreas, and lungs. Many people do not develop symptoms until the cancer is far advanced, making the treatment very challenging. Because most medical centers have limited experience with these tumors, patients often need to travel far for diagnosis and treatment at specialized cancer centers.
Very few treatment options were available until 2010. Despite the development of additional therapies over the last few years, there are still only a handful of FDA-approved therapies, some of which benefit only a few patients. Many questions remain: Why has the incidence of NETs increased dramatically over the past decade (better diagnosis or environmental factors)? How should these tumors be classified? Which treatment should be offered to which patients and when? How long should treatment be continued? When should combination treatments of two or more therapies be used? And, foremost, can new treatments be developed that improve the survival and quality of life for the patients?
Followed her passion. Del Rivero grew up in Veracruz, Mexico, in a family in which her generation was the first to go to college. "Girls are usually taught to cook," she said. But her mother pushed her to focus on her studies instead. Her older brother encouraged her to follow her passion no matter what. "'With hard work and perseverance, you can be anything you want. You can do it,'" she recalled him telling her when she was growing up.
After getting her M.D. from the University of Veracruz medical school (Veracruz, Mexico), doing internships in Mexico, and taking courses to be licensed in the United States, she did a residency in internal medicine at Woodhull Medical Center/New York University–Langone Medical Center (New York). In 2011, she came to NIH for an interinstitute endocrinology fellowship and then did a medical oncology fellowship in NCI before becoming an assistant research physician in 2017. Having training in both oncology and endocrinology was unusual and made her "uniquely suited to pursuing the treatments of these patients," said her collaborator Nitin Roper, who was an oncology fellow with her and is now an NCI physician–scientist early investigator. "She was all about neuroendocrine tumors from day 1," he said.
Making a difference. Del Rivero's clinic is part of NCI's Rare Tumor Initiative, headed by NCI staff scientist Karlyne Reilly and senior investigator Brigitte Widemann. They collaborate extensively with other NCI scientists including senior investigator Yves Pommier, who describes del Rivero as "an extraordinary team player…and an extremely efficient clinician."
The NIH intramural research program "has a unique infrastructure to study the natural history and [to do] treatment studies of rare cancers in depth, with cutting-edge research from bench to bedside that allows us to understand the biology and pathophysiology of these rare cancers [as well as to] make a difference in the lives of these patients," said del Rivero. "We have the ability to longitudinally and comprehensively follow patients over time, to extensively collect tissue samples and perform imaging studies. We are fortunate to have a superb behavioral group who work[s] with patient-related outcomes."
For the natural history studies, del Rivero's group collects data about the patients including demographics, clinical characteristics, familial genetics with adequate genetic counseling, patterns of disease progression, response or lack of response to therapeutic interventions, disease recurrence, and overall survival. The goal is to develop effective therapies for these cancers, but their rarity makes it difficult to find patients for studies. It can take up to three years to enroll just 76 patients in one of the trials.
Targeted therapies. Drug development requires successful testing with preclinical in vitro and in vivo models before moving to clinical trials, but very few cell lines were available for NETs. In 2017, del Rivero developed the first cell lines for a rare tumor, adrenocortical cancer (ACC). Now, organoids (tissue cultures derived from patient tissues) can be used to screen and identify new drugs and eventually lead to personalized treatment for these patients. An ongoing collaboration with Roper and Suresh Kumar (staff scientist in Pommier's branch) led to the first organoids developed for ACC drug screening and treatment. The data are being validated, and del Rivero expects to publish her findings in the near future.
Del Rivero is about to launch several clinical trials to study targeted therapies for NETs. One of these is a phase 1/2 study of two drugs for inoperable gastroenteropancreatic neuroendocrine tumors in collaboration with Frank Lin (Lasker Clinical Research Scholar at NCI-CCR). The study has just been approved and will open for enrollment soon. She is also a co-chair of a National Clinical Trials Network study, a prospective, multi-institutional phase 2 trial evaluating treatments for two types of rare tumors that develop in adrenal gland tissue—advanced pheochromocytoma and paraganglioma NETs. Her codevelopment of the protocol for the natural history study of rare solid tumors is another scientific milestone that could translate to effective new treatments.
Del Rivero "is uniquely poised to conduct these clinical trials given her expertise in both oncology and endocrinology" and significant scientific contributions will emerge with the new data from these projects, said Widemann.
Del Rivero gratefully acknowledges the mentorship of Pommier, Widemann, Ravi Madan (senior clinician, NCI-CCR), James Gulley (senior investigator, NCI-CCR), and Anish Thomas (Lasker Clinical Research scholar, NCI-CCR). She also appreciates the guidance she has received from Elise C. Kohn (senior investigator, NCI); Emily Bergsland (University of California San Francisco), and Jonathan Strosberg (Moffitt Cancer Center in Tampa, Florida). She, in turn, is mentoring junior staff, trainees, and others and giving "them opportunities to present patients, to review patients with her, to present abstracts, and to participate in paper writing, said Widemann. "She's a very good teacher and educator."
Long hours working with seriously ill patients for whom there may not be a cure can be emotionally and physically draining, so del Rivero manages her stress with "any kind of dancing and exercise," most recently bhangra masala, a type of folk dancing from India.
Del Rivero's beloved older brother passed away when she was 19 and she chokes up when talking about his consistent support. The loss has made her more empathetic to her patients and gives her a deeper understanding of the emotional burdens on their families, she said. Del Rivero is a "wonderfully committed and compassionate and caring physician," said Widemann. She is "not just thinking of what research study a patient may be eligible for, but what is the best treatment for" each.
Pinned to the board behind del Rivero's desk are letters from grateful patients about their journeys with cancer. "I see [those] and I have the motivation that I need to do better," she said. "I need to improve their own lives, their life expectancy, and their quality of life. NIH is just an amazing place and I'm just grateful it's given me the opportunity to do that."
---
Jaydira del Rivero, M.D.
Assistant Research Physician and Director Rare Tumor Clinic, Center for Cancer Research, National Cancer Institute
Website: https://ccr.cancer.gov/Developmental-Therapeutics-Branch/jaydira-del-rivero
Born: Veracruz, Mexico
Education: University of Veracruz, Veracruz, Mexico (M.D.)
Training: Internal medicine residency, Woodhull Medical and Mental Health Center/New York University–Langone Medical Center (New York); NIH inter-institute endocrinology fellowship (NICHD, NIDDK, and NIDCR); medical oncology fellowship in NCI
Came to NIH: In 2011 for training; became assistant research physician in 2017
Selected professional positions: Board of Directors of the North American Neuroendocrine Tumor Society (NANETS) and NANETS Guidelines Committee
Outside interests: Performing arts—most recently bhangra masala, a type of folk dancing from India; learning about different cultures; exercising
---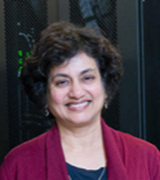 Susan Chacko, a scientist in the Biowulf cluster group at the Center for Information Technology, came to NIH as a postdoc in 1992. She leads a team of scientists who install and maintain scientific programs on Biowulf, helps intramural researchers implement large-scale computational research projects, and provides one-on-one support. In her spare time she writes for the NIH Catalyst, walks her dog, and volunteers as an election judge.
This page was last updated on Thursday, March 10, 2022