Three-Minute Talks Showcase Smooth-Talking Scientists
IRP Researchers Engage and Educate at Competition Finals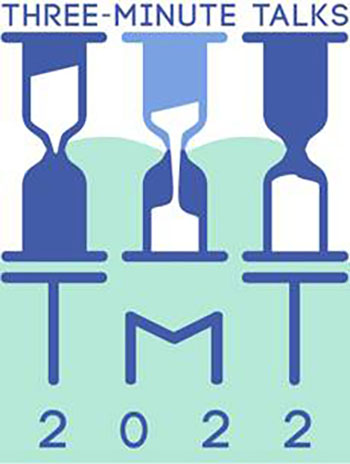 English is generally considered the 'international language of science,' since nearly all scientific papers are published in English. Yet, even to a native English speaker, scientists seem to be using another language entirely to talk about their research. Most Americans, after all, don't know an 'autophagosome' from a 'lysosome' and would be hard-pressed to explain the difference between an 'oocyst' and a 'sporozoite.'
Fortunately, efforts like NIH's annual Three-Minute Talks (TmT) competition are helping scientists learn how to communicate about their research in a manner that is much easier to understand. On June 30, after months spent whittling down dozens of competitors from across the IRP, 10 finalists raced against the clock to explain their work and its importance in a clear and compelling way.
As in previous years, the contestants received help from public speaking coach Scott Morgan, who also moderated the competition. The speakers were evaluated by a three-judge panel composed of Irene Avila, Ph.D., assistant director of NIH's Sexual & Gender Minority Research Office; Edgardo Falcón-Morales, Ph.D., Director of NIH's Postdoctoral Research Associate Training (PRAT) Program; and Philip Wang, Ph.D., Director of the NIH Graduate Partnerships Program (GPP). In addition, as a special treat this year, Linda Huynh, Ph.D., a science writer in the Office of Communications at the Eunice Kennedy Shriver National Institute of Child Health and Human Development (NICHD) talked about how scientists can work with science communicators like herself to get the word out about important discoveries.
"Communicators are your colleagues," she explained during her presentation. "Scientists usually don't think about talking to people outside of the lab, unless they're considering alternative careers, but that's really to your disadvantage. There are professionals whose job is to help you communicate your science, so please get to know us. We're here for you."
Ultimately, first place in this year's competition went to postdoctoral fellow Karim Mouzannar, Ph.D., the second year in a row that top honors were taken home by a researcher at the National Institute of Diabetes and Digestive and Kidney Diseases (NIDDK). Karim's win follows on the heels of his first-place finish in the Elevator Talks competition at the annual NIDDK Scientific Conference, which was held in April.
"Karim's talk was well-organized and thoughtfully crafted to communicate his science to an audience of interdisciplinary scientists," says TmT judge Dr. Philip Wang. "His presentation was polished, well-paced, and enjoyable to experience. Karim spoke with confidence and left me wanting to learn more about his research."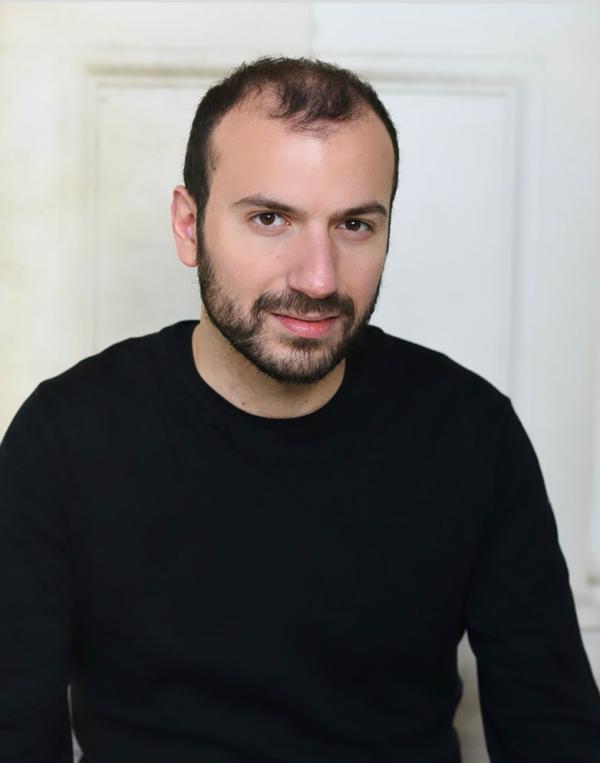 A virologist studying the hepatitis B virus, Karim's talk focused specifically on his studies of how a molecule in our cells called p97 influences the virus's ability to replicate in the liver, where it can cause serious damage over time and even contribute to liver cancer. p97 is an 'ATPase,' meaning it transforms a molecule called ATP into another called ADP and uses the energy produced by that transformation to perform a variety of important functions. Karim has found that reducing the amount of p97 in liver cells impairs the hepatitis B virus's ability to replicate, but inhibiting p97's ability to convert ATP into ADP while maintaining normal levels of p97 has no effect. This discovery led him to the conclusion that p97 doesn't need to be able to act as an ATPase in order for hepatitis B to copy itself inside liver cells; rather, the virus just needs p97 to be hanging around. Consequently, bringing down the level of p97 in liver cells could be an effective way to combat hepatitis B infection.
"I feel very honored to have won first place," Karim says. "I am also grateful to be part of an ecosystem where I am supported by my mentor, my lab, and my Institute. I see my winning of this award as a catalyzer and a reminder that I am on the right path, where I can passionately do research while being given the space to discuss my findings to members of the scientific community and beyond."
The competition's second-place winner was graduate student Marya Sabir, who is studying a disease called free sialic acid storage disorder (FSASD) at the National Human Genome Research Institute (NHGRI). FSASD is just one of a wide variety of genetic diseases in which neurons die because tiny sac-like 'lysosomes' inside them can't properly dispose of cellular waste products. Marya's talk described her experiments with a mouse model of FSASD that has a mutation that inactivates the SLC17A5 gene, which causes FSASD in humans when it doesn't work correctly. This mouse model has similar problems with movement and coordination as people with FSASD, and its mutation also causes similar effects in the brain. Marya ultimately hopes that this animal model can be used to test new treatments for FSASD, including gene therapies that correct the SLC17A5 mutation responsible for the condition.
"I decided to participate in the TmT program to help refine my communication skills and learn how to best communicate my science to a broad audience," Marya says. "The program has been fun and a great learning experience! I am thrilled to have competed with such an esteemed group of fellows across the NIH and feel honored to have won second place."
TmT runner up Marya Sabir explains her research in this NIH SciBites video.
Rounding out the competition's top three was National Institute of Environmental Health Sciences (NIEHS) postdoctoral fellow Ayland Letsinger, Ph.D., whose third-place talk focused on his examination of how running on a wheel affects reward-related brain regions in mice. Ninety-five percent of American adults believe that being physically inactive is bad for their health, yet the same proportion of U.S. adults get less than 30 minutes of physical activity per day. By examining how wheel-running affects levels of a reward-related brain chemical called dopamine in mice, Ayland hopes to better understand the rewarding aspects of being active and contribute to the development of interventions that increase people's motivation to exercise.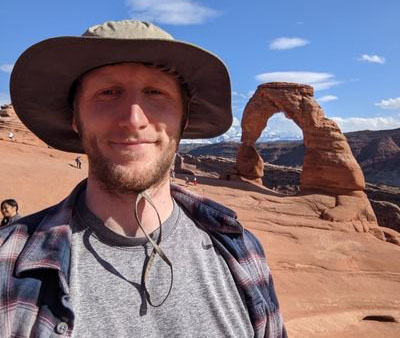 "Once I have an idea how the brain forms positive and negative associations with physical activity and how things in our environment like overeating or exposure to toxicants disrupt those signals, that information can be used to help people make better decisions, enforce policy, and even use nutrients or pharmaceuticals to improve participation," Ayland explains.
Through programs like the TmT competition, NIH and other research institutions are increasingly emphasizing the importance of training scientists to communicate about science in an accessible way. With any luck, such efforts will help more and more researchers descend from the ivory tower to educate their friends, family, and the general public about the critical work they do.
Subscribe to our weekly newsletter to stay up-to-date on the latest breakthroughs in the NIH Intramural Research Program.
---
Tags:
Three-Minute Talks
,
science communication
,
communication
,
virology
,
virus
,
hepatitis
,
liver
,
gene therapy
,
gene
,
genetics
,
rare diseases
,
neuroscience
,
brain
,
neurons
,
dopamine
,
exercise
Related Blog Posts
This page was last updated on Wednesday, July 5, 2023