Remembrances: James Holland (1925-2018)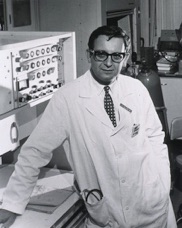 James F. Holland, M.D., a renowned cancer expert who was a major figure in the development of cancer chemotherapy, died on March 22, 2018, at the age of 92. Dr. Holland was among the first group of research physicians recruited to the NIH Clinical Center, serving as a senior surgeon at the National Cancer Institute from 1953 to 1954. In that short year at the NIH, he initiated a clinical trial to compare continuous or intermittent treatment with two chemotherapy agents for acute leukemia in children: methotrexate and 6-mercaptopurine. Dr. Holland moved to Roswell Park Memorial Institute in Buffalo before the trial was completed, but he continued to collaborate. His work ultimately turned an incurable illness into one with an 80% survival rate. In 1972, he and his NIH collaborators shared the Albert Lasker Clinical Medical Research Award for "outstanding contribution to the concept and application of combination therapy in the treatment of acute leukemia in children."
Dr. Holland also helped to develop the "7 + 3" regimen, a regimen used to treat acute myeloid leukemia around the world, and identified new treatments for testicular cancer, breast cancer, and osteosarcoma. He represented the U.S. government to the Soviet Union in 1972–73, studying Soviet oncology and training Soviet oncologists. He was also the past president of both the American Association for Cancer Research and the American Society of Clinical Oncology. With his wife of more than 60 years, Jimmie C. Holland, M.D., he was half of one of the most accomplished and cherished husband-and-wife teams in medicine. Jimmie Holland, a pioneer in the field of psycho-oncology, died on December 24, 2017.
Aside from his ongoing collaborations with the NIH while at Roswell Park and then at the Icahn School of Medicine at Mount Sinai, where he was the founder and Chair of the Department of Neoplastic Diseases, eventually becoming a Distinguished Professor, Dr. Holland remained part of the NIH family in one other special, important way: He was the father of Steven Holland, current NIAID Scientific Director, and the father-in-law of Dr. Maryland Pao, current NIMH Clinical Director.
I hope you can take time to reflect upon James Holland's groundbreaking work, from which we all benefit today. We're standing on the shoulders of giants indeed.
---
Related Blog Posts
This page was last updated on Wednesday, July 5, 2023