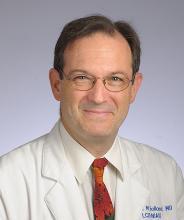 Steven M. Holland, M.D.
NIH Distinguished Investigator
Immunopathogenesis Section
NIAID/DIR
Scientific Director
NIAID/DIR
4 Memorial Drive, Room 228B
Bethesda, MD 20814
301-402-7684
Research Topics
The Immunopathogenesis Section therapeutic and research programs take a fully integrated approach to infectious disease, incorporating the molecular genetics of the host and the pathogen as well as mechanisms of pathogenesis that allow the development and study of novel therapeutics. The integrated bench-to-bedside model is intrinsic to the Immunopathogenesis Section approach and is reflected in the close involvement of trainees (both M.D. and Ph.D.) in laboratory work and in the clinical appreciation of disease, which together add new insights into mechanisms of action and avenues of therapy. New protocols inCoccidioides infections and pathogenesis of mycobacterial infections are in progress.
Biography
Dr. Holland received his M.D. from the Johns Hopkins University School of Medicine in 1983, where he stayed as a resident in internal medicine, assistant chief of service in medicine, and fellow in infectious diseases. He came to the National Institutes of Health in 1989 as a National Research Council fellow in the Laboratory of Molecular Microbiology, working on transcriptional regulation of HIV. In 1991, Dr. Holland joined the Laboratory of Host Defenses, shifting his research to the host side, with a focus on phagocyte defects and their associated infections. His work centered on the pathogenesis and management of chronic granulomatous disease, as well as other congenital immune defects affecting phagocytes, including those predisposing to mycobacterial diseases. He was chief of LCID from 2004 to 2016 and was selected as DIR director in 2016.
Related Scientific Focus Areas
---
This page was last updated on August 28th, 2022