Remembering Dr. Alan Rabson, a Leader in Cancer Care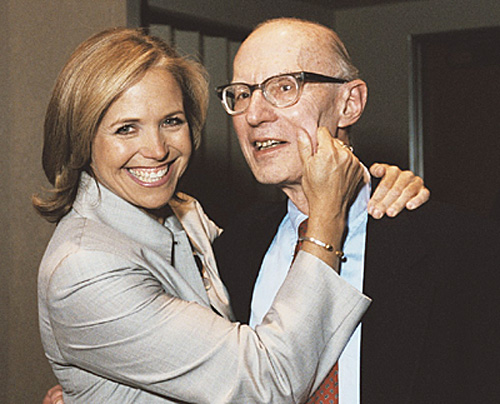 The NIH community and cancer scientists around the world were saddened to learn that Alan Rabson, M.D., a prominent former IRP researcher and Deputy Director of the NIH's National Cancer Institute (NCI), passed away on July 4 at the age of 92.
Dr. Rabson first joined the NIH in 1955 as a pathologic anatomy resident in the NIH Clinical Center, which had opened just two years before, and he began studying cancer-causing viruses in an NCI intramural laboratory a year later. Over the course of his ensuing six decades with NIH, Dr. Rabson accumulated a great many stories, a few of which we have shared below in his own words, pulled from a 1997 "NCI Oral History Project" interview.
Early days of the NIH Clinical Center (CC) – "It was a "glorious time."
"Oh, it was a wonderful place. It really was. It opened in '53 and really by 1955 it was still half empty… The best and the brightest came from all over the country and fought to get in here. Most of them had not really done lab research. They had not had any opportunities to do it, and what they found here was a chance to do clinical and laboratory research, with good support that universities did not have at that time, and unlimited opportunities. As I think [former NCI researcher] Tom Frei or one of them said, 'The only limit was your own imagination and ability.' It was a glorious time."
The unusual thrill of being the only resident in the CC's Pathology Department
"We ran the whole department with three people. There was a chief, an assistant chief, and the one resident. We had a most unusual arrangement. One day a week you ran pathology for the whole hospital…Each one of us, even though I was the resident, were chiefs in a way. One day you'd be the resident doing the case, and then you would sign out with the staff man, and then the next day you would be the staff man. So you really ran the hospital one day out of every three, and the rest of the time you supposedly were free to do whatever you wanted in terms of scholarly pursuits. So it was a fantastic."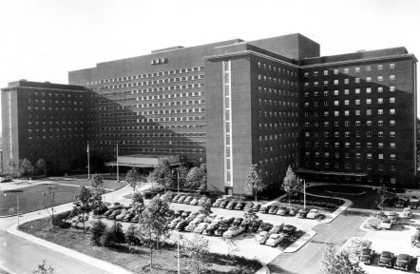 The value of proximity between clinical and laboratory researchers in the Clinical Center
"It brought together people with patients on one side of the corridor and people with laboratories on the other side. [NIH leadership] had hoped that they would interact, and indeed they did. And many of the advances came from this interaction between clinical people and laboratory people. New diseases were discovered, some of the genetic diseases were first characterized in there…and indeed some of the greatest advances in cancer took place because of this interaction."
The NCI Cancer Chemotherapy National Service Center (CCNSC), created in 1955 and now called the Developmental Therapeutics Program (DTP)
"This really has led to most of the drugs that we have that, combined with [Tom] Frei and [Emil] Freireich's discovery of combination chemotherapy, are the things that have made cancer treatable…
"I remember we used to sit around in the Stewart lunchroom thinking about what a crazy thing this is, screening drugs off the shelf, and yet they had a number of hits. Some of them very, very important."
His "interesting working relationship" with Dr. Vincent T. Devita, Jr., Director of NCI from 1980 to 1988
"Vincent liked to appoint all his own people, and in very rapid order, everyone on the eleventh floor and all of the division directors were gone and replaced by his own appointees. And there I was still there. I made it a point, I never went—as we had some rather tense interactions, I always made it a point never to go in and say, 'Do you want me to leave?' because I had a feeling I knew what the answer was. So I waited, and after a year, a couple of years I think, he decided that I wasn't leaving and we then from that point on had a wonderful working relationship.
"And I must say, I learned more about medical oncology from Vincent as a pathologist… Whatever else, even if at times he was trying to drive me away, I can't help but like him and respect him. So that was a wonderful eight years."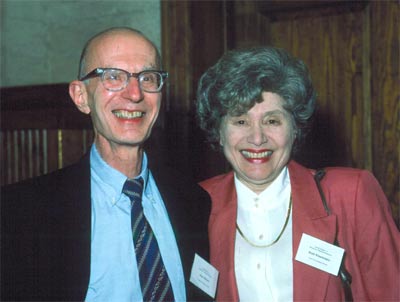 On Dr. Samuel Broder, who served as Director of NCI from 1988 to 1995
"Sam, I had always thought, was just one of the kindest, nicest doctors. We had a technician who had lung cancer, and she was treated on the medicine ward when Sam was a clinical associate. She was a wonderful lady from Kentucky. I went up one night to see her in the ward, and she wasn't in her room. And there she was out in the hall, and Sam was her doctor, and she had her arm over Sam and she was very frail at this point, dying of lung cancer, and Sam was walking her up and down the hall. And she just loved him.
"And the other thing is, Sam is the one who developed taxol, one of the truly important [chemotherapy] drugs. And if it hadn't been for Sam, I don't know when, if ever, taxol would have been developed. Because the people in the Treatment Division did not think it was that good and they resisted. They had a couple of other drugs they wanted to develop, and Sam insisted that they drop everything and do a crash program because there wasn't enough of it.
"In the Developmental Therapeutics Program, they used to say that 'nothing is certain but death and taxol.' He diverted them away from everything else, and intuitively he thought this drug was going to be important."
On Richard D. Klausner, who served as Director of NCI from 1995 to 2001, during the time of this interview
"Rick was a research associate in one of my labs… This was in the seventies when he came, and everybody who dealt with him told me about how terrific he was. I actually wanted to keep him, and I was going to make him a Lab Chief… This was two years out of coming here as a research associate, and the people in the lab were angry with me. They said, 'He's too young. He's too inexperienced.'
"I have followed his career through all of this, and known him, so it's kind of nice to have him as Director of NCI. In fact, one of the things I use in my introductions often is I tell people, and it is true, that I've always tried to be nice to the people who work for me, and I said it's an important thing to be nice to people who work for you because you never know when you're going to be working for them."
What it was like to be the NCI's Deputy Director
"Well, mostly I just fill in for [NCI Director Richard Klausner]. Periodically he will ask me for some advice based on my 42 years here. That's really all. It's a fun job. But it's mostly, I keep up with everything he knows and is doing so that if he's not here, I can fill in. And trying to keep up with him is not easy. He is most amazing, most energetic. It's just a very nice job to have. And I'd like to keep it for 20 years."
As Dr. Rabson's extensive oral history interview makes clear, his 60 years at the NIH before retiring as a Scientist Emeritus in 2015 provided a front row seat to the evolution of a critical and constantly changing research institution. Dr. Rabson's warmth and brilliance live on in the memories of all who were privileged to know him, and his pioneering research and leadership example will serve the biomedical community for years to come.
Read more about Dr. Rabson's life and NIH impact in the Cancer Currents Blog, including the heartfelt comments about his accomplishments as a physician-scientist, his leadership role, and as a trusted colleague to many.
---
Related Blog Posts
This page was last updated on Tuesday, May 23, 2023