Honoring Two Legendary IRP Scientists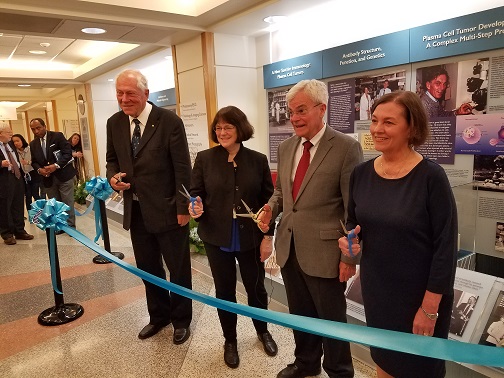 NIH history is rife with legends, scientists who have made remarkable discoveries and incalculable contributions to the health and longevity of humankind. There are living legends; just peruse the "Honors" page on the IRP website to see what I mean. And there are greats who are gone but certainly not forgotten.
On May 14, to honor two NIH legends and to inspire our younger generations of researchers with a lesson of the importance of the NIH Intramural Research Program, the Office of NIH History and Stetten Museum (ONHM) completed the installation of twin historical exhibits on former IRP investigators Michael Potter and Christian Anfinsen. The exhibits — titled "Curiosity & Collaboration: The Work of Michael Potter" and "Christian Boehmer Anfinsen: Protein Folding and the Nobel Prize" — are positioned in the long, first-floor corridor of the NIH Clinical Center, just north of the FAES bookstore.
Potter, who died in 2013, was an ingenious and generous researcher whose 50-year career at the National Cancer Institute was distinguished by significant discoveries and superb mentoring. His work focused primarily on plasma cells, a form of white blood cells that produce antibodies. His 1984 Albert Lasker Award for Basic Medical Research was for his "elegant studies of plasma cell tumors, leading to the development of monoclonal antibodies and enlarging our knowledge of carcinogenesis and the immune system."
Like Potter, Anfinsen had a long and distinguished career at NIH, first at what was then called the National Heart Institute and later as chief of the Laboratory of Chemical Biology in what is now the National Institute of Diabetes and Digestive and Kidney Diseases. Anfinsen's book, The Molecular Basis of Evolution, published in 1959, demonstrated the scientific and disciplinary affinities between molecular genetics and protein chemistry. Anfinsen shared the 1972 Nobel Prize in chemistry for "work on ribonuclease, especially concerning the connection between the amino acid sequence and the biologically active conformation."
The exhibit design was led by Hank Grasso in the ONHM, supported with funding from NIDDK, NHLBI and NCI. Their hard work and dedication have produced a beautiful tribute to two giants of NIH history.
---
Related Blog Posts
This page was last updated on Wednesday, July 5, 2023