Yasmine Belkaid Wins Sanofi–Institut Pasteur 2016 Award
Yasmine Belkaid, chief of the Mucosal Immunology Section in the NIAID Laboratory of Parasitic Diseases, has won the Sanofi–Institut Pasteur 2016 International Mid-Career Award for "outstanding research in the life sciences…contributing to progress in global public health," announced on December 13, 2016 in Paris.
Watch the supporting video below (in French, with subtitles).
Belkaid's laboratory aims to understand the mechanisms controlling host microbe interactions at barrier sites such as the skin and the gut. These two sites represent the first portal of pathogen exposure and are major anatomical sites for development of inflammatory disorders.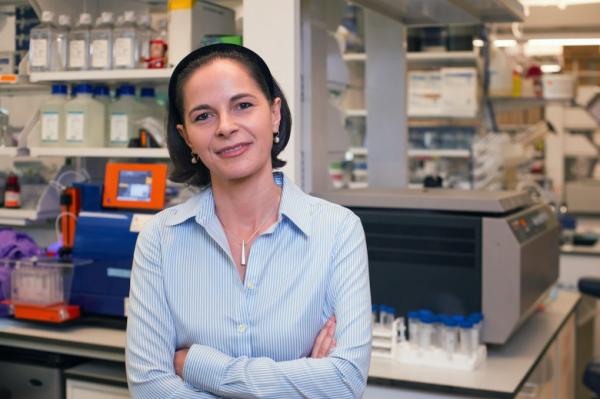 The skin and the gut also represent highly specialized environments with distinct structures, cell types, and innate defense mechanisms tailored to support their individual challenges. These include their exposure to factors from the outside environment, to dietary antigens, and to antigens derived from resident commensals.
In particular, all barrier surfaces are covered by a diverse and abundant microbiota that play a dominant role in host physiology and immunity. However, this symbiotic relationship also poses a constant threat to the host, and aberrant reactivity against commensals can lead to life-threatening tissue damage.
These conflicting pressures present the host system that defends the skin or the gut with unique challenges: tolerating constant exposure to innocuous antigens while simultaneously maintaining the capacity to rapidly respond to encounters with pathogens. Because of the inherent complexity of these challenges, understanding how the immune system functions at barrier sites needs to be addressed in an integrated and multidisciplinary manner.
In this context, Dr. Belkaid's work has demonstrated that: commensals play a major role in the control of host defense in both the skin and the gastrointestinal tract; dietary factors control the induction of effector and regulatory responses in the gut; the gut compartment is a major site of induction of T cells and dendritic cells with regulatory functions; and acute infections can have permanent consequences on tissue immunity.
Congratulations to Dr. Belkaid and all of the people whose lives you've helped. Learn more about Dr. Belkaid's research in the IRP "Research in Action" series.
---
Tags:
microbiome
,
honors
,
microbes
,
skin
,
gut
,
pathogens
,
inflammation
,
diet
,
environment
,
commensals
,
bacteria
,
microbiota
,
gastrointestinal tract
,
immunity
,
immune system
Related Blog Posts
This page was last updated on Wednesday, July 5, 2023