Fighting Obesity Every Which Way We Can
About 2.1 billion people, nearly a third of the world's population, are overweight or obese, according to a recent study by The Lancet Medical Journal. Countries worldwide have been gaining more and more weight over the past 33 years, with the United States home to 13% of the global obese population. Once an issue primarily in high-income countries, obesity is now also affecting men, women, and children of middle and low-income nations.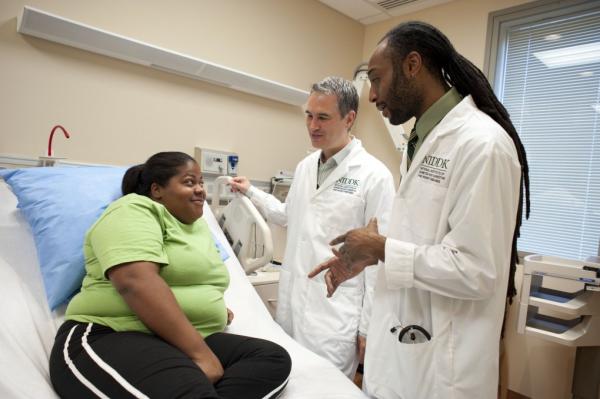 The solution to obesity seems simple on the surface—fewer calories in, more calories out—but for those who have tried to lose weight, it's usually not an easy task, partly because weight is the product of many interrelated factors: environment, family history and genetics, behavior, metabolism, and others.
To further understand the disease and better inform public health initiatives, investigators at the NIH Intramural Research Program (IRP) are studying all of those aspects (and more). For example, Kevin Hall, Ph.D., a senior investigator at the National Institute of Diabetes and Digestive and Kidney Diseases (NIDDK), explores the science behind human metabolism. Dr. Hall's team models the dynamics of energy expenditure and body composition when altering diet and physical activity, including analysis of the ever-popular low-carb diet compared to a standard low-fat diet.
IRP investigators examining risk factors for obesity include Tiffany Powell-Wiley, M.D., M.P.H., at the National Heart, Lung, and Blood Institute (NHLBI), who is diving into the social determinants of obesity, while Haiming Cao, Ph.D., also at NHLBI, seeks to bridge the gaps between physiology of obesity and its molecular biology. Sonja Berndt, Pharm.D., Ph.D., at the National Cancer Institute (NCI) Division of Cancer Epidemiology and Genetics (DCEG) is studying the genetic architecture of obesity, and Leslie Baier, Ph.D., at NIDDK investigates how changes in the environment influence the expression of the genetic susceptibility for obesity.
The knowledge gained in our labs and clinics enables public health experts to design effective interventions to help curb the global trend of rising obesity rates. Our investigators are committed to advancing the field, and will continue to connect basic and clinical research, turning discovery into public health benefits.
To participate in a study related to obesity, visit the NIH Clinical Trials website.
---
Related Blog Posts
This page was last updated on Wednesday, July 5, 2023