Graduate Student Symposium Spotlights Future Scientists
IRP's Ph.D. and Medical Students Present Research at Virtual Event
The IRP isn't concerned only with discovering the secrets of how our bodies work and developing new therapies to treat disease. Senior scientists and many other employees at NIH also are actively involved in training the next generation of researchers. One place where the benefits of those efforts is strikingly clear is at NIH's annual Graduate Student Research Symposium, where graduate students performing research in NIH labs show of the fruits of their partnerships with IRP researchers.
On February 16 and 17, more than 100 of the IRP's graduate students presented their work virtually at the 18th edition of the event. These young scientists discussed the results of studies on a huge range of topics, from how hunger changes during pregnancy to how viruses cause cancer. Read on to learn about a small sampling of the projects they've been hard at work on.
Jasmine Mack: Hyper-Focused on Hypertension in Pregnant Women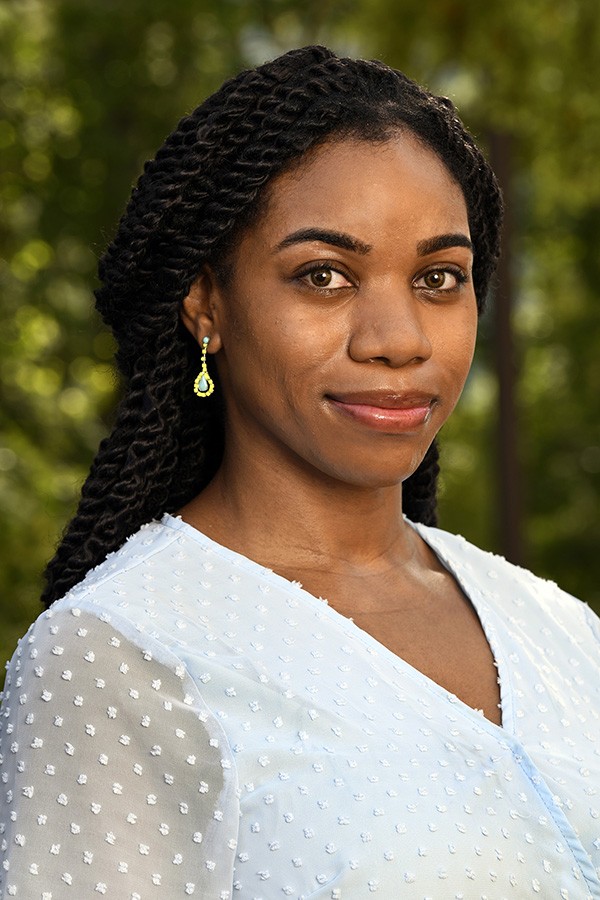 By the time Jasmine finishes her education, she'll have an entire alphabet of credentials after her name. She already has a Master of Public Health and Master's degree in Biostatistics, and she has plans to eventually go to medical school. For now, though, she is working towards getting a Ph.D. from the University of Cambridge in the UK and has initiated her doctoral research in the lab of IRP senior investigator Alison Motsinger-Reif, Ph.D. Together, they are using statistical techniques to identify genetic and environmental factors that contribute to pregnant women's risk of developing hypertension, more commonly known as high blood pressure. Experiencing hypertension while pregnant increases the risk of serious health problems, including death, for both mother and baby.
"In statistical genetics, pregnancy-related conditions are quite understudied, but we are currently experiencing a maternal health crisis, where Black birthing people are dying at a growing rate during the perinatal period in the United States," Jasmine says. "If we are able to look at a very complex problem like a pregnancy complication from multiple perspectives, I believe this would help move the needle in terms of reducing the racial and ethnic disparities that exist in maternal morbidity and mortality."
Jasmine's work relies on data gathered as a part of the Personalized Environment and Genes Study (PEGS), a study that collects a wide spectrum of data from nearly 20,000 people in North Carolina to identify links between genes, environmental exposures, and health conditions. Using data from more than 1,700 PEGS participants, Jasmine has found that genetic regions near two genes, named LRP1B and RARB, are related to the risk of developing a hypertension-related disorder during pregnancy. In addition, she has found that regular exposure to textile dust and sand may also be a contributing factor to those conditions.
Despite only beginning her research at NIH in August, these results have Jasmine well on her way not only towards a doctoral degree, but also towards making a meaningful contribution to efforts to reduce pregnancy-related health disparities. That progress has been helped along by the mentorship of her fellow scientists and NIH's many opportunities for enrichment outside the lab.
"Starting a graduate program in the middle of a pandemic has not been without challenges, but I am very grateful to work and learn with other dedicated scientists at the NIH and Cambridge," she says. "My favorite part is that there is always a chance to learn something new given the numerous trainings and seminars that occur daily."
Aaron Limoges: Probing the Brain to Learn About Learning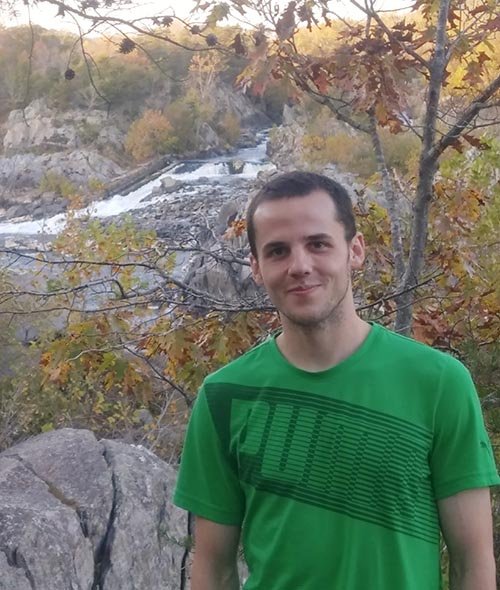 Aaron describes his interest in science as developing "pretty late by conventional measures." Halfway through completing an undergraduate program in counseling and therapy at Kansas State University, he realized he loved learning about the brain, and specifically about the process of learning itself. This prompted him to change his major to psychology.
"Prior to that I had never realized that science could be a viable career option for me," he recalls. "Our brains are constantly absorbing information from our environment and, whether we like it or not, rewiring themselves to make us better at whatever we currently are doing. I became intrigued by how sensitive the brain is and how small perturbations, such as environmental stressors, dietary changes, and drug exposure, can lead to such drastic changes in brain function and, by extension, cognitive ability."
Aaron is now pursuing a Ph.D. at Columbia University in New York City, and as a part of his program, he is currently studying a brain region called the amygdala in the lab of IRP Stadtman investigator Hugo Tejeda, Ph.D. The amygdala is a crucial brain structure for learning and memory, and Aaron is trying to suss out how specific proteins on neurons, called kappa-opioid receptors, and the brain-produced chemical that actives them, dynorphin, are involved in fear-related memories and reward-seeking behavior.
"The findings of this study may improve our understanding of how the brain functions across several disease states, including post-traumatic stress disorder, addiction, depression, and schizophrenia," Aaron explains. "Thus, one day, we hope that this knowledge can be used to develop cognitive or behavioral therapies or pharmacological interventions."
Along with sharpening his scientific skills, Aaron says he has gained a lot from Dr. Tejeda's "commitment to quality mentorship, professional development, and scientific rigor, which are sometimes overlooked components of the graduate research experience." Even if he did discover a passion for science relatively late in his educational journey, Aaron is no doubt making up for lost time through his work in the IRP.
"So far I have really enjoyed my time as a graduate student at NIH," he says. "I have an amazing mentor and work with an awesome group of fun and brilliant people — I think that has been the best part of the experience for me so far."
Khiem Lam: Measuring Microbes' Influence on Cancer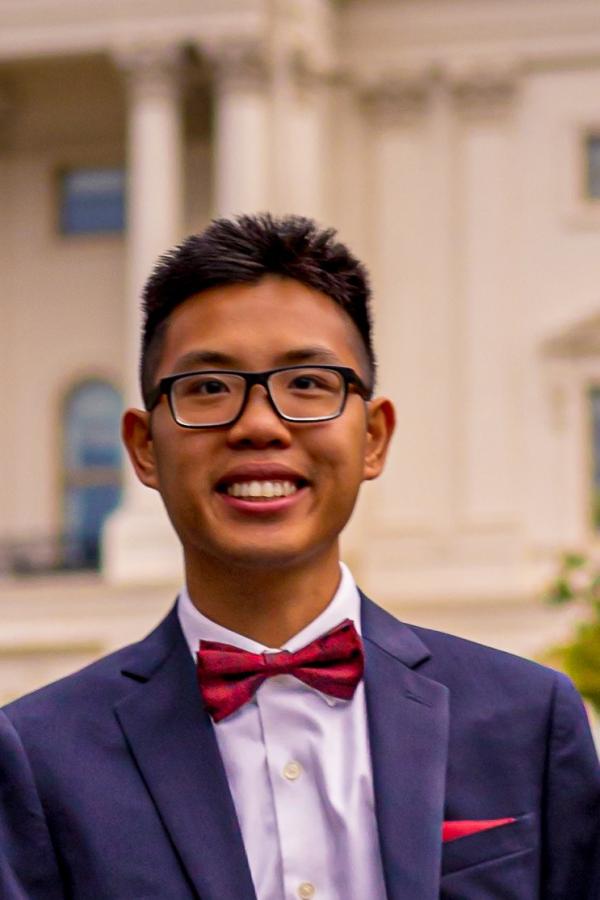 Ever since his senior year of high school, Khiem has been almost single-mindedly focused on learning about how organisms' microbiomes — the various bacteria and other microbes that live in and on their bodies — affect their health and behavior. After reading a scientific study demonstrating that the microbiomes of fruit flies can alter their mating preferences, he "became quite fascinated by how these microorganisms can influence their host to such a magnitude." He ended up doing his science fair project that year on a related topic, and soon began conducting research as an undergraduate at Oregon State University that had him examining how bacteria inside a cervical tumor affect its growth. He also got involved in other microbiome-related projects, such as exploring the microbiome inside the noses of African buffalos.
Now a graduate student at the University of Maryland at College Park, Khiem is expanding his knowledge of the microbiome by working with IRP Stadtman Investigator Romina Goldszmid, Ph.D. Together, they are shedding light on how the microbes living in a person's gastrointestinal tract, known as the 'gut' microbiome, affect the way the immune system responds to cancer.
"Since my background had been more on the computational and microbiome side, I jumped at the opportunity to gain experience in immunology" in Dr. Goldszmid's lab, he explains.
His research there has shown that the composition of a mouse's gut microbiome can either enhance or hinder its immune system's ability to attack a tumor. Moreover, he has found that feeding mice a diet enriched in fiber to change their gut microbiomes improves their immune responses to tumors. He has also revealed important aspects of the biological mechanism for this effect by showing that it can be induced by giving mice a compound that influences a specific component of the immune system and is secreted by certain intestinal bacteria.
"By describing how the microbiome shapes the immune response against cancer, we can have a better understanding of why certain patients do not respond to immunotherapies and can leverage these new therapeutic targets to overcome their resistance," Khiem explains.
Khiem first began working with Dr. Goldszmid as a postbaccalaureate research fellow after completing his undergraduate degree five years ago, and he says not much has changed now that he's working toward his Ph.D. However, he has noticed some perks of having one foot in an NIH lab and another in a more traditional graduate program.
"I do like that I have interactions with students and professors at my university, which is different from the relationship with people at the NIH," Khiem says. "I am able to merge my academic and research experiences to make my Ph.D. work better and more impactful."
Mor Alkaslasi: Delving Into Neuronal Death After Concussion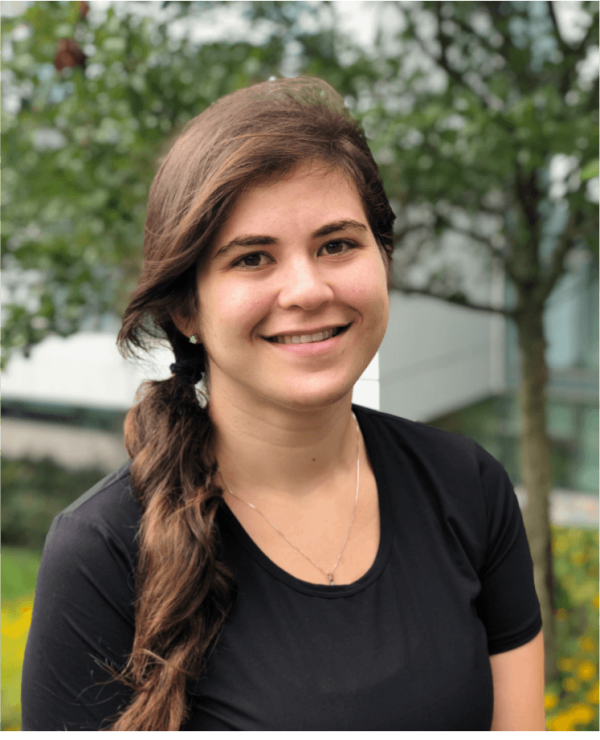 Mor has had brains on the brain for a long time. As an undergraduate at University of California, Davis, she majored in "Neurobiology, Physiology, and Behavior" and spent time in the lab studying the degenerative neurological disease amyotrophic lateral sclerosis (ALS) and problems with movement and coordination associated with Fragile X syndrome. Now pursuing a Ph.D. in neuroscience at Brown University in Providence, Rhode Island, she came to NIH to work with IRP investigator Claire Le Pichon, Ph.D., on improving our understanding of another way that neurons die: traumatic brain injury, otherwise known as a concussion.
"I enjoy the creative aspects of designing experiments and the satisfaction of getting results," Mor says. "I got interested in my particular work because I had a lot of experience studying different neurodegenerative diseases and realized that many of the same mechanisms lead to the different diseases, and I wanted to understand some of the shared mechanisms. Dr. Le Pichon was studying all the things I was most interested in, is a fantastic mentor, and got me excited to do this kind of science even during our very first conversation."
In Dr. Le Pichon's lab, Mor has been probing what genes and molecules are involved in determining whether neurons in the brain and spinal cord die or survive after an injury. She has been focusing in particular on a gene called ATF3, which goes into overdrive in neurons in response to stresses like a blow to the head and is believed to be involved in their regeneration after injury. Consistent with that idea, Mor has discovered that a mild traumatic brain injury activates ATF3 in certain neurons. However, those neurons still die off over time after the injury. Learning more about why neurons are progressively lost after a brain injury, Mor hopes, could not only help identify treatments for people at high risk of head injuries, like athletes and members of the military, but could also help other patients as well.
"We find that many of the same pathways are activated by different kinds of injuries," she explains. "Understanding how neuron death is initiated could lead to the development of preventatives."
While Mor has enjoyed working at NIH, she has been struck by just how different it is from the academic environments she is used to. Fortunately, her transition has been smoothed by a cadre of colleagues who have helped her find her sea legs in the ocean that is the IRP.
"I certainly am happy to be here, but it's different from a university in so many ways," she says. "My favorite parts are the diversity of all the people around me and the super collaborative environment that means I interact with all these scientists from all over the world."
Nolan Winicki: Inhibiting Inflammation to Improve Heart Health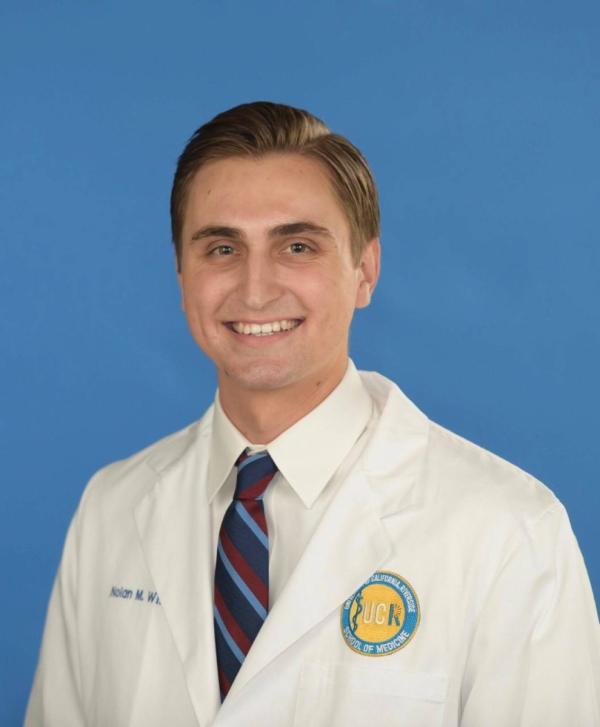 Nolan is no stranger to scientific research, having spent three years as an undergraduate leading a project that used a computational approach to identify potential new cancer treatments. In medical school, however, his interest shifted to the cardiovascular system, and he ultimately decided to take a year off from his medical studies to help IRP senior investigator Edward Lakatta, M.D., investigate ways to protect the cardiovascular system from the ravages of aging.
"Patients with limited options and outcomes are those that I wish to take care of, and I believe advances through basic science, engineering, and cardiovascular medicine can improve their access to and quality of care," Nolan says. "I was very interested in how Dr. Lakatta has been able to make impactful discoveries in cardiovascular medicine and aging through multiple creative approaches."
Since joining Dr. Lakatta's lab in September, Nolan has been studying how an experimental compound that reduces inflammation affects the health of aging rats. His experiments revealed that the compound, called ARA290, successfully reduced levels of inflammation not only in the animals' hearts but throughout their entire bodies. This, in turn, helped the rats' hearts retain good function as they aged, and it also lessened the weight loss and increased frailty that rats tend to experience in their twilight years, just as humans do. These promising results have spurred him to begin testing ARA290 in a rodent model of advanced heart failure to see if reducing inflammation can help improve health when the heart is already in an extremely poor state.
"Our goal is to offer an intervention for patients that could work in an acute setting, like a heart attack, or throughout aging to reduce changes in the heart's structure and function that lead to whole-body changes," Nolan explains.
"It has been wonderful being at the NIH as part of my graduate education," he adds. "I have been able to truly experience the 'thrill of scientific discovery,' as Dr. Lakatta often says, with an incredible team of scientists and other students."
Without dedicated efforts to train and mentor future scientists, biomedical research would soon find itself starved of scientific talent. Fortunately, as the Graduate Student Research Symposium shows each year, the IRP is doing its part to make sure that well of expertise and enthusiasm will not run dry anytime soon.
Subscribe to our weekly newsletter to stay up-to-date on the latest breakthroughs in the NIH Intramural Research Program.
---
Tags:
graduate students
,
health disparities
,
environmental health
,
microbiome
,
tumors
,
cancer
,
heart attack
,
heart
,
heart health
,
neuroscience
,
brain
,
gene
,
genetics
,
TBI
Related Blog Posts
This page was last updated on Tuesday, May 23, 2023