New in NIH History
We haven't shared recent additions to the NIH Stetten Museum collection in a long time, so you're in for a treat this month!
This lovely Troemner balance was used at the Rocky Mountain Laboratory (RML) in Montana by Lyndahl Gene Hughes, also pictured below. Hughes (1914-1980) began at RML in the late 1920s, working on Rocky Mountain Spotted Fever studies under Roscoe Roy Spencer. He later worked with John Bell and Herald Cox on developing vaccines for Rocky Mountain Spotted Fever, epidemic typhus, and Q fever, which are carried by ticks. They discovered that effective vaccines could be made in eggs, spurring the development of cheaper commercial vaccines for many diseases. RML is part of NIH NIAID.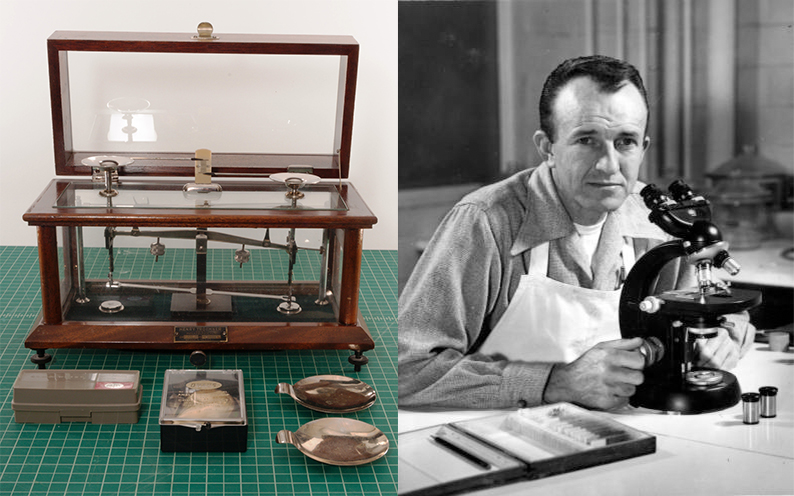 This 3D printer was well-used at Dr. Marcelino Bernardo's laboratory bench. He built it from scratch around 2006 to create customized molds of prostates with information from patient MRIs, with the goal of improving diagnosis and medical therapies for prostate cancer patients at an individual level. A photo of some of the molds is also below. Bernardo was a member of Dr. Peter Choyke's team at the NCI Center for Cancer Research. He was just one NIH investigator in the laboratory and the clinic finding new ways to use 3D printing.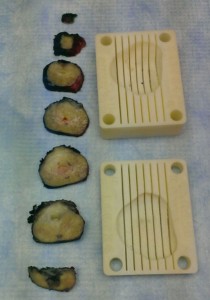 Where were you in the mid-1960s? We know that scientists from the National Institute of Allergies and Infectious Disease were spread out from Maryland to Panama to Montana, thanks to a collection of floorplans. Each floorplan has overlays with the names of the investigators or a function (i.e. "Animal Room") written on each room. NIAID researchers had the entire Buildings 5 and 7 on the Bethesda campus, as well as room in two other buildings. Building 7, shown here, was called the Memorial Laboratory to honor those NIH researchers who lost their lives while studying disease; the building itself was demolished last year.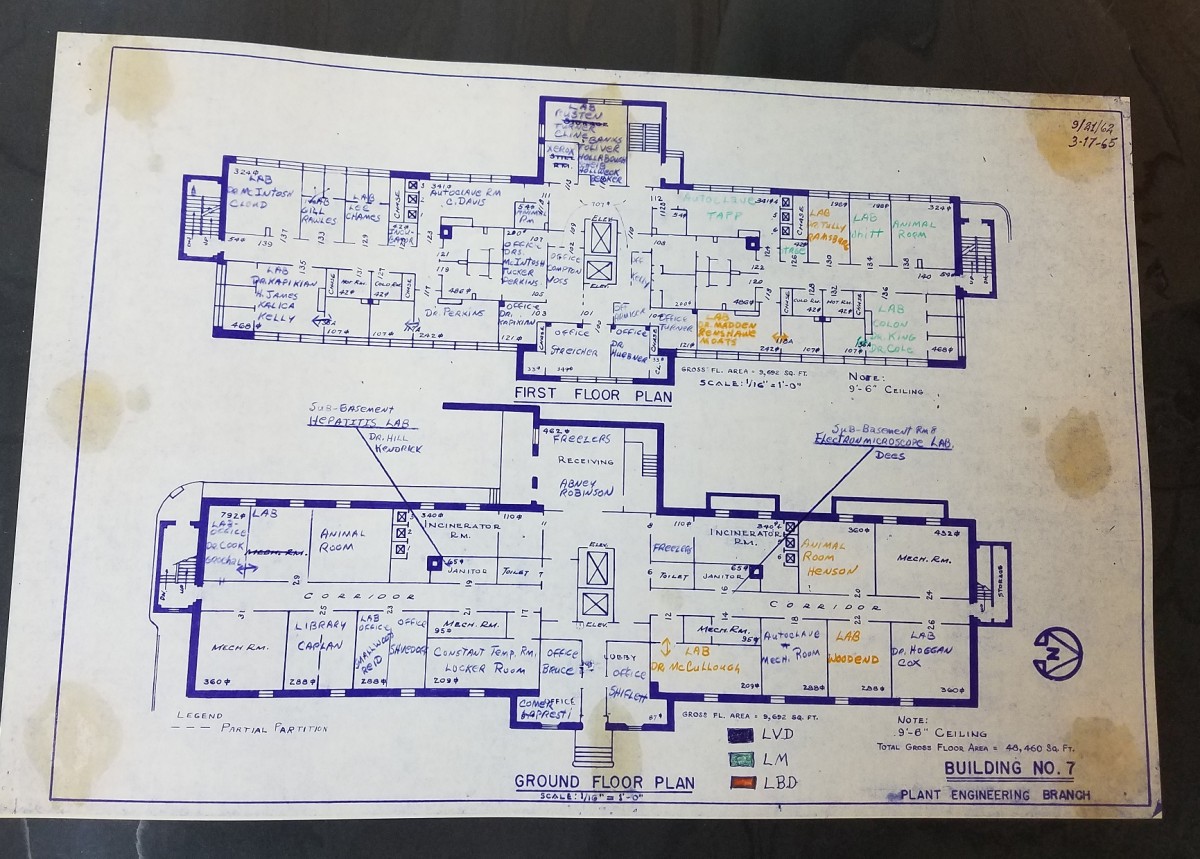 This poster helped nurses and doctors at the NIH Clinical Center don (put on) protective gear correctly when taking care of patients with Ebola in 2014/2015. Because of the risk of infection, each step had to be followed carefully by the staff providing patient care as well as just serving food and taking out the trash. The gear included two pairs of gloves, two pairs of shoe covers, a Tyvek suit, a disposable gown, and a powered air-purifying respirator.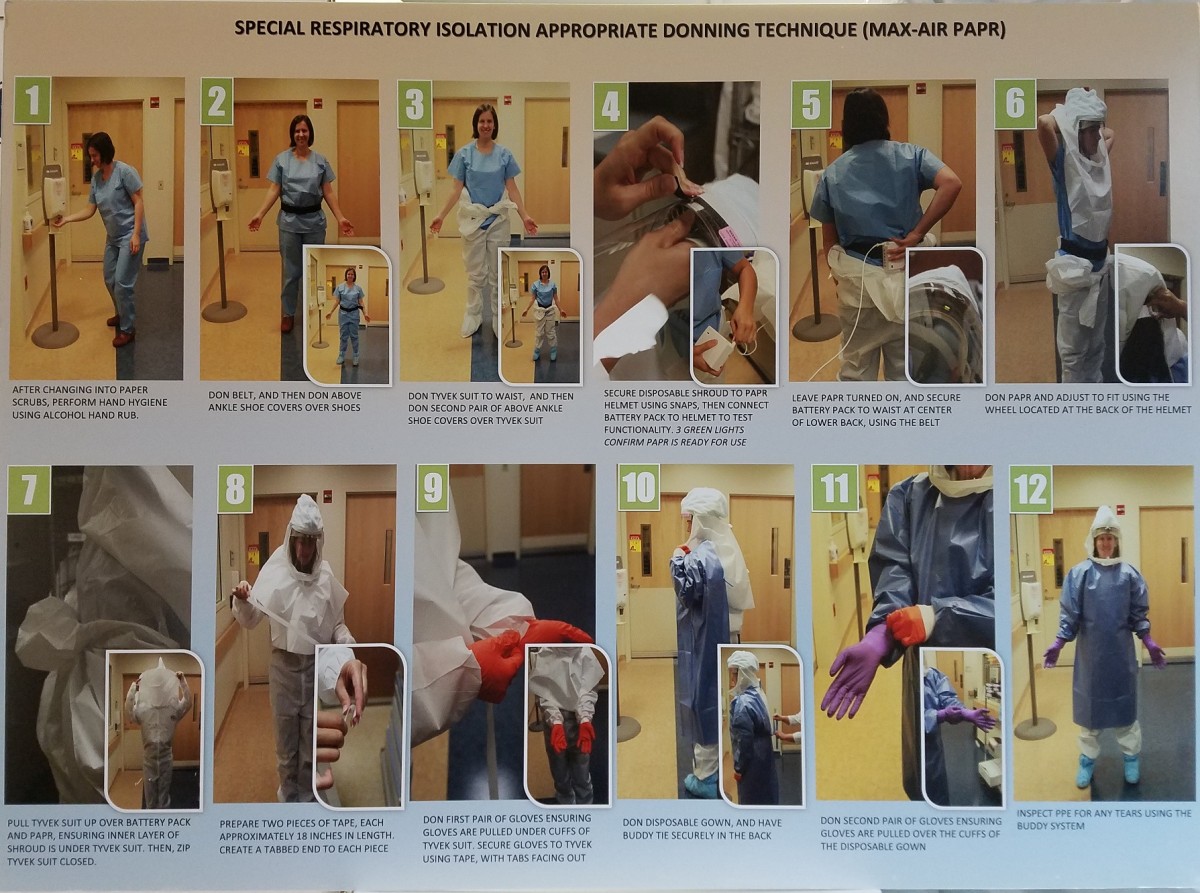 Now Victor Cid, a Senior Computer Scientist at the Disaster Information Management Research Center of the National Library of Medicine, and others have created a virtual reality game to train hospital staff how to correctly don and doff (take off) protective clothing. Because it feels real, this training provides a deeper experience than looking at a poster. But it is harder for a museum to collect! Learn more about this and other virtual reality health disaster training.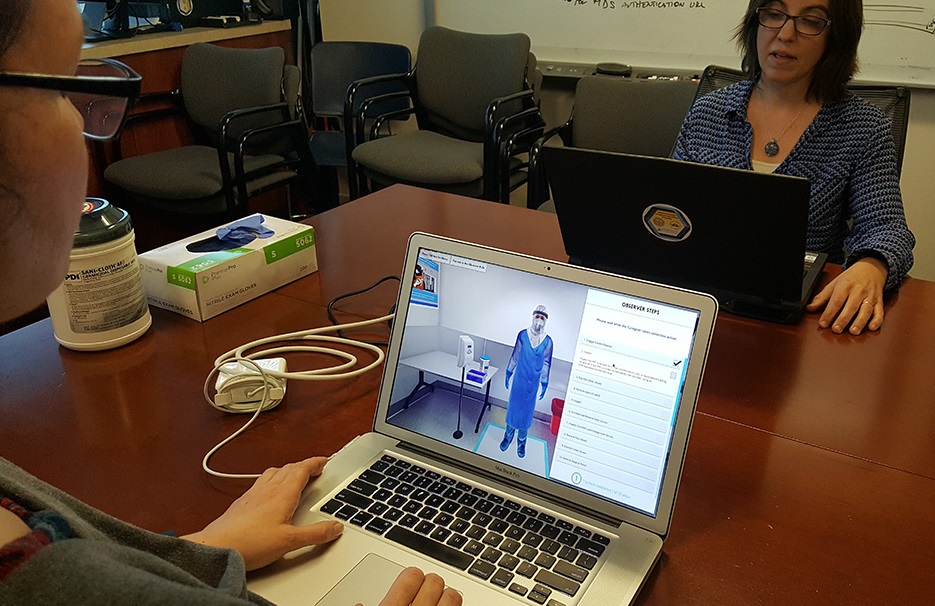 On April 9, 1969, Andre Michel Lwoff (Pasteur Institute) presented a lecture on "Viral and Cellular Interactions: The Mechanism of Action of Supraoptimal Temperatures on the Development of Poliovirus" which was eagerly attended at NIH. The NIH Lecture Series began in 1953, featuring scientists and physicians from without and within the NIH. Some of the lectures in the series are named after NIH scientists, like the Mider Lecture. Photo albums from 1968-1972 include programs and photos of the speakers with NIH officials. This photo shows Rolla Dyer, former director NIH; Lwoff, who won the Nobel Prize in Medicine in 1965; and Robert Berliner, NIH deputy director for science.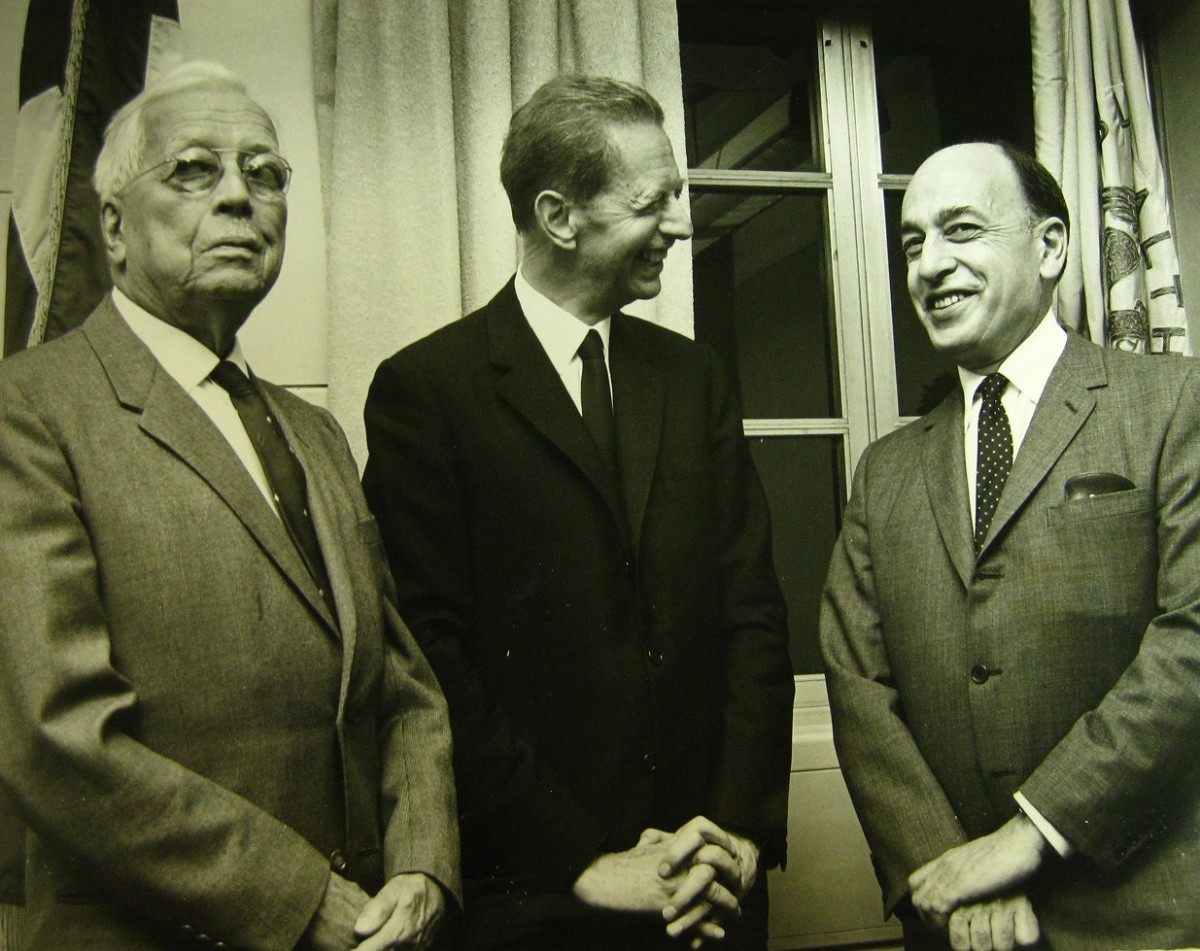 We don't have much artwork in our collection, but when we do, it's by renowned artists like Elaine Pear Cohen. Cohen's work is in many museums including the National Gallery of Art. She was also a prolific author on art education. Cohen often focused on scientific subjects or people such as James Shannon. Shannon had started his career at NHLBI in 1949 was NIH director from 1955-1968. He recruited many world-class scientists and strengthened NIH's budget and programs. His friends presented him with this bust as a gift in 1976.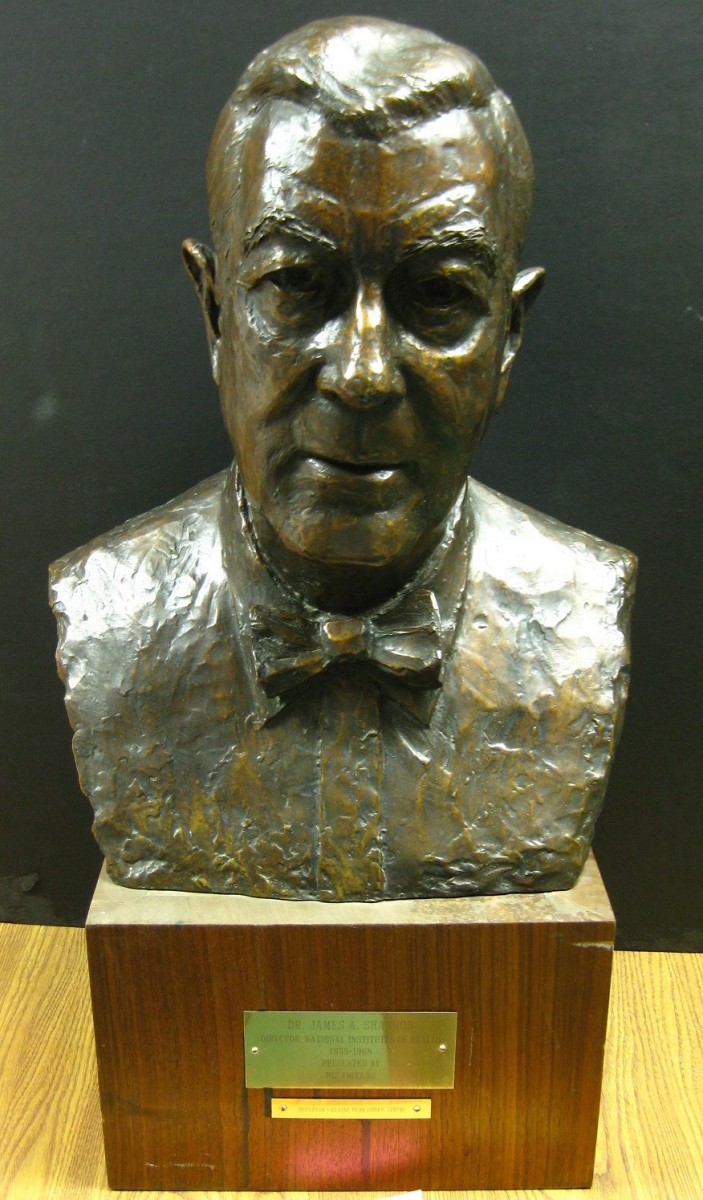 If you were a surgeon, you may need to know how blood is flowing through small vessels without opening them, or, if you were a sickle cell researcher, you may want to see how red blood cells move in tiny blood vessels. In the late 1970s, Dr. Richard Bonner, NIH Biomedical Engineering and Instrumentation Branch, came up with the idea to use laser Doppler light scattering to do both and built this prototype instrument. The technique works by bouncing laser light off red blood cells in the tiny blood vessels, allowing mathematical calculations of blood flow to be made. Unlike previous methods used to calculate blood flow, this technique did not require inserted needles or withdrawn blood. It was sold commercially (an example is also in our collection) and inspired many others. Bonner designed and patented other instruments useful to clinical research.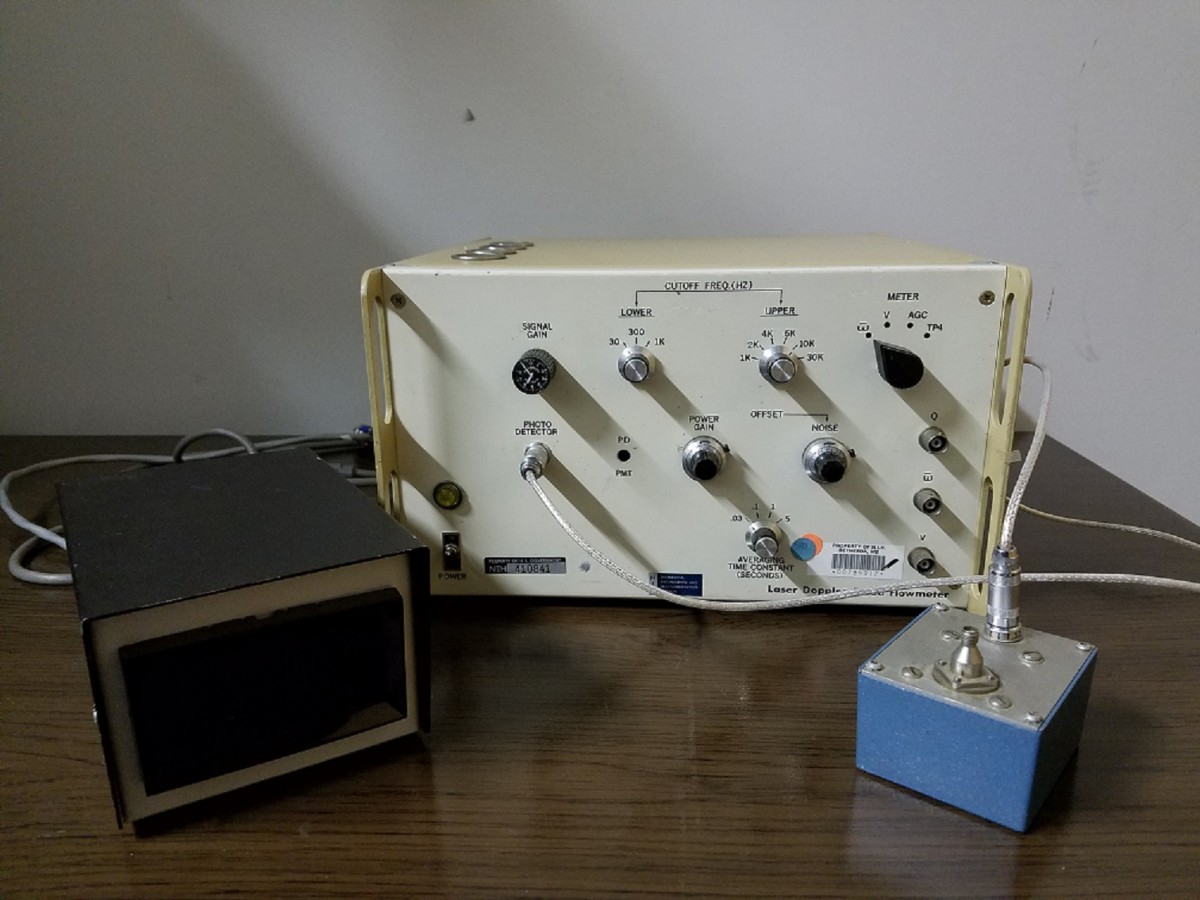 The Down Home Healthy cookbook was intended to help people learn how to cook "down home-style" or "soul food" in a healthful manner. The recipes and stories came from chef Leah Chase of Dooky Chase's Restaurant in New Orleans, and Johnny Rivers, executive chef of Disney World. The 1993 cookbook was produced by NCI, NHLBI, and Project LEAN of the American Dietetic Association. The National Cancer Institute's 2006 version can be found online at https://www.cancer.gov/about-cancer/causes-prevention/risk/diet/down-home-healthy-cooking.pdf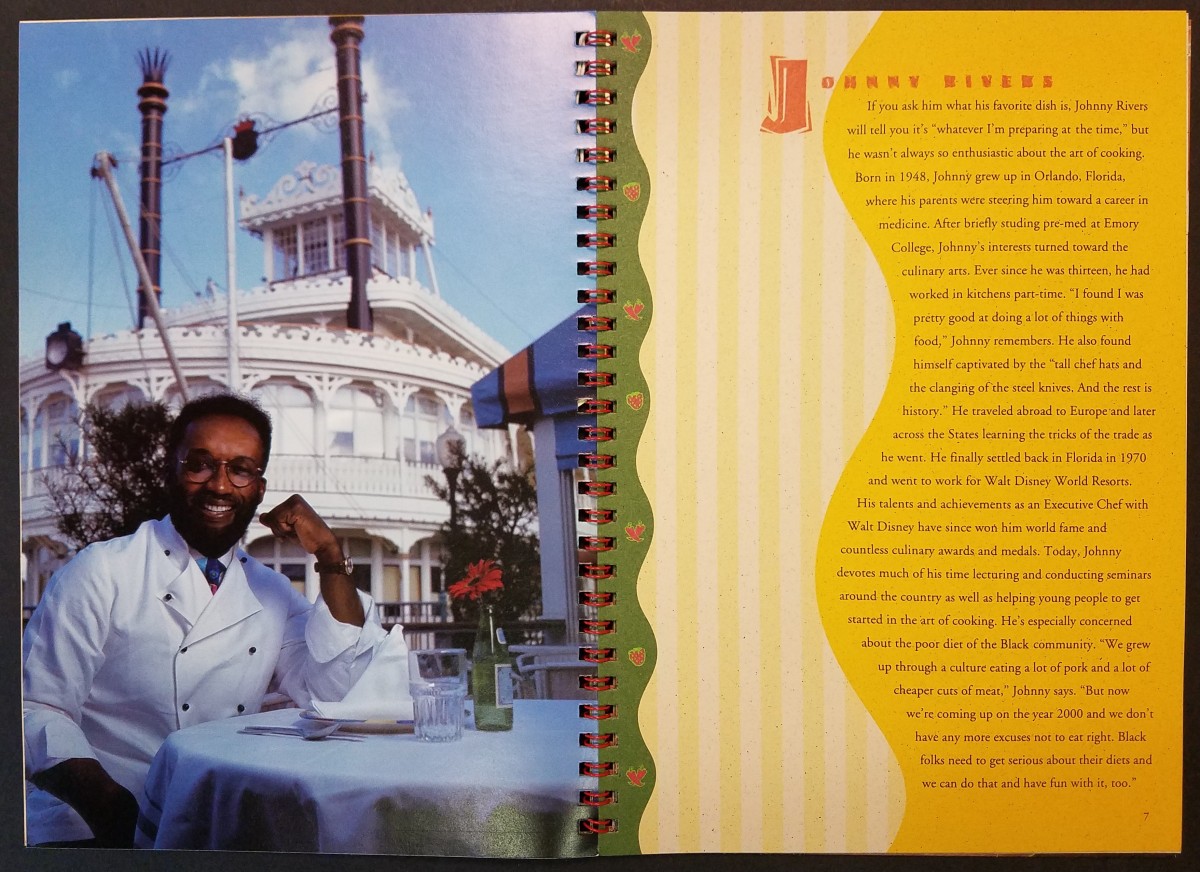 Six directors of the NIH signed this one small envelope: William Sebrell (1950-1955), James Shannon (1955-1968), Robert Marston (1968-1973), Robert Stone (1973-1975), Donald Fredrickson (1975-1981), and James Wyngaarden (1982-1989). The 20-cent commemorative stamp designed by Tyler Smith was issued May 17, 1984 to recognize the field of health research. A ceremony was held at the Memorial Sloan-Kettering Cancer Center in conjunction with its centennial anniversary. Maybe the NIH directors got to see Frank Sinatra, Diana Ross, and Luciano Pavarotti at the benefit concert in New York that evening.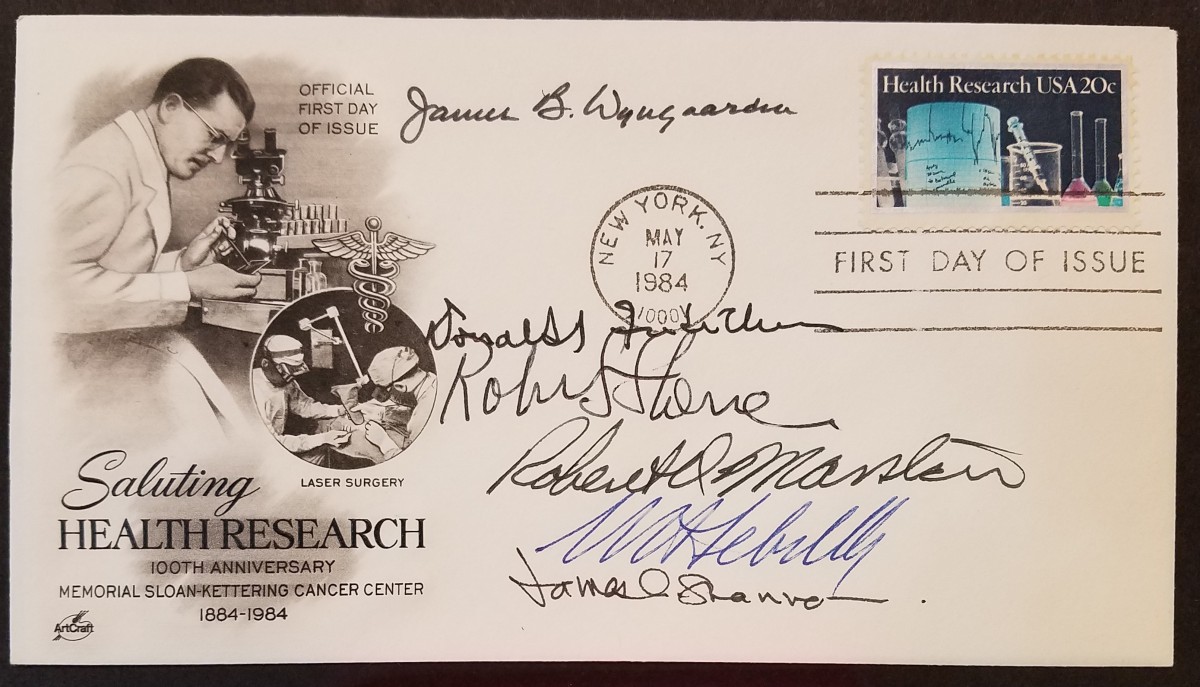 ---
Tags:
history
,
Rocky Mountain Laboratories
,
vaccines
,
Q fever
,
typhus
,
3D printing
,
prostate
,
MRI
,
cancer
,
campus
,
buildings
,
Ebola
,
Clinical Center
Related Blog Posts
This page was last updated on Wednesday, July 5, 2023