Untangling Alzheimer's Disease — Searching for Biomarkers in Exosomes
Diagnosing Alzheimer's in patients can be challenging for primary care doctors. Current practice relies on assessing the degree of cognitive decline—problems with memory, language or behavior—which may indicate Alzheimer's-related changes in the brain have already occurred. What if we could diagnose risk for Alzheimer's before symptoms appeared?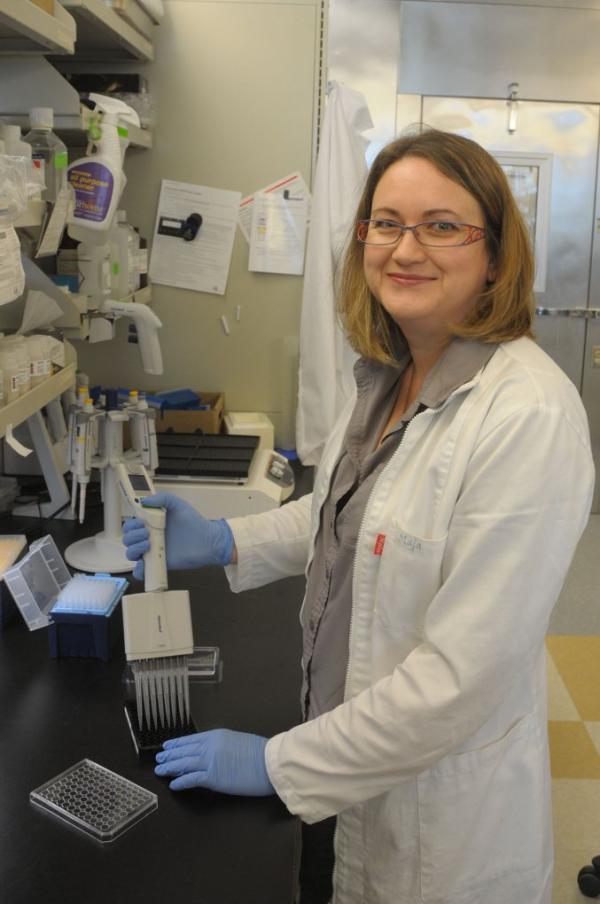 Much Alzheimer's research focuses on just that. However, finding a biomarker that can be accurately and reliably measured to detect Alzheimer's before symptoms start has proven extremely difficult. To address the challenge, in the Laboratory of Neurosciences at the IRP, Dr. Maja Mustapic searches for Alzheimer's biomarkers using liquid biopsies.
"Simply put, we are extracting small vesicles (exosomes) from human blood, which contain specific surface proteins, to test whether their cargo can be a good source of diagnostic biomarkers of Alzheimer's," Mustapic explains. "We are trying to isolate a specific subpopulation of these vesicles that have neuronal origin that can give us a unique window into changes and processes that are happening in the brain."
Although exosomes were discovered more than 30 years ago, a lot remains to be discovered surrounding their roles in intercellular communication, their ability to shuttle material out of the cell, and—most importantly in the context of Alzheimer's—their involvement in the progression of diseases.
"There are a lot of unknowns, which is both challenging and exciting," Mustapic says.
Mustapic believes that their approach to finding novel biomarkers has great potential. In a published pilot study, her laboratory successfully identified Alzheimer's patients from healthy controls with over 93% certainty, and detected early changes in tau protein 5–10 years prior to diagnosis.
In a follow-up study, her laboratory is examining exosomes collected from 960 participants of the NIH National Institute on Aging's Baltimore Longitudinal Study of Aging (BLSA). They are comparing samples from the time of diagnosis (as well as age-matched controls) and samples collected approximately 2.5 and 5 years prior to diagnosis. The hope is that they will identify a reliable biomarker that can be detected years before diagnosis.
"Alzheimer's disease is affecting a rapidly growing number of people," Mustapic says, "so being a part of this research and helping unravel its mysteries is very rewarding and gratifying."
References:
Fiandaca, M. S., Kapogiannis, D., Mapstone, M., Boxer, A., Eitan, E., Schwartz, J. B., … Goetzl, E. J. (2015). Identification of preclinical Alzheimer's disease by a profile of pathogenic proteins in neurally derived blood exosomes: A case-control study. Alzheimer's and Dementia, 11(6), 600–607.e1. http://doi.org/10.1016/j.jalz.2014.06.008
Kapogiannis, D., Boxer, A., Schwartz, J. B., Abner, E. L., Biragyn, A., Masharani, U., … Goetzl, E. J. (2015). Dysfunctionally phosphorylated type 1 insulin receptor substrate in neural-derived blood exosomes of preclinical Alzheimer's disease. FASEB Journal, 29(2), 589–596. http://doi.org/10.1096/fj.14-262048
---
Tags:
Alzheimer's
,
memory
,
language
,
cognition
,
cognitive decline
,
brain
,
symptom
,
biopsy
,
exosome
,
blood
,
protein
,
biomarker
Related Blog Posts
This page was last updated on Wednesday, July 5, 2023