Faith, Hope, and Determination Help Teenager Fight a Rare Cancer
Terran Dupree, 16, is one of the most positive teenagers you will ever meet. With the brightest smile and the most humbling personality, you would never know that she is fighting a rare form of cancer.
After fainting at school one day in May 2014, Terran and her parents knew something wasn't quite right. "When I saw her, I knew it was something serious," Terran's father, Terrence, said. "It was hard for her to catch her breath. The way she was talking wasn't normal."
A series of tests validated their assumptions. At just 14, Terran was diagnosed with mesothelioma, an aggressive cancer that occurs in the thin layer of tissue that covers internal organs.
Terran's case is very unusual. Mesothelioma is typically seen in men over the age of 60 who were exposed to asbestos in the height of the WWII-era military-industrial cycle. This type of cancer is extremely rare in children and young adults, with less than 300 cases reported by 2013, according to cancer.gov.
After four rounds of chemotherapy at Columbia Children's Hospital in South Carolina, doctors saw little change in the progression of her cancer. With hope and determination, Terran agreed to participate in a research trial at the National Cancer Institute (NCI) at the National Institutes of Health (NIH).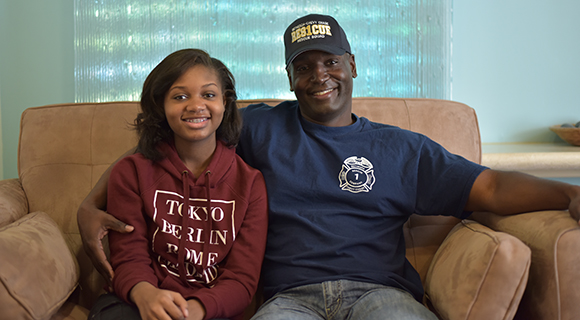 Despite her diagnosis, Terran remains positive and a true inspiration. "It's hard because people say 'you don't look sick'," Terran says, when talking about her condition. "Even though I don't look sick, I get tired easily and I can't always do the things I used to." Terran and her parents say that their faith plays a big role in keeping them strong.
"We wouldn't be able to participate in this study if it weren't for The Children's Inn," says Terrance. "We are able to eat dinner at The Inn in the evening which was a good time for us to meet and connect with other families who are going through similar situations." Families like the Dupree's stay at The Inn for free and are encouraged to take full advantage of all it's services and activities.
---
Related Blog Posts
This page was last updated on Wednesday, July 5, 2023