NIH Medical Oncology Fellow at a Glance
When I was growing up, my grandfather would visit and try to teach me thermodynamics. At the time, I thought that this was normal conversation between a grandfather and a little girl. It was several years before I realized that he was an eminent scientist in his home country. My grandfather would always ask me, "How is your science?"
I had my grandfather's question in mind when I came to the NIH to interview for a medical oncology fellowship. I remember walking through these halls of science and thinking that he would have loved this place. Several faculty members interviewed me that day. They impressed me with their expertise and their commitment to fighting cancer. They opened the door.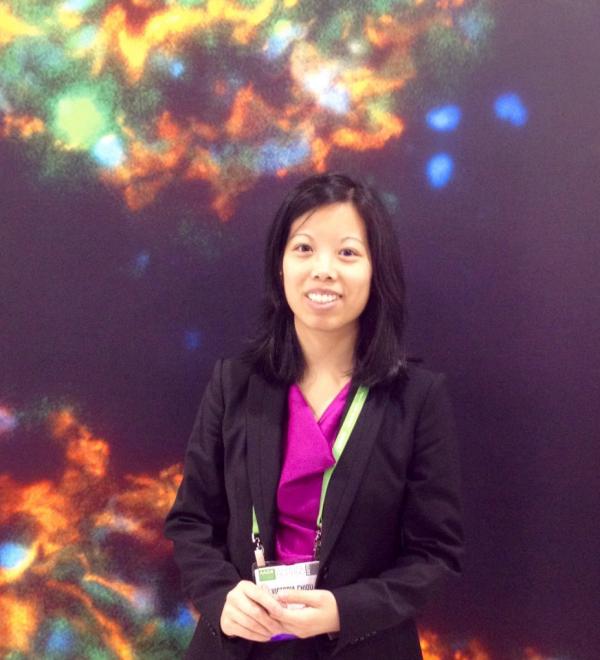 The NIH IRP was my first choice for fellowship programs. Two years later, I still believe that the National Cancer Institute's (NCI) Center for Cancer Research (CCR) is an exceptional place to train in oncology. And the NIH Clinical Center has the distinction of being the largest clinical research hospital in the world—it is a community of dedicated patients, brilliant colleagues and big ideas.
CCR's Medical Oncology Fellowship Program has been incredibly supportive of our intellectual endeavors. We have a wealth of educational sessions, including the interdisciplinary tumor board, teaching rounds, journal clubs, scientific concept reviews, medical humanities book club, and lectures from world-class faculty. Our clinical training includes outpatient rotations and inpatient ward rotations in the different cancer specialties. Clinics are located near the labs, to facilitate idea sharing and collaborations. We have ample dedicated time to pursue our interests in specialized research.
As a fellow, I have had amazing opportunities to develop clinical trials, care for patients on clinical trials, and present the results of my work. Our recent study identified a safe treatment schedule for the drug combination of olaparib tablet formulation with carboplatin chemotherapy. This combination had preliminary activity, known as tumor shrinkage, in women with triple negative breast cancer and ovarian cancer. My current research interests include early phase clinical trials testing combinations of novel therapeutics and immunotherapy in breast and ovarian cancers.
What I enjoy most about my job is keeping hope alive against all odds. A career in oncology takes heart and science, grit and endurance. The lights in the Clinical Center are always on. We are lifelong learners. We work very hard to bring innovative ideas from the bench to the bedside. We are constantly refining and developing clinical research trials in order to make new therapies available to more patients. I am honored to serve patients with cancer, whose stories continue to inspire me every day.
---
Related Blog Posts
This page was last updated on Tuesday, May 23, 2023