The Best Place on Earth
If you've been asking yourself what good your taxpayer dollars have been doing, let me tell you a story. I work at one of the most amazing places in the world. Every day I come in to work energized to see patients, to strategize how to bring new findings into the clinic and talk to brilliant scientists and physicians.
This place is the NIH Clinical Center. I serve as the Director of the Medical Oncology Service in the National Cancer Institute's Center for Cancer Research and run immunotherapy clinical trials for patients with cancer. The amazing staff is dedicated to the mission of finding new and better ways to treat patients with cancer. The dedication and camaraderie are irresistible. We have one of the largest medical oncology fellowship training programs in the country and have scores of translational laboratories feeding directly into the robust clinical trials programs.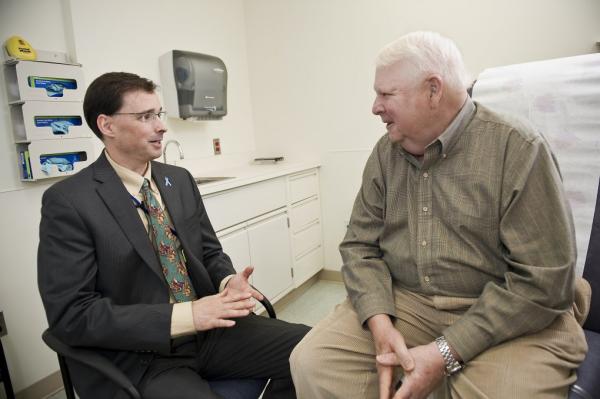 It is into this perfect blend of cutting-edge scientists and passionate physicians that the third essential ingredient is added, the patients. We have the most amazing patients who travel from great distances to come to the NIH. We serve patients across the United States, and we pay for patients' travel while they are enrolled in one of our studies.
But, of course, I am biased. I am in my 17th year working at the NIH. But every week my patients remind me how wonderful this place is. Below is an excerpt of an email from a patient who recently enrolled on one of our studies. This was the first time she had come to the NIH.
Subject: Excellent NIH adventures
"The National Institutes of Health is the happiest hospital on earth. No kidding. The tree-filled campus is enormous, right across the street from Walter Reed Hospital on Wisconsin Avenue. Like everyone in a trial here, we go to the Clinical Center, which is a gorgeous new building. The cancer researchers work right next door (same floor) to the hospital wings -- from 'bench to bed' they call this close relationship between lab scientists and research doctors. So everyone is involved in discovery and hope, which is what makes for the good mood everywhere. I'm like every patient here, honored and starstruck to be one of the chosen on the frontlines of cancer therapy. But my team kept thanking ME for volunteering! The Center is full of art, support groups, live concerts, movies, libraries, lectures, yoga classes and, of course, the day I arrived, a visit and Ebola speech from President Obama.
"And, as you know, all of this is free. The NIH is the biggest and best research hospital in the world. Why thousands of people aren't lined up outside beating on its glass doors to get in is a complete mystery to me."
How can I come to the NIH you may ask yourself. Well, if you are an interested patient, there are multiple clinical trials exploring the latest advances in treatment available at the Bethesda, Maryland campus. If you are a physician and want to pursue a clinical career here, there are also several options, such as the Medical Oncology Fellowship, Assistant Clinical Investigator, and Lasker Clinical Research Scholars. If you would like to hear more about my clinical research, including video interviews with some of my patients, visit my "Research in Action" story.
---
Related Blog Posts
This page was last updated on Tuesday, May 23, 2023