Finding a Cure for Childhood Alzheimer's – Johnathan's Story
Nine year-old Johnathan Spencer was born with liver failure. Over the course of his early childhood, he underwent numerous liver biopsies. At the age of four, he received a diagnosis of Niemann-Pick Type C (NPC) disease—a rare and fatal genetic neurological disorder, often referred to as "Childhood Alzheimer's."
Searching for answers, Johnathan's mother, Rebecca, and father, Keith, applied for their son to be considered as a participant in a clinical trial at the National Institute of Child Health and Human Development (NICHD) at the National Institutes of Health (NIH). Johnathan was accepted into a stage one trial when he was four, and has been traveling to the NIH from his home in California every month for the past two years, making a total of 27 visits to The Children's Inn.
As a partner to the NIH, The Children's Inn's priority is to reduce the burden of illness by providing a free homelike environment to families so they are able to participate in clinical trials.
"How can you convince a little boy to travel 2,500 miles from home on 12-hour journey to get an IV, spinal tap, sedation, MRI and more? Without The Children's Inn, we could not do it. Not only does The Inn provide us with a place to sleep, eat, and have fun, but it provides us with a second home," says Rebecca.
Frequent Inn residents, such as the Spencer family, quickly fall into a routine. They go to their treatments and appointments up the hill at the NIH Clinical Center during the day, and then rush back to The Inn for fun family activities in the evening.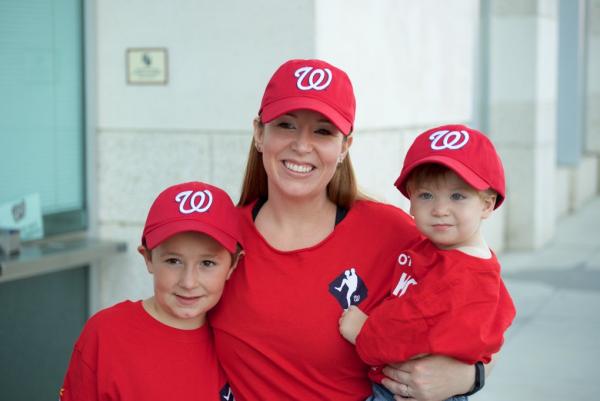 "The staff at The Inn has become family and the other patients have become best friends. We are fighting for Johnathan's life but we are not fighting alone. They always say it takes a village to raise a child, and I believe it takes a village to cure a child. And for all the kids that come to the NIH, it takes more than one village to cure the child. It takes "A Place Like Home" (The Inn)—and amazing doctors," says Rebecca.
Johnathan's family regularly participates in programs and field trips during their stay. With activities scheduled every day at 4:30 and 7:00 p.m., and family dinners served at 6:00 p.m., they have many options to stay busy. And besides being chosen to throw the opening pitch at a Washington Nationals baseball game, Johnathan says his favorite activities at The Inn are Bingo, playing with Zilly the therapy dog, and arts and crafts.
---
Related Blog Posts
This page was last updated on Wednesday, July 5, 2023