Orloff Science Awards Recognize Aplastic Anemia Treatment
Congratulations to the Orloff Science Awards recipients of 2015! These awards both celebrate and highlight extraordinary scientific achievements and technical advancements of scientific research and innovation conducted in the Intramural Research Program of the National Heart, Lung, and Blood Institute (NHLBI) at NIH.
From genetic studies to pharmacology, the Orloffs honor the remarkable work and responsibilities our researchers undertake every day to make a difference in the world—science that truly matters and impacts human health. These prestigious awards are selected by NHLBI Scientific Director Dr. Robert Balaban and Director Dr. Gary Gibbons based on the compelling nature of their stories and scientific impact.
Dr. Balaban began this year's award ceremony with his opening remarks and surprised the audience with a visit from Dr. Richard Childs via teleconference from Liberia, where he narrated a slideshow highlighting the incredible work of the Public Health Service (PHS) in fighting Ebola. Presentations given by a member of each Orloff award team followed to highlight the teamwork found within DIR to make these scientific advances.
Because each award team has a truly unique research focus and method, there will be a series of blogs highlighting their achievements to share their stories. This post is the first of many to come!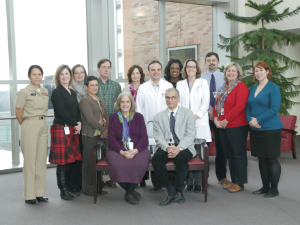 The first team to be featured was recognized for laboratory and clinical research resulting in FDA approval of the thrombopoietin agonist eltrombopag as the first new treatment for aplastic anemia in three decades. This team was led by Dr. Cynthia Dunbar, who presented the work at the ceremony.
Research contributors: Dr. Neal Young, Dr. Matthew Olnes, Dr. Ronan Desmond, Dr. Thomas Winkler, Dr. Danielle Townsley, Dr. Bogdan Dumitriu, Dr. Andre Larochelle, Ms. Brenda Fitzsimmons, Ms. Susan Soto, Ms. Kinneret Broder, Ms. Marlene Peters Lawrence, Ms. Diane Madey, Ms. Olga Rios, Ms. Barbara Weinstein, Mr. Vince Williams, Ms. Cecilia Pazman, Ms. Judy Starling, Ms. Laura Broe, Ms. Stephanie Sellers, Dr. Katherine Calvo, Dr. Phillip Scheinberg, Dr. Colin Wu, Dr. Angelique Biancotto, Dr. Xingmin Feng, Dr. Jay Lozier, Dr. Margaret Bevans, Ms. Janet Valdez, Dr. Yong Tang, Mrs. Marie Desierto
Signs of New Discovery
Since the approval of the ATG/CSA (intensive immunosuppressive treatment) for aplastic anemia in the 1980s, and despite numerous clinical trials studying candidate drugs and new combination regimens, no new effective treatment has been identified for this devastating illness until now.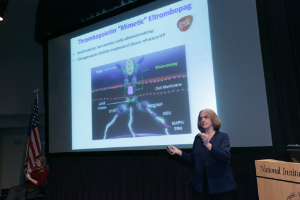 Aplastic anemia (AA) is a blood disorder in which the body's bone marrow is deficient in stem cells and cannot make enough new blood cells, resulting in bleeding, infections, and fatigue. Based on years of laboratory investigation and a series of landmark clinical trials initiated in 2009, Drs. Dunbar and Neal Young have discovered an effective new treatment for aplastic anemia.
Patients with severe refractory AA, unresponsive to multiple prior therapies and ineligible for bone marrow transplant, were enrolled in the initial trial. Almost half responded, most with normalization of their blood counts in all cell lineages. This highly effective treatment involving a single daily dose of a well-tolerated oral medication showed a robust pattern of response. Patients were even able to discontinue the drug after months to years of treatment and maintain responses, indicating that the drug had effectively expanded hematopoietic stem cells. This is the first evidence in history for successful pharmacologic stem cell expansion in vivo in humans.
Following the results of these clinical trials, the FDA invited GlaxoSmithKline (a global healthcare company) to work with the NHLBI team in submitting a new labeling application for the use of eltrombopag in aplastic anemia. This relabeling was critical to allow patients to receive insurance reimbursement for this expensive drug and to instruct prescribers on the correct dosing for eltromobpag and the expected kinetics of response, which differed significantly from the initial labeling of eltrombopag for use in immune thrombocytopenia (ITP). The FDA approved the drug in August 2014, and a similar approval package was submitted to the European Commission in November 2014 and is undergoing review.
Life Changing Success for Patients
If an individual's bone marrow cannot make enough new blood cells, many health problems can occur due to a lack of platelets (bleeding), neutrophils (infections), and red blood cells (fatigue, heart failure, and shortness of breath). Untreated or unresponsive severe aplastic anemia often results in death.
Suffering from this debilitating condition and failing multiple prior therapies, a young woman separated from her children and hospitalized at the NIH repeatedly for life-threatening infections and bleeding has finally been able to rejoin her family again because of this treatment. Another young man, unable to work because of complications, had suffered years of multiple intensive and toxic prior therapies, multiple hospitalizations for infections and bleeding, and had been transfusion-dependent for twice weekly platelet transfusions and bi-weekly red blood cells. For the first time in 15 years, he has normalized his counts, discontinued transfusions and has begun working again and living a normal life.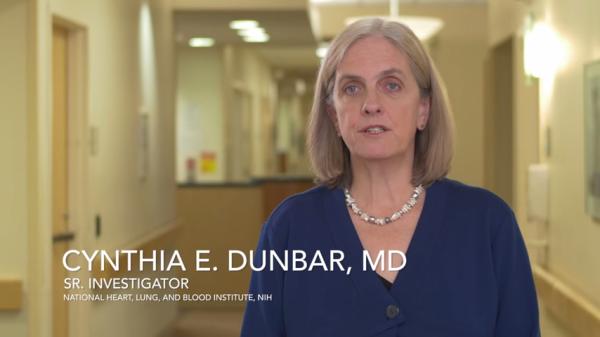 The lives of aplastic anemia patients have been changed by the work of Drs. Dunbar and Young and their team members. Not only is this the first effective new treatment for aplastic anemia in three decades, but obtaining FDA approval and relabeling this drug based on an investigator-sponsored small phase 2 trial in this era of billion dollar pharmaceutical company clinical research is considered unprecedented. Congratulations again to Drs. Dunbar and Young for leading their research team to make this incredible achievement!
Watch Dr. Dunbar discuss the science for which she won the award in this video.
---
Tags:
aplastic anemia
,
eltrombopag
,
clinical trials
,
pharmacology
,
Orloff Science Award
,
FDA approval
,
treatment
,
medicine
,
blood transfusion
,
blood cells
,
Clinical Center
,
immune thrombocytopenia
Related Blog Posts
This page was last updated on Thursday, May 5, 2022