Breast Cancer Awareness: How the IRP Recognizes October
October is National Breast Cancer Awareness month, four weeks out of the year dedicated to bringing visibility and awareness to research in support of one of the most widespread and devastating cancers in existence. In addition to expanding public recognition of a disease that affects too many mothers, daughters, and friends, the IRP and research centers around the nation step up efforts in October to share information on the latest research against this disease.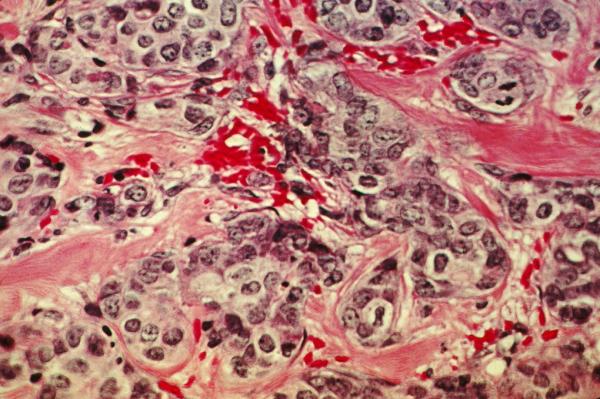 Breast cancer now affects more than 230,000 people each year in the United States. Approximately 1 in 8 women will be diagnosed in their lifetime. However, breast cancer survival rates have increased since the 1990's, due to a combination of new scientific discoveries and heightened public awareness about the disease.
In addition to enriched educational resources, healthcare resources for breast cancer have also improved over time. Awareness and adoption of screening through mammograms, preventative surgical interventions (when appropriate), and the approval of tamoxifen (a hormonal agent shown to shrink breast tumors in some women) led breast cancer research to accelerate rapidly in the 20th century. In the mid-1990s, one of the biggest breakthroughs in cancer research occurred: the discovery of the BRCA1 and BRCA2 genes. Researchers found that more than 50% of women with mutations in the BRCA genes had an increased likelihood of developing breast cancer.
From that initial molecular revelation, cancer scientists such as the IRP's Mark Greene, M.D., set out to take advantage of the newfound knowledge. A senior investigator in the National Cancer Institute's (NCI) Division of Cancer Epidemiology and Genetics (DCEG) Clinical Genetics Branch, Dr. Greene studies familial genetic lineages involved in cancer. His translational research with BRCA mutation cohorts confirmed that BRCA genes are instrumental in predicting many cases of both breast and ovarian cancer. Genetic tests for the BRCA mutations were developed after the complete sequencing of the human genome, allowing at-risk women to be screened for risk of breast cancer.
However, BRCA1/BRCA2 aren't the only molecules involved in breast cancer. Our IRP scientists continue to tackle the disease from every angle, including Jung-Min Lee, M.D., an assistant clinical investigator in the NCI's Center for Cancer Research (CCR) Women's Malignancis Branch, whose team is developing biologic drugs that precisely target various molecular agents involved in breast cancer. Dr. Lee studies triple negative breast cancer, a type of cancer that doesn't respond to traditional hormonal therapies such as tamoxifen, making it extremely difficult to treat.
Drs. Green and Lee's perseverance in breast cancer research embraces the NCI's mission to prevent, treat and eliminate cancer once and for all. So in recognition of Breast Cancer Awareness month, show your support year-round for biomedical scientists in America and across the globe, whose research has provided great insights into cancer biology. Breast cancer could one day be a thing of the past if we continue to reinforce transformational research.
---
Related Blog Posts
This page was last updated on Wednesday, July 5, 2023