Society for Neuroscience Conference Excites DC
Let's start with some numbers: 30,000 neuroscientists, five days, and 20 pages of notes. It all adds up to a week well spent at the recent Society for Neuroscience (SfN) conference in Washington, D.C. Researchers from around the world, many from the NIH IRP, descended on the Washington Convention Center to share their most recent research, discoveries, thoughts, and future ideas.
What could be in store for science and medicine when this many skilled people are working hard to elucidate the functions of the brain, neurons, and all related body systems? The mere experience of being a part of this gathering of the minds is enough to evoke a sense of awe. At a meeting like this, there is an atmosphere of excited anticipation in imagining the future. Each day, the expansive convention center housed lectures, symposiums, "mini" symposiums, and even "nano" symposiums, ranging from topics such as the ethics and effects on the mind of playing video games to the molecular mechanisms of touch and pain.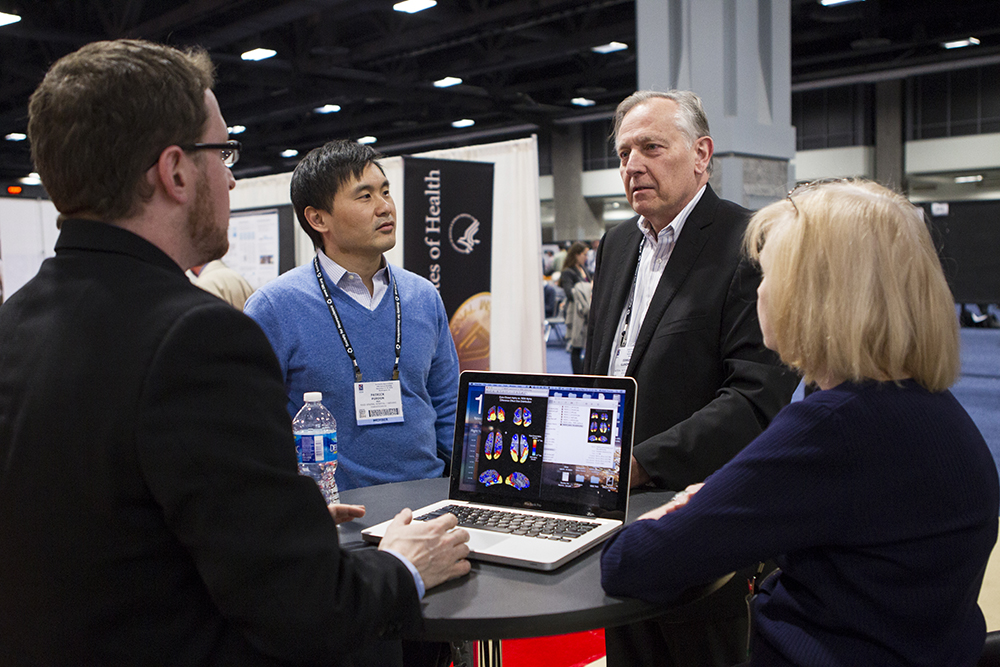 One session explained how the senses of taste, smell, touch, and memory intersect when we eat a meal. To achieve that, a chef cooked meals in a "deconstructed" method for a panel of neuroscientists, aiming to replicate memories and emotions associated with different foods, despite the foods being unrecognizable from their traditional form. For example, the chef presented a meal resembling oysters (using ingredients that didn't include real oysters) to evoke thoughts of the sea, childhood memories, and so on. That particular dish did not look very appetizing, but demonstrated how certain tastes are related to memories in the brain.
IRP researchers at the conference, including Drs. Mark Pitcher and Marta Ceko of NCCAM, presented on projects relating to neurology, chronic pain, and other fields. Dr. Pitcher shared insights from a rodent model of arthritis that helps his team examine the ways exercise affects rats with arthritic joint inflammation. His findings are encouragingly in accord with common knowledge and support the idea that exercise is beneficial to healing and overall health. A related study by Dr. Ceko looks at how patients with fibromyalgia fare on cognitive tasks compared to people without the chronic pain disease. Dr. Ceko demonstrated that people suffering from the debilitating condition of fibromyalgia have some impaired abilities compared to healthy subjects when it comes to solving certain problems. With millions of adults in the US and around the world suffering from a chronic pain condition, these research findings help doctors understand the experiences of a significant portion of our population and pave the way for potential future methods of treatment.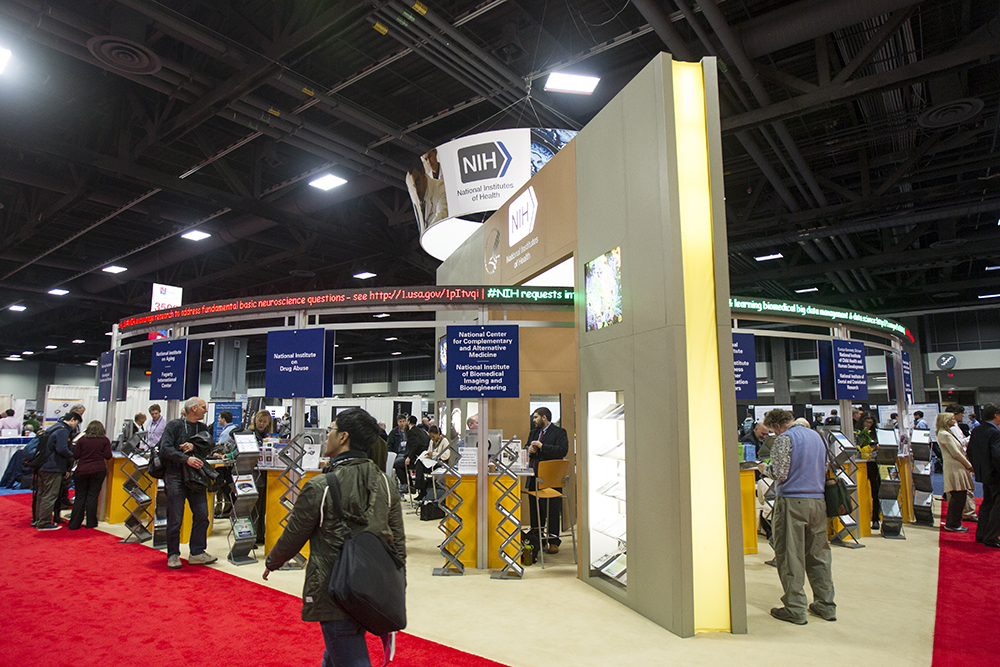 Another outstanding topic covered at this conference was about findings in the area of neural stem cells. A group from Japan discussed how they successfully grew brain-like organs called "brainoids" in their lab using induced pluripotent stem cells (iPSCs) taken from adult tissue. iPSCs have the potential to become several different types of tissue and, using the correct chemicals, these cells can be guided in the lab to become a specific type of tissue. Thus, they are "induced" to become a certain type of cell, and ultimately a specific type of tissue. The implications of being able to create new brain tissue are extremely promising for the treatment of neurodegenerative conditions such as Parkinson's and Alzheimer's diseases. If a "brainoid" could be successfully transferred and used in a patient with one of these diseases, it might be possible to reduce or reverse the condition. Of course, developing the technology to the point of safe and effective use in the clinic is far off. But then again, it may not be that far into the future.
Now is a better time than ever to be in the world of scientific research, with such clinically relevant and exciting advances taking place. Public awareness and support for basic scientists allow powerful techniques, like those showcased at the SfN conference, to make people's imagined future of healthier lives happen.
---
Related Blog Posts
This page was last updated on Wednesday, July 5, 2023