Ebola: Scientific Research in Search of a Public Health Solution
As the international community continues to seek collaborative approaches to contain and eradicate the current Ebola outbreak in West Africa, we are reminded that these efforts are also an investment in our own public health. Only by defeating a virus at its source can we prevent infectious diseases from spreading to other countries.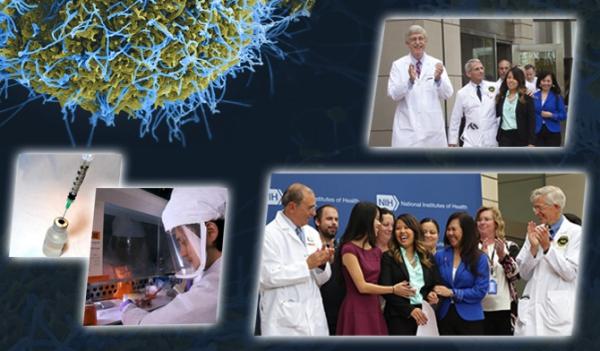 Public health isn't just about policy. It's also very much about science—ensuring a clear understanding of the problem at hand and the various solutions available.
The NIH's Intramural Research Program (IRP), in collaboration with extramural scientists, has been studying the Ebola virus for decades, using basic science to advance our understanding of viral pathogenesis and transmission, and translational approaches to further the development of Ebola diagnostics, therapeutics, and vaccines. The continued advances made by our scientists are informing global public health strategies that will hopefully put an end to the current epidemic.
While experts unanimously agree that the chances of a serious Ebola outbreak in the United States are extremely low, the best way to prevent transmission is by adopting public health measures, including good infection control practices, isolation, contact tracing, quarantine, and proper use of personal protective equipment.
Of course, vaccination would be the ideal public health intervention to eradicate the epidemic. And while IRP investigators are working to accelerate the development and testing of a vaccine, this is a process that takes time. NIH clinical trials have already begun with multiple vaccine candidates in healthy human adults, and the agency will work closely with regulatory agencies to ensure the most efficient and compliant route to approval.
Equipped with the latest technology and a team of skilled scientists, the IRP will continue to commit to scientific research as the bedrock of global public health solutions.
---
Related Blog Posts
This page was last updated on Wednesday, July 5, 2023