Portraits Reflect the Rich Diversity of NIH's Workforce
Walk down the hallway to the NIH Library in Building 10, and you'll come across a set of eye-catching stylized portraits splashed with red, blue, orange, and gold. Featured is a cultural mosaic of individuals who stand in contrast to the "white walls" or "dude walls" common to many academic and research establishments that are adorned by paintings and photographs of mostly white men. The vibrant display is part of the NIH UNITE initiative's "Power of an Inclusive Workplace Recognition Project," which was created to highlight a wide range of NIH employees. It has received glowing words of appreciation from NIH staff members for including people who look like them on those walls.
The UNITE initiative was established in 2021 to identify and address structural racism within the NIH-supported and greater scientific community. With representation from across NIH, UNITE strives to create an equitable and civil culture within the biomedical research enterprise, increase inclusivity and diversity in science, and reduce barriers to racial equity in the entire biomedical research workforce.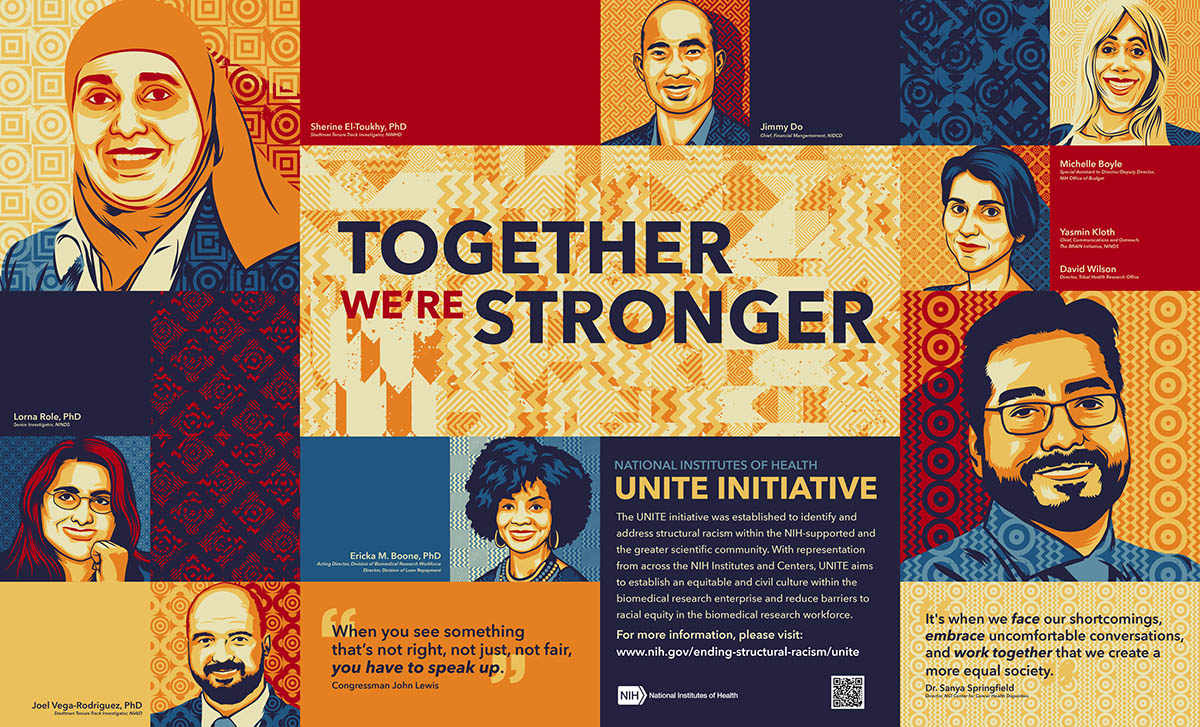 A surge of racially motivated violence in 2020 and health inequities highlighted by the COVID-19 pandemic further illuminated racial injustice in the United States. So, in the summer of 2020, NIH staff began discussions among themselves and with NIH leadership about how to improve equity and inclusion in the workplace. Rising out of these conversations was what eventually became the Recognition Project, spearheaded by tenure-track investigator Sadhana Jackson. Jackson is a pediatric neuro-oncologist at the National Institute of Neurological Disorders and Stroke and the National Cancer Institute. As an African American pediatric neuro-oncologist, Jackson works in a highly specialized field comprising few experts and even fewer people of color.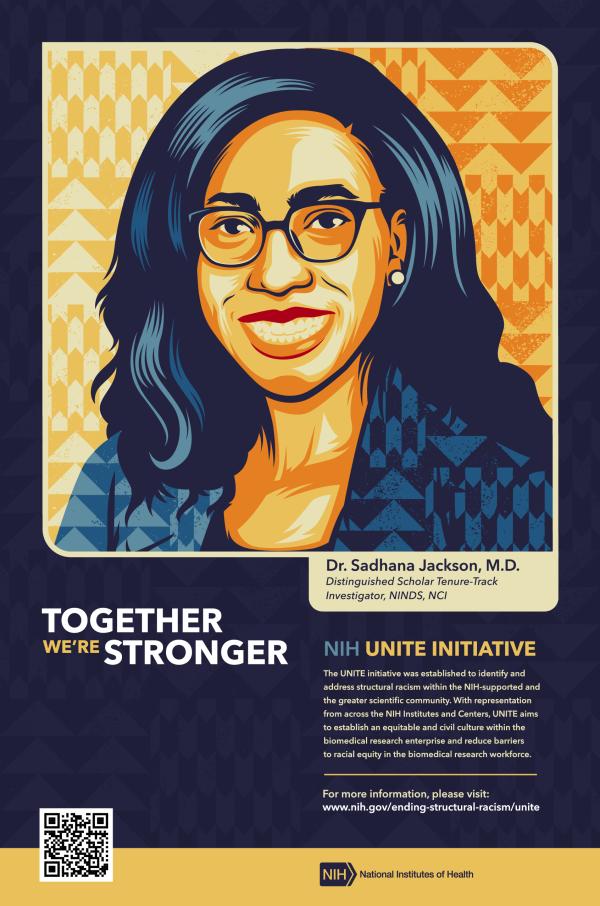 The lack of representation on the walls and on the sculptures and busts throughout [the medical field] in essence motivates me to enhance inclusion and diversity at the NIH and in my medical field," said Jackson.
Driven by her own academic experiences, as well as hearing those of her NIH colleagues from underrepresented groups who did not feel a sense of belonging or inclusion, Jackson spoke up about diversifying the portraits displayed around campus in an effort to better reflect NIH's current workforce. NIH leadership, including former Director Francis Collins and then-Deputy-Director Lawrence Tabak, agreed and the Recognition Project was on its way to becoming a reality.
UNITE comprises five committees, and Jackson co-chairs the T committee, which focuses on transparency and communicating the findings of the other four committees. Once the Recognition Project was approved, the T committee began brainstorming a list of NIHers to feature in the portraits and reviewed notable quotes to be included alongside the displays.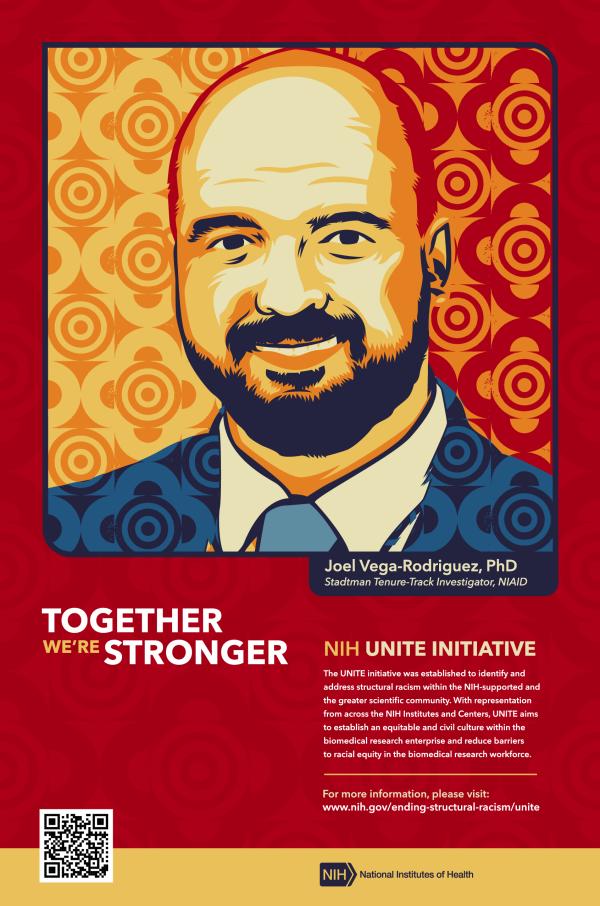 After choosing which staff members and quotes to highlight, the T committee began collaborating with NIH's Medical Arts Branch to design the artwork. Staff initially submitted their photos to be used in the visuals. But the artistic team proposed that creating illustrated representations of each individual would act as a unifying factor, allowing everyone to be seen as an equal part of the NIH community. Jeffrey Everett, senior designer at the Medical Arts Branch, hand-drew each portrait and crafted the color schemes and dynamic patterns, which were inspired by a variety of cultural influences. During the UNITE committee meetings, Jackson shared progress of the portraits that Everett had created.
"Because his artwork was so beautiful, and because our NIH staff were so beautiful, everybody got jazzed up about it," Jackson said.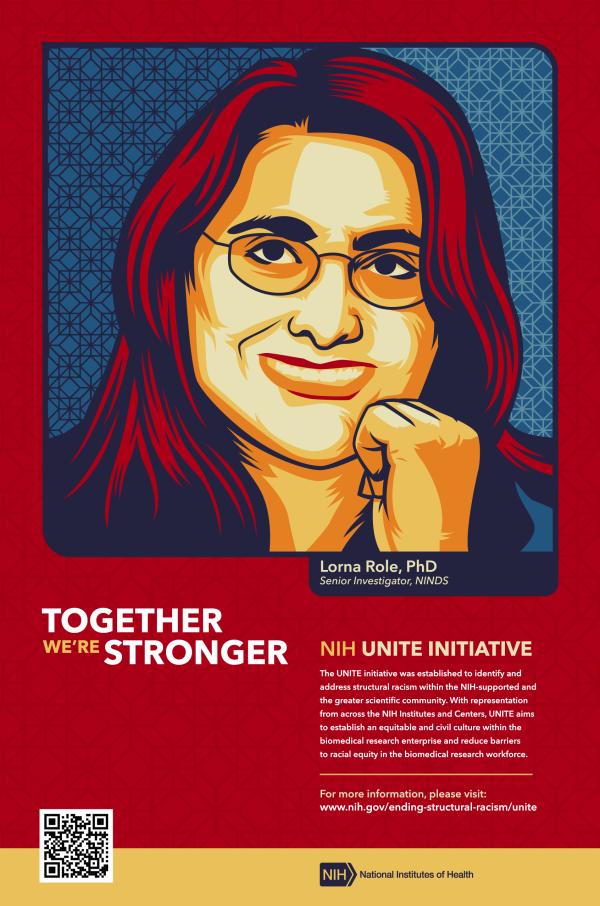 From the creation of the first portrait to the official unveiling of the complete art installation in April 2022, the process took a little less than a year. Currently, the portraits are located in the Clinical Center (Building 10, along the hallway outside the NIH Library and in the B1 Cafeteria), Building 31, and Building 1.
The Power of an Inclusive Workplace Recognition Project has received an outpouring of support. Jackson has received direct emails thanking her for leading the project as well as messages from the people in the portraits who wanted to share that their boss or co-worker was grateful and honored for being featured.
Some people have asked for copies of the portraits to hang up in their offices. Several NIH institutes have even requested portraits of their staff members to display in their buildings or have new portraits crafted with the same designs.
The existing portrait installations are just the beginning for the Recognition Project. Jackson and the T committee have discussed expanding the project to include outdoor artwork, such as banners and murals, throughout campus, as well as include contributors to the NIH. These future installations would highlight NIH staff involved with varied on-campus occupations, including deliveries, security, ground maintenance, food preparation and management, fire fighters, and police officers; essentially front-line staff who wouldn't necessarily see the current new portraiture inside the buildings. Medical Arts has already come up with designs that could be displayed on loading docks, the Gateway Center, and light-pole banners, and there are still plenty of other available spaces around the main campus and other NIH campuses that will become home to future installations.
"I'm just happy about the reception of it all," said Jackson. "And I know that it will continue to have longevity and flourish because of what we jump started."
---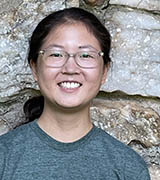 Victoria Tong was a Pathways Editorial Intern in summer 2022 at The NIH Catalyst. She is a freshman at the University of California at Los Angeles and expects to major in chemistry. She was the editor of the student newspaper at Richard Montgomery High School in Rockville, Maryland. In her free time, she enjoys playing tennis, solving crossword puzzles, and scoping out new restaurants.
This page was last updated on Sunday, January 8, 2023